By Paul Goodwin
Cell phones and wireless value-added services (VAS) have taken China by storm, leaving wire line telephone service in the dust. China's major wireless companies are healthy and growing. We have great affection for China Mobile (NYSE:CHL), which was a huge winner for the Cabot China & Emerging Markets Report back in 2007.
But the big telecoms are old news now, and a better place to look for growth is in AsiaInfo Holdings (NASDAQ:ASIA), a Chinese company that offers software solutions and software protection for the big phone companies.
AsiaInfo's software suite allows customers to build, manage and enhance their communications infrastructure. The company's Lenovo-AsiaInfo alliance offers IT security products such as firewall and virtual private network services.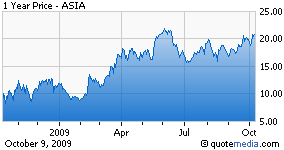 The numbers for AsiaInfo look especially goods, with a 92% gain in earnings on a 39% bump in revenues for the latest quarter. After-tax profit margins reached 19.4%, their highest level since Q4 2008. Institutional investors are signing on at an accelerating rate–56 two quarter ago; 80 now.
The chart is volatile, but strong, with a much smaller dip during last year's storm of losses. After a long period of tightening action centering on 19, the stock may be ready to break out.
And that's what you need to look for. When ASIA breaks above 21 on good volume, it will be a good buy. It will take a little patience, but it will be worth it.