It's no secret that Hewlett-Packard (NYSE:HPQ) is having a rough go of the transition to mobile computing, as is Dell (DELL) and a host of other (former?) blue chip names.
Revenue growth at HPQ was down 10% year-over-year last quarter and is projected by the Wall Street consensus to be down by another 8% this quarter.
At Estimize, one of the things we pay very close attention to is when our algorithms pick up big outlier estimates made by very accurate analysts, specifically within their sector of focus. Our back testing has shown these estimates to be extremely indicative of big beats and misses of the Wall Street consensus by the company.
This quarter, we have one such estimate for HPQ made by a prominent technology hedge fund analyst who goes by the name of JC215 on our platform. As many buy side analysts do on Estimize, JC215 has chosen to remain anonymous as this allows him to get the most value out of the platform without subjecting himself to the loss of any edge when publishing his estimates.
Below is the distribution of estimates made by analysts on the Estimize platform for HPQ's current quarter, with JC215's estimate highlighted in orange.
Click to enlarge images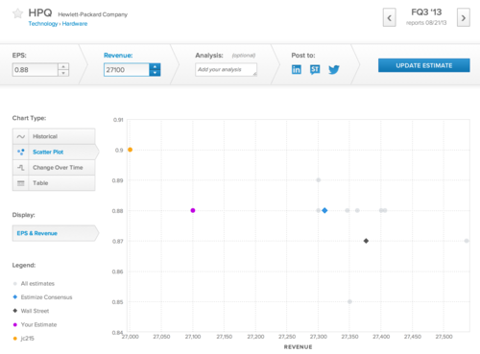 As you can see, that's a fairly large outlier estimate. He believes that, given the significant drop in revenues, HPQ will be able to beat the EPS consensus numbers from both Wall Street and Estimize.
Here is the revisions history for the HPQ's current quarter revenue consensus. While sell-side analysts took estimates down significantly at the beginning of the quarter with new guidance, they've been reticent to lower them since.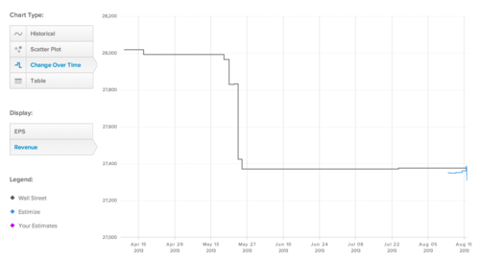 If we take a look at this quarter's rankings, JC215 is ranked 6th within the technology sector, with a beat rate of the Wall Street revenue consensus at 59%. This means he's been more accurate than the Wall Street revenue consensus 59% of the time - an admirable record.

This data, coupled with the fact that the Estimize consensus is more accurate than the Wall Street consensus on average about 70% of the time, leads us to believe that HPQ will miss the Wall Street consensus significantly on the revenues side.