This is Part 4 of a series where I will discuss the changes in risk for the 25 BDCs that I cover compared to the previous quarter including portfolio yields, non-accruals, leverage ratios and portfolio investment mix. In the previous articles I discussed changes in analyst recommendations, earnings projections and price targets, dividend coverage from net investment income ("NII"), changes in net asset value ("NAV") per share, portfolio investment classes, debt to equity ratios, the ability to cover interest payments on borrowing with quarterly NII, and the amount of floating rate investments.
In a recent series of articles "BDC Risk Profiles" I took an in-depth look at the relative risk levels of each BDC. Specifically, I looked at portfolio credit quality, investment asset classes, diversification, non-accrual rates, portfolio yield, fixed/variable rate loans, leverage, interest rate sensitivity, volatility ratios, market capitalization, insider ownership and trends, institutional ownership and trends, and management/operational history for each BDC.
The charts below show the 'relative risk' rankings (10.0 implies the least amount of risk) before and after taking into account the most recent financial results. Full Circle Capital (FULL) has not reported results and the changes in its risk score is due to relative changes compared to other BDCs rather than specific changes in the company.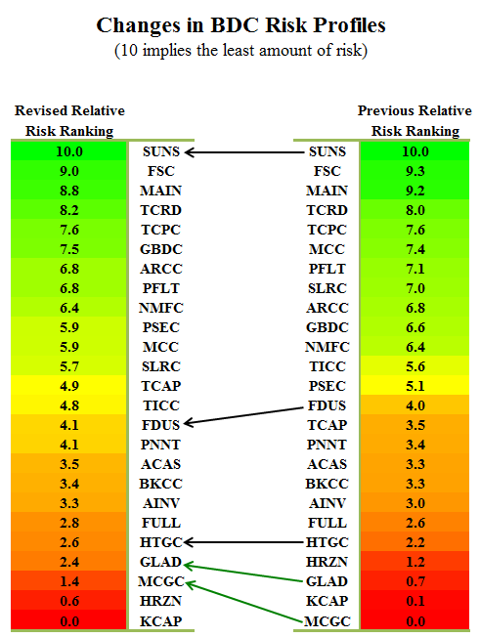 Solar Senior Capital (NASDAQ:SUNS)
SUNS has been ranked at the top of my relative risk rankings for a while. However this can be misleading because only a small portion of the weightings that I use to calculate the risk rankings are related to NAV growth and dividend coverage compared to the list of criteria described earlier. NAV per share growth and dividend coverage are mostly counted in my profitability and payout categories, and I try not double count criteria whenever possible but for SUNS I may make an exception due to its recent lack of dividend coverage and decline in NAV per share values giving it a rank of 1 out of 10 in the profitability category as shown in my latest overall ranking table: "BDC Rankings For Q2". SUNS covered dividends for 2012 but earlier this year it had an equity offering and has struggled to cover dividends since.
I believe that many of the reasons SUNS is having a shortfall of NII are some of the same reason why it is ranked as a 'safer' BDC. It invests in much safer types of loans with 97% of its portfolio in senior secured bank debt at much lower yields than other BDCs. Its weighted average yield on investments is 7.3% and the lowest in the industry and has declined from 8.0% in Q2 2012. If rates do start to rise SUNS should benefit from having 92% of its investments at variable rates. Another factor contributing to its reduced NII is the lack of leverage. SUNS has a very low debt to equity ratio of 0.19 which makes it safer during an economic downturn but limits the amount of portfolio growth and attributable income. SUNS also has low volatility ratios but as one of the newer companies these have only been measured over a short period.
Overall I believe SUNS is one of the 'safer' BDCs but if it continues to have declining NAV per share and is unable to cover dividends with NII I will have to reconsider its risk ranking.
Fidus Investment (NASDAQ:FDUS)
FDUS's risk score improved marginally from the previous quarter due to a slight reduction in its weighted average effective yield and its debt to equity ratio, as well as an improvement in its interest expense coverage with NII. It had adjusted NII of $0.38 per share and covered its dividends as well as increasing its NAV per share by 4%, more than any other BDC and had no loans on non-accrual. It recently announced a special dividend as a result of the gains for the quarter and the CEO stated "Looking forward, with $56.3 million of cash on hand and the approval of our second SBIC license providing access to an additional $75.0 million of attractive low cost long-term debentures, we are well positioned to continue to selectively grow and diversify our investment portfolio. We remain highly focused on managing our business for the long term, targeting new investments in high quality businesses that operate in industries we know well, that generate strong cash flows and have positive long term outlooks".
Hercules Technology Growth Capital (NASDAQ:HTGC)
HTGC improved its risk score, beat its projected EPS as predicted in "Hercules Technology: Will It Continue To Surprise?" and grew its NAV per share by 1%. Its overall portfolio mix was unchanged and its yield on debt investments remained higher than average at 14.2%. HTGC has one of the highest leverage ratios with a debt to equity of 0.93 which is close to the maximum allowed for BDCs but the regulatory ratio does not include SBIC loans, allowing for much higher leverage ratios as shown below: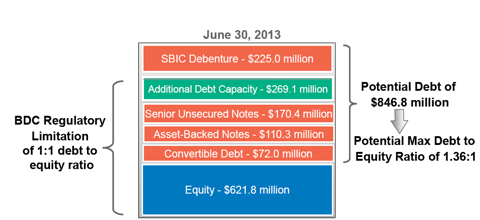 HTGC has less portfolio diversification by design and focuses on companies that may have limited operating histories and conduct business in regulated industries that could be affected by changes in government regulations as discussed in this article and it had two loans on non-accrual with a fair value of approximately $5.5 million.
Gladstone Capital (NASDAQ:GLAD)
GLAD improved its risk score due to improved interest expense coverage from NII and its weighted average portfolio yield of 11.6%, below the industry average (but trending higher) as well as beating projected EPS and covering dividends. It continues to have the second highest amount of non-accruals (ACAS has the highest) compared to other BDCs as discussed in "The Good, The Bad And The Maybe? Part 17: GLAD" with three portfolio companies on non-accrual and an aggregate debt cost of approximately $53.7 million, or 15.9%, of the cost basis of all debt investments. GLAD had the largest decline in NAV per share for the quarter, high volatility ratios and underperforms during down markets.
MCG Capital (NASDAQ:MCGC)
MCGC remains low in my risk rankings for a few reason discussed in "MCG Capital: An Overpriced BDC" but improved its risk score from the previous quarter due to increases in the amount of safer senior secured debt to 57% of the portfolio, decreasing its debt to equity ratio from 0.63 to 0.56, close to the industry average, and reducing non-accruals to 0.1% of the portfolio at fair value.

MCGC increased its average portfolio yield from 12.1% to 12.5% during the quarter most likely because the new management is trying to eventually cover dividends for the first time in over two years. It has successfully stabilized its NAV per share price over the last three quarters but it continues to have concentration risk in the healthcare industry, some of the highest volatility ratios and perform poorly in down markets.
In the remainder of this series I will cover the risk profiles for the other 5 BDCs that I follow as well as my personal price targets for each BDC based on their relative risk rankings.
Investors should only use this information as a starting point for due diligence. See the following for more information:
Disclosure: I have no positions in any stocks mentioned, and no plans to initiate any positions within the next 72 hours. I wrote this article myself, and it expresses my own opinions. I am not receiving compensation for it (other than from Seeking Alpha). I have no business relationship with any company whose stock is mentioned in this article.