The prevalence of anonymous and unreliable feedback over the internet is a real quality issue for those who rely on internet reviews and ratings to make important decisions. This problem is what facilitated the evolution of the Angie's List (NASDAQ:ANGI) business model to charge customers and businesses for creating an authentic marketplace for reviews and ratings. Within its platform, customers have a certain level of comfort from consumers and vendor partners of credibility and intent. Customers can research, hire, review and rate companies based on their user experiences. The aversion to risk and the high opportunity cost on "high cost of failure" initiatives make it palatable for their customers to pay a small fee in exchange for credibility in the vendors they select for important projects. This positioning makes sense until you consider that Angie's List Inc. is no longer competing against a faceless internet, the Yellow Pages and mouth-to-mouth referrals. It now competes against the complex connections of social networks profiled in Facebook (NASDAQ:FB), Yahoo (YHOO) and Google (NASDAQ:GOOG) and LinkedIn (LKND) just to name a few. In this article I argue that Angie's List is in a bad position and also that its macro environment has more factors working against it than for it.
Changing Tides:
When the Angie's List business model came into existence research for service providers was done primarily through the Yellow Pages, local newspaper advertisements, and word of mouth referrals. The advent of the internet further bolstered its credibility because internet content was mostly anonymous and a random collection of unverifiable opinions. These sources were in most cases susceptible to be biased, incomplete, inaccurate and unverifiable.
Fast-forward to the current social media environment with some consideration of the future of the connected web. There is a strong emphasis on identities not only for users but also in what they and their connections do both on and away from the web as epitomized by Facebook and Google. Let's use Google, for example, as a competitor. Google goes to extreme lengths to crawl, collect and arrange information about users on the internet. If by any chance you happen to use Gmail, they offer you Google +, maps (phone numbers, directions, address, and reviews) and YouTube to name a few. Users are able to see reviews of business from their friends and their expanded networks all for free. In addition, they will provide directions and coupons based on your location and/or selected vendor. This is the same or similar for Facebook, Amazon (NASDAQ:AMZN), Groupon (NASDAQ:GRPN) and to an extent Yelp (NYSE:YELP). I use Yelp as an example with an asterisk and a bit of caution. It is susceptible to similar risks but trumps because it is free, more aligned with the technological trends and changes in consumer habits/patterns.
Fundamentals:
Angie's List has a market cap of about $1.23B with a gross margin of about 83.47%. Its YTD price appreciation is about 75%, with revenue growth between 2011 and 2012 of about 73%. With negative profitability ratios (profit margin, operating margin, ROA and ROE) and a 5 year expected PEG of -1.14 the market seems to be seeing something in the stock that does not meet the eye. Everything being equal the rate of revenue growth alone usually mitigates other unfavorable metrics but this is not a company in a position to gain market share without a comparable growth in cost of revenue. Like most new companies, especially tech companies, there is serious inflation in the cost of acquiring new customers, acquiring talent and also the cost platform development. Angie's List Inc.'s total expenses have been above total revenue for the past 5 years with costs showing an unabated correlation to revenue (see chart below). There are many scenarios within the financial statements that can allow the company to take a bath in one quarter and show lower losses or a smaller profit but those scenarios are not sustainable to reflect the premium of the stock price. The chart below shows both quarterly and annual operating expenses and revenue.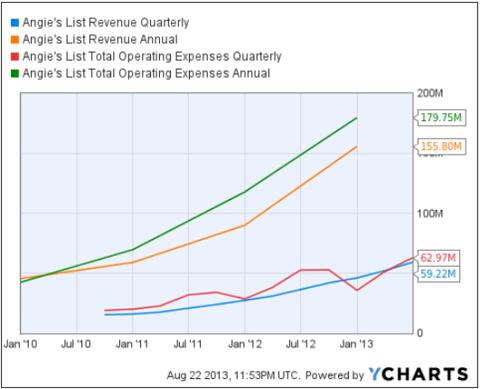 There also seems to be a disconnect between the relationship between quarterly net income and stock price (see chart below). The trajectory for quarterly net income has shown a fairly consistent zigzag pattern since 2011 while the stock price shows upward momentum. Note that the difference in the trajectory of stock price and net income. This type of movement is usually indicative of an underlying intangible like insider buying, new partnerships, buyout expectations or in recent times a favorable stock market. With little or no reported recent insider buying activity and a rather high institutional ownership percentage this stock carries an unusual risk of significant movement with sudden changes in ownership positions or analyst opinion.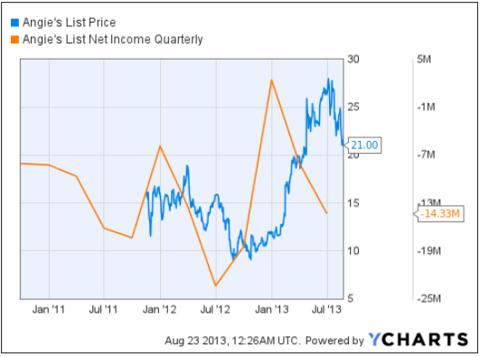 When companies come to market with a solution that has demonstrable monetization capabilities and staying power, profitability is usually not the biggest concern on the minds of investors. Angie's List had a solution but the market seems to have caught up to it. When that happens cost management needs to become a priority and there is no inclination from the financial statements or commentary that SG&A can be managed down without impacting the quality of service provided to its customers. The bigger risk to the fundamentals is the macro environment and the ability of the environment to exert pressure on growth and cost reduction capabilities of the company.
Competitors have caught up to all early move advantages except for the established base of Angie's customers who, without a switching cost, are able to migrate away when convenient. Per the chart below the cost to grow revenue is not sustainable if we look solely at a comparison between membership revenue and the required marketing efforts to acquire this revenue. Note that this comparison is for perspective only as marketing expenses will not exclusively be spent on membership revenue alone (numbers in thousands)

The rate of growth of cost needs to be lower than that of revenue and at least decline with size. Note the change in SG&A in relation to the change in revenue and also the size of SG&A in relation to Total revenue.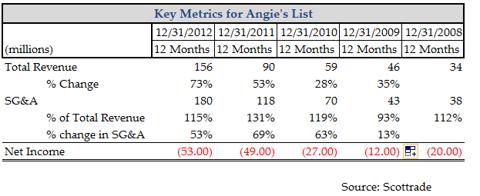 Risk Factors:
The stock price of companies like Angie's List Inc. are always more susceptible to swings caused by single events. As much as the company has been able to grow revenue there are adequate risk factors that could have material consequences to the stock price. Here are some of the perceived risks/threats for Angie's List.
Branding - the company is marketed as a "neighborhood authentic mom-and-pop" type business. It is a necessary brand position for their targeted customers who fall within an age range that requires "high cost of failure" services. There is, however, a not so subtle disconnect once you realize that it is under all pressures of other public companies to turn a profit. I found a link on the FAQ portion of Angie's List website which states - "Angie's List does allow providers that earn an average of an "A"- or "B"-rating to advertise in the form of exclusive discounts available to our members. Only companies that maintain their positive ratings are offered this privilege. If a company's rating falls below a "B" or if they fail to respond to a Complaint Resolution issue, we remove their coupons from our magazine and website". Practices like this are inoffensive and unnoticed until something goes wrong or a competitor forcefully points it out and then it becomes a very sore point with the press and with customers.
Marketplace Consolidation -service providers are consolidating their services by areas of expertise to control supply, ensure service levels and provide referrals within specific networks. In medical services, for example, it is not uncommon for insurers to require the insured to use specific networks to search for providers. All out-of-network providers come at an extra cost and in some cases are not covered at all. These platforms usually provide reviews, ratings and search functions by multiple criteria. This can be similar for roofing, plumbing and you name it. Additionally service providers are increasingly providing warranties or service protection plans that mitigate customer concerns. In addition and when all else fails LinkedIn, Facebook, Google and others mop up and further restrict the needs for Angie's platform. As these alternative sites get better connected and expand their user base, the need to pay for referrals, ratings and reviews will only diminish.
Key Personnel - most investors consider leadership of a company in making investment decisions regardless of company performance. Usually a company's culture mimics characters of its leaders or founders. In the case of Angie's List the influence of co-founder Angie Hicks, seems critical in how the company connects with its users. This is not a dig at the leadership of the company by any means. The brand and culture, from the outside looking in, clearly revolves around co-founder Angie Hicks. With the company not making a profit and not looking likely to sustain profitability if it were to become profitable, her departure, especially if forced, from the company will have a material impact on the stock price.
New areas of business - Angie's List with its technological base, captured customers and consumer/vendor data is in an ideal position to move vertically or horizontally. The problem is that there are not many new areas of business that it can get cheaply get into that can have a significant impact on its overall outlook. With little opportunity for a significant organic growth it will have to bear the costs of an acquisition and the inherent integration. Unless, of course, it can acquire a company that can adequately alter its costs and revenue profile. Usually such opportunities are not cheap and if they are they are usually bid up. The other side of this argument is that with proven revenue streams Angie's List Inc. can be a takeover target for its competitors with better technology and resources. Yelp, for example, is a good fit because it closely resembles Angie's List in many aspects except that it is better positioned technologically and has a bigger user base.
Conclusion:
Angie's List is a business model that technology has caught up to and almost bypassed. Mobile computing and changes in how/where customers interact with technology plays into the hands of bigger competitors who offer more within their ecosystems. The proposition value of Angie's List to its customers will inevitably weaken as free alternatives get better and more compelling. When that happens there is pressure to reduce prices which means revenue can only go up with more revenue generating units. Ultimately the whole package of pricing, activation fee, segmentation, and money-back guarantees are only as good as they can be simple. There are no switching costs for customers and there is little protection against disruptive technologies which pop up every day. Ultimately this segment will be driven by technology in the form of the ability to facilitate reservations, interactions (customers, businesses and platforms), check-ins, maps, location based searches and verifiable reviews amongst others. As good and dependable as Angie's List is, its current model within the business climate does not support the appreciation in the stock price.
Disclosure: I have no positions in any stocks mentioned, and no plans to initiate any positions within the next 72 hours. I wrote this article myself, and it expresses my own opinions. I am not receiving compensation for it (other than from Seeking Alpha). I have no business relationship with any company whose stock is mentioned in this article.