The White House says that there will be no second stimulus, but of course there will be much more. The latest stimulus plan that came in is a twist on the plan from the first iteration. Now, the unemployed in all states get extra weeks of benefits.
The unemployed in states with 8.5% or higher unemployment will receive 20 extra weeks of benefits
The unemployed in states with less than 8.5% unemployment will receive 14 extra weeks.
In addition to that stimulus program there are others that right now seem guaranteed to be enacted.
The $8,000 first-time homebuyers' tax credit will be extended.
Government is giving money to states to fund mortgages for low income households.

The 65.0% subsidy for COBRA will go through (right now it expires at end of the year).
In fact, one of the more peculiar sectors Thursday was the homebuilders, which rocked on speculation there will be an extension of the first-time buyers tax credit. Who knows...maybe this time around it will not discriminate against people making a certain amount of money. Homebuilders are hoping for $15,000; that isn't going to happen, however.

In addition to more stimuli (by any other name) the Fed is grappling with when to raise rates and by how much. On Thursday night Ben Bernanke tried to walk that middle ground and reassure the he has the guts to raise rates - after the Fed sees improvement. For some it was a relief to hear the Fed chief acknowledge that at some point rates have to move higher to control inflation. Of course this is a jawboning tactic as there is no clear sign rates will be hiked for the foreseeable future. Still, the speech popped the dollar against the Yen in overnight trading.
Hail to the Chief
President Barack Obama was awarded the Nobel Peace Prize Fridat morning. We didn't get the Olympics but Europeans showed their love for our President who won for efforts to strengthen international diplomacy and cooperation between peoples. I've written before my opinion on Nobel prizes, which have become too much about politics. It's too early for President Obama to win an award for changing the world. Even reporters were shocked when the news was announced; President Obama wasn't even considered one of the finalists by many in the media.
Economic Data
The US trade deficit was -$30.7 billion in September from -$32.0 billion August coming in below the consensus number of -$33.0 billion. While it would seem counterintuitive to think we wanted this number to be at consensus or a larger deficit reaction from equities says that's exactly the case. Imports were down and that reflects punk demand which in turns underscores the fact that consumers are still counting their pennies- literally not figuratively.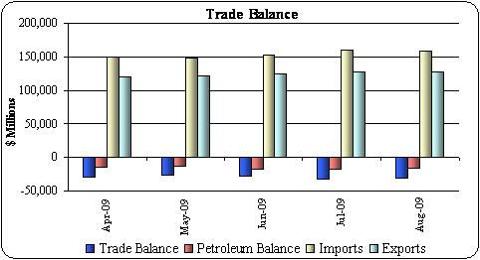 Written by Charles Payne, CEO and Principal Analyst of Wall Street Strategies (wstreet.com) providing independent stock market research to over 30,000 subscribers, in more than 60 countries. Mr. Payne is a regular contributor to the Fox Business and Fox News Networks. For more information about Mr. Payne, please refer to the company's website www.wstreet.com.