As someone who covers a lot of short ideas on this site, one of the most important items I follow is short interest data. One must always be aware of the short interest in a stock. A large short base could spark a short squeeze on good news, while low short interest could spark a huge drop on bad news. Every couple of weeks, we get an update from Nasdaq on short interest data, and I report on what I am seeing. Today, I'm here to discuss the middle of August numbers. Today, I'll discuss five names that short sellers are running away from, whether just recently or over the longer term.
Sirius XM (NASDAQ:SIRI):
The last time I did an update, I mentioned Sirius getting close to the 300 million shares short level. At the mid August update, Sirius crossed the key level for the first time in 9 months. More than 11 million shares short were covered, putting short interest in this name at its lowest point in 10 months. Additionally, nearly 30% of shares short have been covered since the peak, as you can see in the chart below.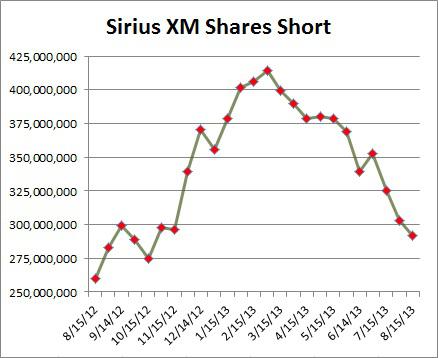 Sirius shares hit a new 52-week high in early August, although they have backed down a little in the past week or so. Some recent Sirius news has seemed to be lost in the market shuffle, and Stephen Faulkner continues to plead for shorts to cover. Shares of Sirius are up 27% year-to-date, with a large part of that rally coming over the past few months as shorts have covered, as I showed above. Momentum in this name could push this stock back to $4.00 on the next piece of good news, and will send more shorts running for cover.
Groupon (NASDAQ:GRPN):
There were a number of social media names that I could have put on this list, but Groupon gets the spot. The daily deals site has seen short interest drop to a 14-month low, below 25 million shares. Almost 18 million shares, more than 42.3% of the total, have been covered since the 2013 high reached four months ago. It's part of the reason why Groupon shares have more than doubled so far in 2013.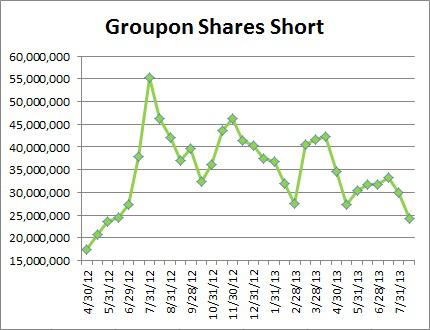 The latest rally came after a quarterly earnings report and buyback announcement, but I cautioned investors about the news. Groupon shares have rallied tremendously, but their results have not been that impressive, and guidance was light again. The buyback is nice, but would have been much more impactful when shares were a lot lower. Groupon shares dropped initially after my short call, but have rallied a little over the past few days, as they have been grouped in with the momentum names, which are all rallying towards new highs. A lot of these names appear to be in or approaching bubble status though, so investors need to be careful.
Apple (NASDAQ:AAPL):
Apple makes this list for a couple of reasons. First, this was the lowest short interest count in four months, as you can see below. Short interest is now less than half of what it was at that super spike we saw in April, and that's a good sign.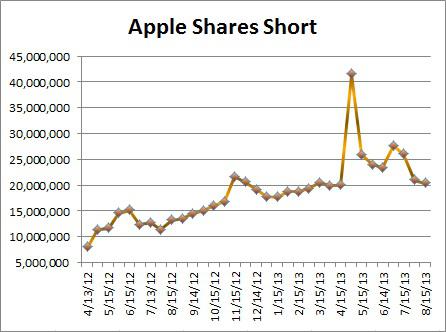 But perhaps the biggest news is the dive we saw in Apple's days to cover ratio, the number of days it would take all short sellers to cover. This is the largest drop in the ratio in well over a year, as you can see in the chart below. At 1.36, the days to cover ratio is at its lowest point since the end of March. Not only is Apple's short interest coming down, but trading volume in the name is finally starting to pick up.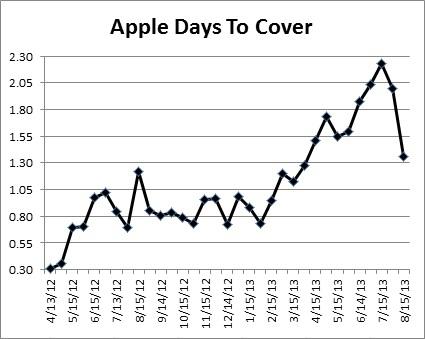 What's going on with Apple? Well, there's a couple of key items to focus on. First, investors are realizing the impact of Apple's buyback on earnings per share. That could be helped even more if the buyback increases thanks to some pressure from Carl Icahn. The second item is that new product launches are coming soon, and we're just a handful of weeks away from the next iPhone announcement. Apple supposedly has a lot of new products coming, something we really haven't seen since last fall. Investors are starting to buy into Apple again, with shares back above $500, and shorts starting to really cover.
Amazon (NASDAQ:AMZN):
In one of the biggest short interest moves we saw at this update, more than 15% of Amazon shorts covered in the roughly two-week period. But it is not just the size of the move that is significant, as you can see in the chart below. Amazon's short interest is at its second lowest point over the past year.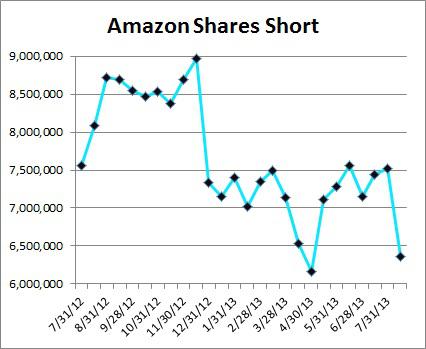 I have a feeling that shorts are starting to cover as Amazon's stock has dropped about $30 since its 52-week and all-time high. I stated that $285 was a fair value for Amazon, and that's basically where the stock has been recently. Finally, the stock is starting to reflect expectations, which currently are at a new low. Analysts are now calling for less than 22% revenue growth this year and next. I expect those numbers to continue lower, because Amazon continues to disappoint and guide lower. Amazon's stock is starting to reflect that, so shorts have covered in response. Normally, you would think that reduced expectations would mean an increase in short sellers, but it doesn't work that way with Amazon.
Microsoft (NASDAQ:MSFT):
Another 6.2 million shares in Microsoft were covered during the first few weeks of August. This puts short interest in Microsoft at its lowest point in more than 16 months, which you can see below. Since the peak 4 months ago, more than 51.3% of short positions have been covered. That's truly a significant move.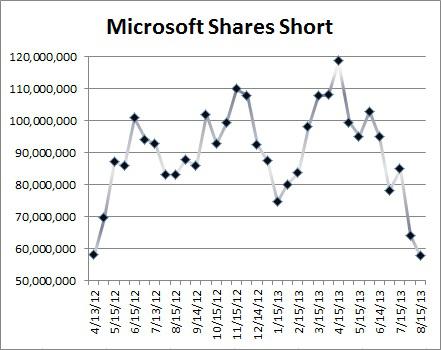 It will be the next update in short interest for Microsoft that will be even more interesting. CEO Steve Ballmer recently announced his retirement, which sent Microsoft shares higher last Friday. The retirement comes a little earlier than expected, but Microsoft's poor results recently may have expedited the process. Short sellers now have to decide whether this transitional period will be rocky for the company. Don't forget, a dividend raise is expected soon as well. There's a lot going on with Microsoft, so short interest may get lost in the shuffle.
Final Thoughts:
All five of these names have seen significant declines in short interest. Sirius short interest crossed the 300 million mark for the first time in 9 months, while Groupon short interest plunged to a 14-month low. Apple short interest came down, while its days to cover ratio plunged as volume has picked up in the tech giant. Amazon's short interest came down with the stock's price, and Microsoft short interest dropped even before the stock's rise on Ballmer's retirement. Will any of these five names make the list next time around? We'll see in a couple of weeks.
Disclosure: I have no positions in any stocks mentioned, and no plans to initiate any positions within the next 72 hours. I wrote this article myself, and it expresses my own opinions. I am not receiving compensation for it (other than from Seeking Alpha). I have no business relationship with any company whose stock is mentioned in this article.
Additional disclosure: Investors are always reminded that before making any investment, you should do your own proper due diligence on any name directly or indirectly mentioned in this article. Investors should also consider seeking advice from a broker or financial adviser before making any investment decisions. Any material in this article should be considered general information, and not relied on as a formal investment recommendation.