Glu Mobile (NASDAQ:GLUU) surprised investors by raising full-year guidance in what they called a transition year. Well, after diligently researching the facts, I discovered solid evidence that Glu's new GaaS (games-as-a-service) monetizing strategy is responsible for driving these new revenues.
On August 6, 2013 Glu Mobile reported Q2 results that once again beat analysts' earnings forecast by $0.02 and raised gross revenue projections for the full-year 2013 up to $98.9 million.
We're adjusting our 2013 full year gross non-GAAP revenue guidance to be in the range of $96.8 million to $98.9 million.
Glu also reported it will continue its rapid Asian invasion in both Japan and Korea. With Japan's population around 127 million, and the South Korean population, excluding north Korea, around 50 million, Glu is well positioned to gain market share and grow new revenues.
Glu continues to expand across Asia at a rapid pace and we are pleased to add the expertise of Shinsuke Mori and Jay Kim to our team," said Chris Akhavan, Glu Mobile President of Publishing. "We anticipate that their deep knowledge of the Japanese and Korean gaming markets will strengthen our 1st and 3rd party growth. Glu remains focused on forging new relationships in Asia while continuing to bring great content to more gamers across the region.
While Glu's Asian invasion and revenue growth is great news for investors, some fast money traders took exception to Q3 expansion cost and a projected softer Q3 outlook. Glu's shares gapped down on the following day to close at $2.45 and subsequently drifted lower over the past few weeks as the broader markets corrected around 5%.
The company sees revenue in a range of $19.6 million to $21 million, and a net loss of 10 cents to 11 cents a share. That is below the current consensus for $22 million and a 3-cent loss.
None of this should come as a surprise to investors. CEO de Massi is aggressively engaged in a monetization strategy to invest in top talent that will enhance Glu's effectiveness in GaaS (games as a service) and drive revenues. In a previous article "Glu Mobile: The Story Behind The Vision," I mentioned that Glu plans to add about 60 GaaS recruits through the year's end.
The question that every investor must ask is, will all the spending and hiring payoff for Glu and its investors? Well, according to the beta test results below the answer is a resounding YES.
Understanding Ad Tiles And GaaS Revenue
The future of free-to-play mobile gaming must involve the GaaS model because it engages players to make repetitive purchases. Revenues from second or third party static ad tiles and links have been the industry staple and should remain in place. After all, this is how Glu grew to where they are, but the static ad tiles cannot get Glu to the next level without help from the GaaS model. The powerful dynamics of the GaaS model will induce players to purchase game upgrades, premium services, game enhancements, and special add-ons in one seamless and easy step.
Seth Sivak, CEO of Proletariat, an experienced game designer, engineer, product manager and executive producer wrote:
Free-to-play games are going to continue to become more popular and games as a service will become commonplace--if not the standard--industry [industry standard] very soon.
As a leading mobile game developer, Glu Mobile is in the forefront and future of GaaS. It is an undeniable fact that GaaS is becoming the industry standard, and Glu is on track, on time, and on target to move forward and complete their successful transition into a rapidly changing and growing market.
During Q1-Q3 2013, Glu's focus has been to re-work and integrate GaaS monetizing strategies into existing titles. This is proving to increase revenue optimizing and increase LTV (lifetime value) as explained by Matt Ricchetti's comments below, Glu's President of Studios.
Ricchetti shared some very significant numbers during the conference call that demonstrate the effectiveness of Glu's strategic transition. Ricchetti tasked Glu's new monetization team to work on optimizing existing live titles using Glu's new monetization strategy. Here are the results:
Frontline Commando: D-Day
25% increase in paying users.
38% increase in LTV.
Heroes Of Destiny
27% improvement in conversion.
43% increase in LTV.
Eternity Warriors 2
Ricchetti's assessment of Glu's ability to increase revenue on existing live games has gone from a belief to a reality. As previously stated, Glu's free-to-play mobile games were dependent upon static ad tiles. As users access the free-to-play games, the ads are displayed and revenue is generated. The more active users, the more ad tiles are displayed. To increase revenue with this model you can:
Try and squeeze another tile on the limited Android screen.
Transition the marquee, banner, or tile to another advertiser.
Advertise your game to attract more active users.
Convince advertisers to pay more for display and click-thorough.
Create a new game or game version to attract new users.
As you can see, some options offer limited results while others are costly. Creating a whole new game or purchasing advertising to attract new users is costly.
With Glu's new monetization team using GaaS, Glu has the ability to take any existing game title and modify it to solicit the current active users to purchase game upgrades, premium services, game enhancements, and special add-ons. Now go back and read the percentage increases Ricchetti shared and you will understand why de Massi is transitioning to GaaS model and why Glu's revenue could significantly increase.
Ricchetti sums up in a few words what he has proven to himself and investors. The GaaS hypothesis of increased revenue generation through GaaS works, and it works well. Ricchetti says:
Bottom line, we are confident that we now have the ability to not only design better monetizing games as demonstrated in Q1, but optimize them effectively for topline revenue during beta and after worldwide release.
So where does CEO Niccolo de Massi see Glu and GaaS, nicknamed "GluOn," in the future?
Long-term, we believe that the use of big data, machine learning and merchandising will progress to the level seen in firms such as Amazon, eBay and Google. We as such expect GluOn to become an evermore critical contributor to our sustained success.
If de Massi is correct, Glu's revenue will grow substantially and the share price move significantly higher.
MGM Interactive Update
As I mentioned in another article, Glu has entered into a strategic relationship with MGM Interactive featuring a James Bond game franchise and $10 million cash for warrants deal:
MGM Interactive entered into a strategic relationship with Glu Mobile to purchase approximately 3.3 million warrants for $3.00 each ($10 million cash) according to Glu Mobile's 8-K form filed with the SEC on July 17, 2013. The strategic partnership licenses Glu to develop and release a new mobile game based on one of the most successful franchise names in history "007, James Bond."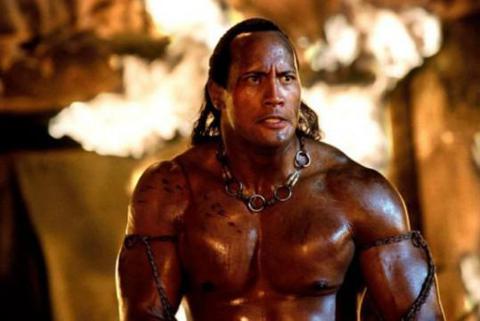 Hercules and RoboCop along with several other MGM titles, 10 in all, are in the pipeline for 2014 and will potentially emerge as GaaS blockbusters. MGM Pictures will release the epic tale of "Hercules" staring Dwayne "The Rock" Johnson in 2014 around the same time Glu releases Hercules the game. This MGM collaboration should benefit Glu's revenues and their share price. The fact that MGM Interactive is comfortable with purchasing $10 million of warrants at $3.00 per warrant is a strong indicator of where they see Glu's share price in the future.
Disclosure: I am long GLUU. I wrote this article myself, and it expresses my own opinions. I am not receiving compensation for it (other than from Seeking Alpha). I have no business relationship with any company whose stock is mentioned in this article.