Business Overview:
Netgear (NASDAQ:NTGR) is small-cap global networking company that delivers innovative products to the consumers, businesses and service providers. Its product line consists of wired and wireless devices that enable networking, broadband access and network connectivity. The company mostly focuses on high-growth segments of the industry with strong emphasis on R&D. It serves all kinds of customers: retail, commercial, and service providers.
The retail business unit consists of high performance, dependable and easy-to-use home networking, home monitoring, storage and digital media products.
The commercial business unit consists of business networking, storage and security solutions.
The service provider business unit consists of made-to-order networking solutions sold to service providers for sale to their customers.
The company conducts its business across three geographic regions: Americas, Europe, Middle-East and Africa ("EMEA") and Asia Pacific ("APAC").
Investment Thesis/Theme:
The company holds an excellent growth potential, and its current valuation offers an attractive entry point to the company. I believe these valuations are cheap and don't reflect its true business strengths, its future growth potential and leaves a lots of space for the further appreciation of its share price. There are several reasons behind my belief like:
Its focus on high growth segments.
Best in class, cost-effective, offerings.
Its strong emphasis on R&D.
Innovative approach.
Developing advance technology products (Getting ready for the future).
Acquisition strategy.
Global reach.
Multiple sales channel and strong retail presence.
Attractive valuations.
1. Focus on high-growth segment:
The company's focus is on high-growth segments of the industry like:
Smart Home (home networking devices): The company provides products like: multimedia products, home security monitoring & automation products, broadband gateways and home wireless products through its retail sales network. The company expects to see significant growth in the next few years for Smart Home market.
As said by the management:
"We are seeing the Smart Home market continue to grow about 30% year-over-year in North America, and it is already about half the size of the WiFi router market. In 3 years, we believe the retail market of Smart Home networking devices will be as big, if not bigger than the router market. We believe there are countless ways to improve and expand our product offering for the Smart Home and that we have a lot of share to gain by striving to be the leading provider of seamless and easy-to-use solutions for the modern connected family." (Source: seekingalpha)
Access networks for cloud computing: The company provides network access solutions (smart switch and network storage product) for the cloud computing to its commercial customers, mainly small and medium enterprises.
The cloud computing is growing at an exceptionally fast rate.
According to the Cisco Global Cloud Index, the global data center traffic is expected to grow fourfold and reach a total of 6.6 zettabytes annually by 2016. The company also predicts global cloud traffic, the fastest-growing component of data center traffic, is expected to grow six-fold, a 44 percent combined annual growth rate, from 683 exabytes of annual traffic in 2011 to 4.3 zettabytes by 2016. The global cloud traffic will account for nearly two-thirds of total data center traffic by 2106. Moreover, the Software as a Service ("SAAS") and cloud-based business application services are expected to grow from $13.4 billion in 2011 to $32.2 billion in 2016, a five-year CAGR of 19.1%.
This increasing popularity of cloud computing, coupled with the rising rate of data transfer, offers lots of growth opportunities in the "cloud data access solutions" market.
Another segment where the company is very active is its Wi-Fi offerings. According to the management:
"Wireless LAN market, which according to the latest market report is growing 15% plus." (Source: seekingalpha)
The company through its R&D effort has produced and commercialized Wi-Fi products that offer the most advanced configuration: its 802.11ac routers and gateways (normally known as Wi-Fi routers) which are compatible with most advance devices like Samsung Galaxy S4, HTC One, MacBook Air, etc.
All these segments (smart home, cloud networking and wireless LAN) are the fastest-growing segments within the networking industry, and much of the future growth within the industry is expected to come through these segments. Unlike most of the other companies which are facing stiff competition from the low cost manufactures, the company is not expected to see any such pressure as it itself got its products manufactured from third party, low cost manufacturers, mainly from China. With its top-class technology, cost-effective products, and its multiple sales channels, the company is all set to make most out of these growth opportunities.
2. Best in class, cost-effective, offerings:
The company develops products that are, best in class to compete against the big quality manufactures, and cost-effective to compete against the low cost manufacturers. The latest example is its 10-gigabit switches used by its commercial customers.
As said by the management:
"We have the first breakthrough 10-gigabit switches for sub-$1,000, no competition over there. We have our enterprise-class storage products, which would enable our customers to have data protection, such as unlimited snapshots and remote replicate that, frankly, is right at the capabilities of the NetApp and EMC but much easier to use and maintain."(Source: seekingalpha)
The above statement says a lot about its product quality, cost-effectiveness and ease of use. These things are converting into the sales and the sale of its 10-gigabit switches are doubling, tripling every quarter.
As the company gets its products manufactured from the third party, low-cost, manufactures it is capable of introducing such low cost products (10-gigabit switches for sub-$1,000) without compromising the quality standards. To maintain its quality standards the company sets up its own quality standards. To make sure that the products manufactured by the third party manufacturers meet its quality standards the company deploy its own checking teams and quality control centers that make sure that the quality of the products meets the required standards. This capability of the company to make low cost products with high-quality standards should not only allow it to stay ahead of its competitors but should also helps it to gain the market share in a fiercely competitive market.
3. Its strong emphasis on R&D:
The company gives the strong emphasis to its in-house R&D activities that focuses not only on developing the top quality products but also takes care that the products are produced in a cost-effective way, the 10-gigabit switches are example of the same. This emphasis on R&D also makes it sure that the company introduces the products that are compatible with most advance devices, e.g. its Wi-Fi routers (explained above). This R&D capability also allows the company to introduce products at a rapid pace in the dynamic industry. In the Q2 FY 2013 alone, the company introduced 22 new products.
In any technology-based industry, the R&D plays the most important role in determining the future of any company. The amount of resources a company provides to its R&D department is very crucial. The company not only dedicates significant resources to its R&D department but also makes sure that its R&D department works in the right direction. The company clearly understands that any product it develops not only should meet the updated technological requirements but also should be cost-effective. This approach by its R&D department makes sure that the company's products compete well with similar products (technology-wise as well as cost-wise). This R&D approach of the company should allow it to develop the products that can meet the desire technological capabilities in a cost-effective manner and further help the company to stay ahead of its competitors in a fiercely competitive market.
4. Innovative approach:
The company also actively brings the innovative products to the market, particularly for the Smart home market e.g. Push2TV device that transpose videos from the mobile devices, be it, a tablet or a Smartphone, onto the TV.
This kind of innovative product builds a strong brand image among the tech-savvy customers and should allow the company to capture any forthcoming growth opportunity at its nascent stage of development.
5. Getting ready for the future (LTE gateways):
The company is actively working on the LTE technology solutions. this technology is one of the most advance communication technologies for telecommunication industry. This technology will increase the capacity and speed of wireless data networks as compare to present 2G and 3G network technologies. The company is working on the products that can work with the said technology, particularly for its smart home and services provider customers it has already successfully been developing such products like: NETGEAR Zing Mobile Hotspot and NETGEAR tri-band USB modem for Sprint.
Its presence in the LTE technology and R&D efforts to further build-up the LTE technology should lead the company to a high-growth trajectory in the future, as this technology is expected to be the future of telecommunication industry, and the products that are compatible with this technology are expected to see huge demand growth in the years to come.
6. Acquisition strategy:
The company follows an aggressive acquisition strategy and targets the companies that not only give the strength to its core business but also hold significant R&D capabilities. The listed below are some of its latest acquisitions:

All the above acquisitions, not only strengthen the core business of the company but also allows the company to further develop these technologies in the future, through the strong R&D capability that these companies bring along with them.
This acquisition strategy is excellent for any company, which is operating in the industry. This strategy makes sure that the company gets a quick access to the technologies which fits its core business, but the company has not build-up the R&D capability in that technologies.
7. Global reach:
The company serves consumers all over the world. This global reach will allow the company to tap every available growth opportunity and will also, to some extent, save it from any country/region-specific slowdown or from any adverse changes in the regulations.
The following table breaks down its net revenues ($ in thousands) by the geographic regions:(Source: Latest Form 10-Q)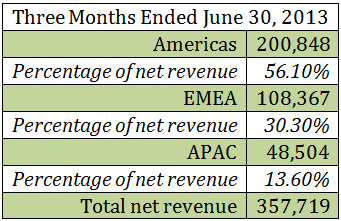 8. Multiple sales channel and strong retail presence:
The company sells its networking products through multiple sales channels worldwide, including traditional retailers, online retailers, wholesale distributors, direct market resellers ("DMRs"), value-added resellers ("VARs"), and the broadband service providers.
Its retail channel includes traditional retail locations such as Apple Stores (NASDAQ:AAPL), Best Buy (NYSE:BBY), Costco (NASDAQ:COST), Fry's Electronics, K-mart, MicroSoft Stores (NASDAQ:MSFT), Radio Shack (NYSE:RSH), Sears (NASDAQ:SHLD), Staples (NASDAQ:SPLS), Target (NYSE:TGT), Wal-Mart (NYSE:WMT), Argos (U.K.), Dixons (U.K.), PC World (U.K.), MediaMarkt (Germany, Austria), Dick Smith (Australia), JB HiFi (Australia) and Elkjop (Norway). Online retailers include Amazon.com (NASDAQ:AMZN), Dell (DELL), Newegg.com and Buy.com.
Its DMRs include CDW Corporation (NASDAQ:CDW), Insight Corporation and PC Connection in domestic markets and Misco throughout Europe. In addition, the company also sells its products through broadband service providers, such as multiple system operators ("MSOs"), DSL, and the other broadband technology operators. Its products are available at approximately 45,000 retail outlets around the world.
This vast retail presence gives a significant advantage in the dynamic industry as it allows the company to effectively market its products in a very quick time, ahead of its competitors, and also should help the company to build its image as the leading introducer of technologically advance products, in the market.
9. Valuations:
The company is currently trading with a market cap. of about $1.15 billion and PE of about 16x ("TTM"). Its share price has shown a decline of about 21% (see the chart below) in the last one year due to its dismal results, particularly in the last two quarters. Considering its business strength and its future growth potential the valuations looks attractive.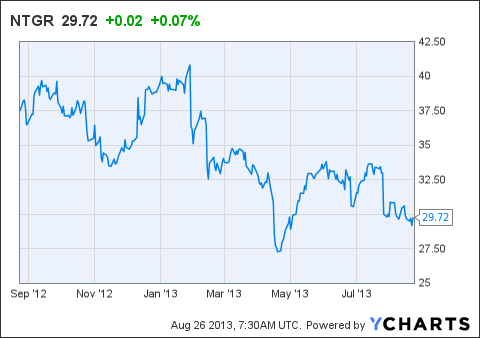 Risks:
1. Latest financial performance: three months ended June 30, 2013: (see the table below)
The company's latest financial performance is not so good. Its revenues show a decent growth (due to the recent acquisitions) of about 11.5%, and its gross profit shows a growth of about 9%. Its gross margins show a decline of about 0.6 percent point from 29.5% to 28.9%, the decline in margins is mainly due to:
Increase in amortization expense, primarily attributable to assets acquired from AirCard and Arada.
Relatively faster growth in revenue from service providers, which generally carries lower gross margins.
Slow down in European markets.
Its operating income shows a steep decline of about 30% mainly due to reasons like:
Restructuring charges of about $1.5 million.
Litigating charges of about $3.5 million.
Rise in expenses in its R&D department due to rise in headcount in said department by about 64%, from 248 to 408 employees.
Foreign currency losses.
(Source: Latest Form 10-Q)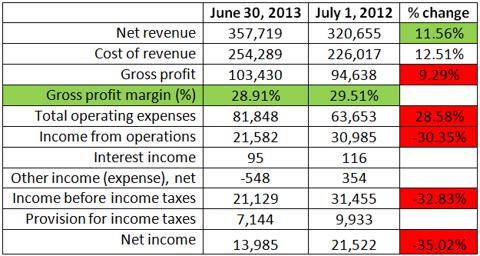 2. Litigation and Other Legal Matters
The Company is involved in disputes, litigation, and other legal actions. Most of these cases are related to patent infringements. Any adverse ruling could affect the company negatively. In the last quarter, the company faces a ruling in the Ericsson vs. NETGEAR case, and the jury assessed the damages against the company to the amount of $3,555,000. The company may face similar ruling in many other cases.
3. Competition and rapidly changing industry:
The company operates in a dynamic and fiercely competitive market. The competition is expected to continue to be intense, including price competition. Its principal competitors include Allied Telesys, Barracuda, Buffalo, Data Robotics, Dell, D-Link, Fortinet, Hewlett-Packard (NYSE:HP), Huawei, Cisco Systems (NASDAQ:CSCO), etc.
Conclusion:
The company operates in a very competitive and dynamic industry where technology advancement is the key to success; the company understands it very well, and its this understanding of the industry reflects in its aggressive acquisition strategy and its strong emphasis on its R&D activities. The company currently has a presence in all the growth segments of the industry (explained above), and the company is preparing itself for the future growth through these segments. Its recent financial performance makes its share prices to fall by about 21%, this makes the valuation more attractive. I would like to get into the company at its current valuations as these valuations have already factored-in all the negatives (recent results) and don't reflect the future growth potential of the company. Fundamentally, the downside risk is limited (unless something drastically goes wrong) and seems to hold significant upside potential due to all the positive reasons discussed above. The company presents a strong base for high growth potential, long-term, portfolio investment.
I would like to buy the company due to the following reasons:
All the positives discussed above.
Its valuation, which is undervalued and offers lots of upside.
Its business strategy: aggressive and growth oriented.
Disclaimer: Investments in stock markets carry significant risk, stock prices can rise or fall without any understandable or fundamental reasons. Enter only if one has the appetite to take risk and heart to withstand the volatile nature of the stock markets.
This article reflects the personal views of the author about the company and one must read offer prospectus and consult its financial adviser before making any investment.
Disclosure: I have no positions in any stocks mentioned, and no plans to initiate any positions within the next 72 hours. I wrote this article myself, and it expresses my own opinions. I am not receiving compensation for it (other than from Seeking Alpha). I have no business relationship with any company whose stock is mentioned in this article.