With the seemingly unstoppable rise in equities since March, it is becoming increasingly difficult to find good entry points for new positions. There are several trends - particularly in commodities and tech - that have been working and will continue to outperform as long as this rally lasts. Within technology, there is a market that will continue to expand despite any equity reversal that may await us: smart phones and mobile computing. Qualcomm (NASDAQ:QCOM) is a key player in both and appears poised to benefit from this ever-growing market. More importantly, it has lagged the sector ETF (NYSEARCA:SMH) by over 28% in the last six months, providing an attractive point of entry.
Areas of Focus
One of Qualcomm's core revenue sources is its ownership of CDMA technology, which is widely used in 3G mobile phones throughout the world. With the impending transition to 4G approaching, analysts have expressed concerns at the limited life expectancy of this revenue stream. Though Qualcomm is not as entrenched in this next-generation technology, it has been expanding other aspects of its business in anticipation of these changes.
One key part of this plan is developing and promoting their new Snapdragon processors, which allow for more slim and efficient mobile devices. This will enable the upcoming wave of new smart phones, smartbooks, and netbooks to play rich multimedia content more efficiently while preserving precious battery life [Editor's Note: Lawyers for Smartbook AG indicated that they are the owner of the word mark "Smartbook" for computers and laptops in Europe, Australia, Korea, Russia and Singapore.]. In such a critical period of growth for these types of products, it is imperative for Qualcomm's future revenue growth that they establish themselves as reliable leaders in cutting-edge chipsets. Already, companies such as Toshiba (OTCPK:TOSBF) are planning to use the Snapdragon chipsets in their new mobile internet devices.
In addition to more efficient hardware, Qualcomm has increased its focus on access to multimedia. One example is their partnership with Adobe (NASDAQ:ADBE) to create the BREW Mobile Platform, which incorporates Adobe's new Flash Player 10.1. This will equip new mobile internet devices to access more multimedia content than their predecessors, including Apple's (NASDAQ:AAPL) iPhone, which has no such agreement with Adobe at this time. (Lack of access to Flash content has been a primary complaint of iPhone users since the phone's debut.) Another key development is their MediaFLO technology, which uses old analog TV frequencies to send digital video content from NBC, ESPN, and other major providers to mobile devices. This has already been adopted in certain handsets from Verizon (NYSE:VZ) and AT&T (NYSE:T), but Qualcomm is releasing their own handheld FLO TV devices this fall.
Finally, Qualcomm is developing a new "mirasol" display technology that, although not ready for widespread use, holds a lot of promise for future devices. These displays are based on nanotechnology and are extremely efficient and reflective, allowing for both indoor and outdoor use and much longer battery life than typical displays. It is rumored that this display technology will usher in the next wave of e-book readers, possibly even one produced by Qualcomm.
Legal Issues
One of the primary reasons for the stock's underperformance relative to the sector and the market has been its legal issues. In June of this year, Qualcomm's long legal battle with the Korean Fair Trade Commission resulted in a hefty $208 million fine levied against the company. This record-setting fine exceeded expectations, set a dangerous precedent for the company's pending legal issues, and was a significant blow to the company. The news came on the heels of a settlement with Broadcom Corp (BRCM) in April of this year that resulted in an agreement to pay over $891 million to Broadcom over a period of four years. These issues all came about as a result of Qualcomm's monopoly in CDMA technology with accusations that they had abused their competitive advantage. Qualcomm has several other legal conflicts that are still pending and could result in more losses.
The Numbers
Qualcomm has projected revenue of 10.25 to 10.45 billion for FY 2009, while analysts expect revenue of 10.33 to 10.60 billion per Reuters estimates. The company reports Q4 2009 earnings on November 4, and analysts expect earnings of $1.78 per share for FY 2009. At its current price of $41.88, that would amount to a P/E ratio of 23.5. In addition, if the same P/E of 23.5 is applied to next year's consensus EPS estimate ($2.38), a price target of $56 is estimated for the stock -- a very respectable gain of 33.7% in 12 months.
Last quarter, the company narrowly beat consensus analyst estimates for EPS ($0.42 vs. $0.40), but gave very cautious guidance for the upcoming quarter due to the macroeconomic situation. Assuming the positive economic indicators that have been released since July are not red herrings, there is room for both a moderate upside surprise and a possible raise of revenue guidance for next quarter when they report on November 4.
The Stock
As previously mentioned, Qualcomm shares have lagged, declining from their 52-week high of $48.72 on 7/23/09 to their current price of $41.88. In the short-term, they will most likely react proportionally to Intel's (NASDAQ:INTC) results after the closing bell on Tuesday. Intel had an impressive run last week into earnings on speculation that they will not only beat EPS estimates, but will also increase revenue guidance for the upcoming quarter. This would likely provide a short-term bounce in the share price for chip stocks including Qualcomm. (Barron's has an article in this week's magazine discussing this scenario as it relates to the chip sector.) On the contrary, a disappointment from Intel would shake the entire sector, likely causing a further decline in Qualcomm shares.
Technically, as you can see in the graph below, it appears that Qualcomm has moderate short-term support at around $39.60. This should help keep a decline from extending very far below $40, but would not be much protection in the event of a broad market sell-off. I plan to initiate a long position in Qualcomm at market open on Tuesday before Intel reports earnings with the intention of adding to my position in the event of a decline.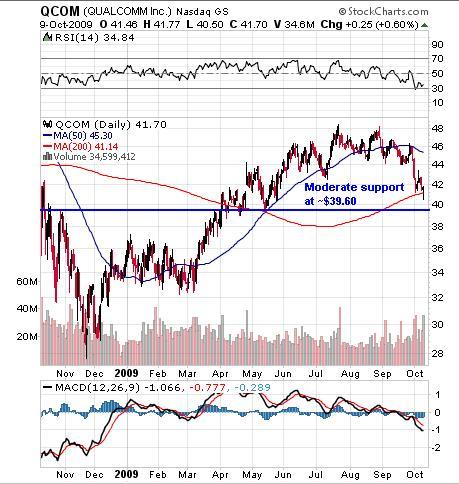 Long term, as I stated above, FY 2010 and beyond appear to be extremely favorable for many stocks in the chip sector. However, unlike Qualcomm, many of those stocks have already priced in this kind of a recovery and thus have less upside. For the reasons stated above (and several more that I did not mention), I believe Qualcomm is positioned to exit this recession and enter the age of mobile internet as a market leader.
Disclosure: I currently have no positions in any of the stocks mentioned in this article.