Beating the Dow Jones Industrial Average Index consistently is far from an easy task. Exponents of the efficient market theory say it is impossible.
More likely, the imperfection of human beings results in imperfect investment decisions, and therefore inefficient markets. There has been no shortage of evidence of this in recent years, judging by the prices paid by investors at market peaks in the late 1980s, 1990s and 2000s and, conversely, at the prices they sold at subsequent market troughs.
Perhaps because of these experiences, many investors have given up trying to pick individual stocks and have invested heavily in exchange traded funds. The first of these only became available in 1993 and, according to the Investment Company Institute's 2013 handbook, the total number of index-based and actively managed ETFs has since grown to 1,194, with total net assets of more than $1.3 trillion.
Within that ETF universe, there is one that simply matches the Dow. State Street Global Advisors' SPDR Dow Jones Industrial Average ETF (NYSEARCA:DIA) has seen its net assets go from zero at inception in 1998 to over $13bn and a market capitalization that is bigger than most listed companies.
However, those who want to outperform the Dow and don't want to pay ETF or managed fund fees, there is a simple alternative - buy Procter & Gamble (NYSE:PG).
Over virtually any time period you care to name, PG shares have outperformed the Dow to a statistically significant degree. Where the Dow in the past year has managed 15%, PG has achieved 20%; over 10 years the returns have been 60% and nearly 90% respectively, and over 35 years the returns have been 1,700% and 3000% respectively. By owning just this one stock, investors have enjoyed a superior return with lower risk for decades.
Here are some graphs over a variety of time frames going back to 1978 that show this.
Here is PG against the Dow over the past year.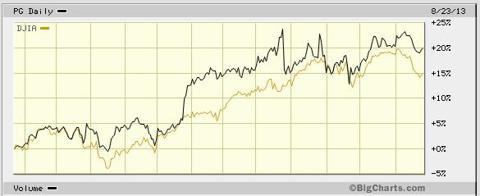 And over the past 10 years.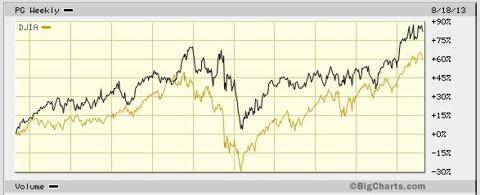 And over the longest period I could find, 35 years.

Notice in each of these examples how, while PG's performance will sometimes equal that of the Dow, it is extremely unusual for it to underperform.
This is all the more remarkable because PG is not a high growth stock or a company bringing a disruptive technology to market. Instead, it makes living by selling ordinary household items, as it has done since it was founded in 1837. It has five divisions; Beauty, Grooming, Health Care, Fabric and Home Care, and Baby and Family Care. Iconic products include Gillette razors, Wella shampoo, Crest toothpaste and Duracell batteries.
PG's ability to beat the wider market consistently is a bigger deal than it sounds, because indices like the Dow tend to outperform individual companies because of what is known as 'survivor bias'.
Since the 30 companies that make up the index are chosen based on their market capitalization, which in turn is driven by the size of their business and the popularity of their shares, members of the Dow tend to be hugely successful and profitable organizations. Any company that underperforms ends up getting dropped from the index and replaced by one that is doing better, which helps to keep the Dow rising over time.
Therefore, for a 107 year-old company that makes household beauty, healthcare and cleaning products to outstrip some of the best and brightest of US business on an extended basis is impressive. It is hard to advocate putting your life savings into a single stock, but it obviously would have paid to hold a significant portion of PG in your portfolio as an 'anchor' that would have added value with low beta and allowed you to chase even higher returns with the balance of your capital.
However, there is a danger in assuming that what has worked over the past 35 years will continue to be effective as an investment strategy in the future. The baby boomers who spent so lavishly on personal grooming and looking after their children in the latter quarter of last century are now retiring and living in empty nests. The new generation are fewer in number and, in many cases, not as financially well off.
On the other hand, PG is addressing this by expanding aggressively internationally. It already sells its products in 180 countries and, as CEO Bob McDonald is quoted as saying in April "The strategy is to be in every country." Since many countries in the developing world have a young population, the prospect is high that demand for the sort of products that captivated US baby boomers last century will continue to grow.
That offers a strong possibility that PG can continue to grow its business, and its shares will continue to outperform the Dow. Based on this, the best time to buy PG is when it has been underperforming the Dow - in other words, when other stocks are very expensive or PG is underappreciated.
Based on the past five years, as shown in the graph below, that time is now.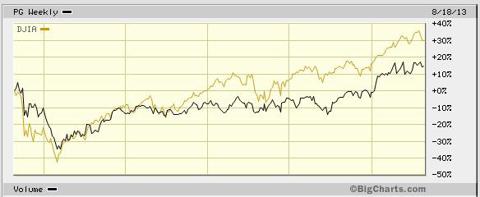 Disclosure: I have no positions in any stocks mentioned, and no plans to initiate any positions within the next 72 hours. I wrote this article myself, and it expresses my own opinions. I am not receiving compensation for it (other than from Seeking Alpha). I have no business relationship with any company whose stock is mentioned in this article.