Recently, I visited a large D R Horton (NYSE:DHI) community near Calabash, North Carolina. I took a seasoned local contractor acquaintance with me for company, comments and to catch up on the local gossip. As we all know, homebuilders. for the most part, have been slow to adjust to the new economy of change and at the lower end of the new home price point spectrum, even slower to produce a 21st century residence which includes the energy-saving expectations and and construction applications at a less than rip-off price to unsuspecting entry-level homebuyer.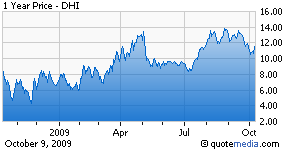 I came away from this visit very impressed with Horton's game plan - and even more importantly, pleasantly surprised at the amount of homes under construction non-spec. Price points for single family, townhouse and cottage residences were less than competitors, especially the local contractors, of which there are many in the Wilmington-Myrtle Beach corridor. Walking through homes under construction, the bones and finish quality were very good. Subcontractors on site were complimentary to the company, although no one was happy with 2009 wages if they were part part of the pre-2008 construction feeding frenzy. I also spoke with a few homeowners and all were highly satisfied with their new home (the North Easterners were just overjoyed to "get out of Dodge" and enjoy a superior climate, much lower taxes and less risk of crime).

Speaking off the record with a Horton supervisor on site, I learned that D R Horton has worked tremendous cost efficiencies into each plan. And, by offering three distinct classes of homes in a well-conceived and mild amenity community, sales are brisk even in a moribund market. Further investigation lead me to surmise that this community is not unique for the new, wiser D R Horton. By selectively concentrating an overweight of communities in areas of the country where there is climatic and tax advantages, this homebuilder recognizes both the political realities of the present and the construction expectations of the future.

D R Horton, based in Houston Texas, is priced at $11.70/share with a yield of 1.28%. The company has market cap of $3.7b and a highly liquid trading volume. The 52-week price range is $3.79-13.90. Investors should be aware that the stock has been trading up recently and has been upgraded by a few analysts.

While kicking the tires of a company is not a tested indicator of the potential of the common stock, I find it useful in the brick and mortar sectors to get a feel for the attitude of the boots on the ground and friendly conversation to unmask situations analysts do not explore.

DHI may be an interesting home builder for your portfolio. I certainly have no qualms about the entry-level residence products I saw from the inside out.