Few stocks offer the combination of both dividend yield and growth displayed by Altria Group (NYSE:MO). Through the years, Altria has shown consistency in rewarding its shareholders in the form of yearly dividend increases. On August 23, Altria announced a 9.1% increase to its quarterly dividend to $0.48 per share, from the previous level of $0.44 per share. This marks Altria's 47th dividend increase in the last 44 years. Annualized, the dividend is $1.92 per share, which at current prices represents about a 5.60% yield.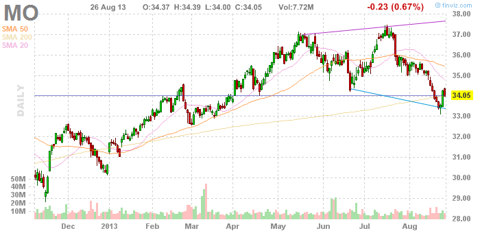 Dividend increase was right in line with expectations
In my earlier article on Altria, I had estimated that its next dividend level would range from $1.89 to $1.92 annually, or $0.4725 to $0.48 per share.
My earlier estimate was quite easy to determine. During its conference call, the company noted that it typically aims to payout about 80% of its adjusted EPS via dividends. Using Altria's guidance for FY 2013 adjusted EPS of $2.36 to $2.41 leads us to the above mentioned figure.

Altria's new dividend level of $0.48 per quarter is towards high-end of this range, which may imply that the company may be expecting a strong finish for 2013. In its guidance, the company noted that it anticipates EPS growth of about 7% to 9% excluding items. I suspect that the company may even post better numbers than these estimates, especially in its non-tobacco holding such as wines segment and interest in SABMiller (OTCPK:SBMRY).
Altria's valuation is not an issue
One of biggest complaints I see written about Altria is its valuation. These arguments may have been correct earlier in the year but are now not very convincing. With its current PE of 15.59, Altria is hardly an expensive stock. Indeed, its current PE is near the lowest level since 2011. Using the midpoint of its expected FY EPS growth of 8%, the current PEG ratio for Altria is about 2.00X, which is one of the lowest among the large cap dividend paying stocks. Looking to 2014, this implies a forward PE of about 13.50, which would make Altria one of the cheapest stocks I follow.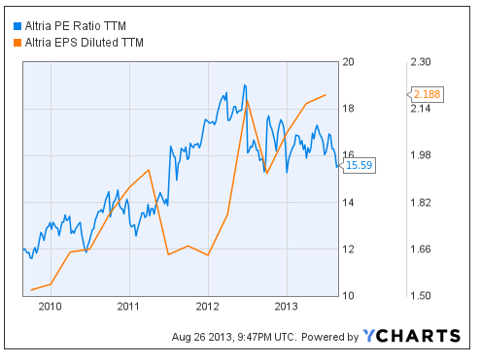 $1B in Stock Buybacks points towards strong cash flow
Another method Altria uses to return capital to shareholders is via stock buybacks. Included its dividend increase announcement, Altria also announced a $700M expansion of its share repurchase program from $300M to $1B. Altria expects to complete the program by the end of the Q3 2014. This share buyback would equate to about 29.4M shares, or about 1.45% of shares outstanding.
Some may wonder how Altria can afford to buy back stock if it pays out the majority of its earnings in dividends. The answer is simply free cash flow, or FCF. Altria is basically a free cash flow machine, generating massive amount cash. Due to the nature of its operations -- the tobacco business does not require large sums of capital spending, most of this cash is used to either buy back stock or pay out dividends.
As shown below, Altria's TTM net payout yield, which combines total buybacks plus dividends, is currently about 6.50%. Do note that net payouts exceeded FCF for most periods as Altria was refinancing its legacy debt at much lower yields, hence enabling the company to buy back while reducing its interest expenses. Also note that Altria's FCF generation has been trending upwards this year.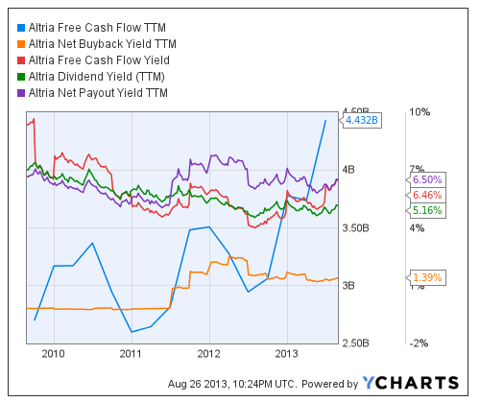 Conclusion
At current prices, Altria seems to be slightly undervalued to fairly valued. Do note that the stock is down about 8% from its YTD highs. Considering its relatively high yield, long history of dividend growth, and inexpensive valuation, I consider Altria an attractive investment. While Altria is unlikely to post blowout numbers, it is still a solid stock for the long-term investor. A large dividend yield plus moderate dividend growth is a proven strategy for outsized total-returns.
Disclaimer: The opinions in this article are for informational purposes only and should not be construed as a recommendation to buy or sell the stocks mentioned. Please do your own due diligence before making any investment decision.
Disclosure: I am long MO, PM. I wrote this article myself, and it expresses my own opinions. I am not receiving compensation for it (other than from Seeking Alpha). I have no business relationship with any company whose stock is mentioned in this article.