Oil is rallying on the news regarding the US moving with force against Syria. It will most likely be a NATO exercise as the Russians will undoubtedly block any UN resolution put to the UN Security Council. That veto will be as far as Russia goes in assisting Syria, but it will put the burden upon the US and its allies to make sure the job is done and done in a manner so as to cause the least amount of suffering for the people of Syria.
Look for US debt to continue to rise with rates falling at least through Thursday and for oil to be in a bull market through the initial attacks. If energy infrastructure is not harmed then oil prices shall fall back, but right now it is a 'buy on the rumor, sell on the news' situation.
Chart of the Day:
Oil is rallying, but we are not sure how far speculators can take it from here. It would seem to us that $110/barrel would indicate a resistance level, for psychological reasons, which would be tough to move above unless some type of event happened in which the flow of oil out of the Middle East was halted.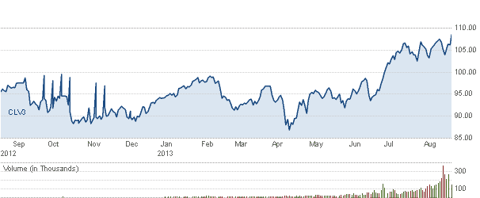 Source: CNBC
Commodity prices this morning are as follows:
Gold: $1420.30/ounce, up by $27.20/ounce
Silver: $24.575/ounce, up by $0.565/ounce
Oil: $108.39/barrel, up by $2.47/barrel
RBOB Gas: $3.01/gallon, up by $0.0583/gallon
Natural Gas: $3.463/MMbtu, down by $0.05/MMbtu
Copper: $3.335/pound, up by $0.0155/pound
Platinum: $1546.10/ounce, up by $1.60/ounce
Potash
We thought we would lead with the news from yesterday that Russia has arrested the man who heads Uralkali. The thinking is that if he is out of the picture that we could see the Russian cartel put back together and the worries about price decreases and rising volumes would dissipate. That is most likely wishful thinking and would most certainly take time to play out, but the price action yesterday in the potash names indicate that speculators were willing to buy into the story, at least for a day. Potash Corporation of Saskatchewan (NYSE:POT) was up big early and saw gains level off as the session went on, finishing at $30.55/share after rising $0.69 (2.31%) on volume of 13.8 million shares. It was bullish that the shares finished above $30/share but investors should expect to have to wait for this story to play itself out. The fact that Russia is involved only indicates to us that it shall take some time to conclude.
Coal
We were a bit confused with the excitement surrounding Peabody Energy (NYSE:BTU) because of the Barron's comments. Yes, the stock could very well double from its lows - that is not a point we would argue. The key point here is when will the market finally turn and how long is one willing to park their capital here for that potential double? It could take 5 years for the double to happen as we wait for natural gas prices to increase here in North America and that is not the type of risk/reward scenario we would generally engage in for a double. Even though this name is a blue chip in the industry, the industry as a whole is in a pretty sorry state of affairs to put it kindly. We believe in allocating capital towards the best investments at that time and right now oil and natural gas E&Ps offer far better risk/reward scenarios. We may lose out on a few percentage points of return in the coal names, but that is the price one pays when going for the 'surer' thing and attempting to lock in gains.
Precious Metals
We were wrong about SLW shares having risen too far, too fast. The recent geopolitical news no one could have seen coming (to this extent) but the call itself was wrong. Frustrating to be wrong in the short-term but correct on the long-term side.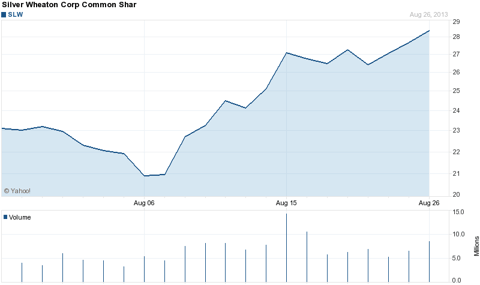 Source: Yahoo Finance
It is frustrating to be both right and wrong on a call but that is precisely the situation we find ourselves in with silver right now. We were correct in being bullish of it at the lows as it was the safer bet over gold at the time but we were too quick to pull the trigger on locking in Silver Wheaton's (SLW) gains for readers. We were convinced that the short-term run had run its course until we received bad news from Europe or something else in the Middle East happened. Well something else in the Middle East happened and precious metals have rallied. Further frustrating us is the fact that as the economic numbers have improved so too have silver's prospects. The only good thing we had going for us is that we maintained our long position in our physical silver holdings. The precious metals are now in bullish territory, but our guess is that profit taking in gold will have to occur in the next few weeks at the latest before a leg down. The white precious metals we still think will outperform in the long-term.
Oil & Natural Gas
More and more people are beginning to see the benefits of Freeport-McMoRan (NYSE:FCX) owning oil and natural gas assets and agreeing with us that this is going to be a positive moving forward for the name. We have seen mixed analyst opinions emerge on the name in recent months, however a majority of the names who have gone bullish of the name point to the two recent oil and natural gas acquisitions as being a big driver for earnings and revenue growth over the next few years. It seems that this is becoming a recurring narrative now and with more people buying into this we that many will change their negativity on the shares to a more neutral stance, especially as results come in that prove oil and natural gas are outperforming for the company.
One name which has recently turned higher after months of moving downward is Laredo Petroleum. The name intrigues us and we have put it on our watchlist.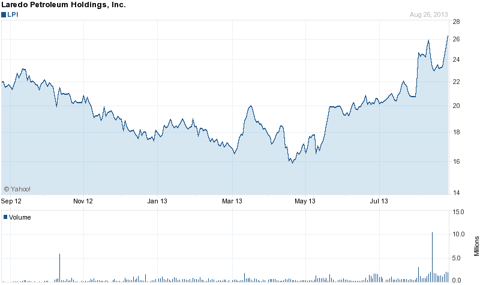 Source: Yahoo Finance
With some of our shale oil plays getting expensive as of late we are looking for ways to diversify the risk of decline out among a larger share of stocks with the same potential for rewards. We are currently looking at Laredo Petroluem (NYSE:LPI) right now as one of those names which could help us accomplish this in the Permian and have to say that at this early stage in our research that we like what we see. We have covered the name in our morning notes on commodities before and look to highlight it further in future articles. Possibly even an article dedicated specifically to it or at a minimum to the Permian play in general. The stock is near its 52-week high, but so too are many of its peers. We will update readers when we are ready to make a move in the name, but wanted to let some of our long-time readers aware of our interest.
Disclosure: I have no positions in any stocks mentioned, and no plans to initiate any positions within the next 72 hours. I wrote this article myself, and it expresses my own opinions. I am not receiving compensation for it (other than from Seeking Alpha). I have no business relationship with any company whose stock is mentioned in this article.