An improving macroeconomic picture has been a catalyst for European stocks to recover and begin a growth cycle. Broad-based exchange traded funds that track the region are one of the better ways to gain exposure, according to S&P Capital IQ.
In a recent outlook, Alec Young, S&P Capital IQ global equity strategist, wrote that, "Although the region's growth is finally showing signs of life, the European Central Bank's pledge to maintain aggressive monetary policy accommodation for the foreseeable future has enabled investors to embrace a bullish stance despite mounting liquidity tapering worries elsewhere."
Europe is positioned for EPS growth at 12.8%, beating out developed markets such as the U.S. and Japan. The average dividend yield coming from European stocks is around 3%, again higher than comparable countries.
The Vanguard FTSE Europe ETF (NYSEARCA:VGK) is the largest broad-based ETF trading with $7.7 billion in assets under management. A dividend yield of 5.1% is healthy, with sectors such as financials, consumer staples and industrials given the highest weighting. The 0.12% expense ratio is another plus. The ETF is up 8% over the past month.
The iShares MSCI EMU ETF (BATS:EZU) is the second largest Europe-focused ETF trading. The fund touts $3.2 billion in assets and a dividend yield of 2.6%. Top sectors include consumer discretionary, industrials and financials. The 0.53% expense ratio makes this ETF the most expensive Europe-focused ETFs of the three. EZU is up 10.3% over one month.
Another option, the SPDR Euro STOXX 50 ETF (NYSEARCA:FEZ) has $2.8 billion in assets and has the highest exposures to the healthcare, financial and industrial sectors. A 3.29% dividend yield is featured with a 0.29% expense ratio. FEZ is up 3.7% over the past month.
The fact that the European Union statistical office has reported a growth trend after 18 months of recession is good news for investors. The EU reported a 0.3% GDP growth which was led by the economies of Germany and France. However, the countries of Italy, Spain and the Netherlands are still in a recession, posting a negative growth rate. Despite this, the longest recession in the European Union's 14-year life is finally coming to an end.
"The perception regarding the continent is starting the change, the euro currency is looking more firm, and growth rates are actually starting to pick up as well," Eric Dutram wrote for Zacks.
Vanguard FTSE Europe ETF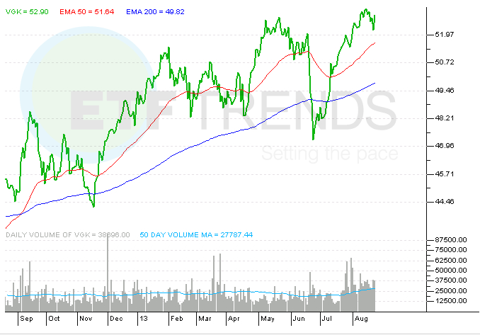 Tisha Guerrero contributed to this article.
Disclosure: I have no positions in any stocks mentioned, and no plans to initiate any positions within the next 72 hours. I wrote this article myself, and it expresses my own opinions. I am not receiving compensation for it. I have no business relationship with any company whose stock is mentioned in this article.