Stillwater Mining (SWC) is one of only two North American producers of platinum group metals (platinum, palladium and rhodium). As such it offers some unique investor attributes which will be reviewed in this article.
Platinum Group Metals, or "PGMs" as they are frequently called, are used in the automotive industry to manufacture catalytic converters for emissions control, in technology to make electronics and to make jewelry. There is an increasing amount of investment demand for these metals.
SWC produces PGMs from two mines in Montana. Roughly 80% of their mine production is palladium, 20% is platinum. SWC trades on the NYSE and has a market cap of roughly $1.5 billion. SWC is a relatively low cost producer and is presently one of the few profitable PGM miners in the world.
The Market for Palladium and Platinum
Both platinum and palladium markets exhibit the following characteristics:
Increasing demand
Supply reductions
Currently selling below all-in costs of production
Growth in the automotive sector is fuelling increased demand for palladium and platinum (source:goldseek.com):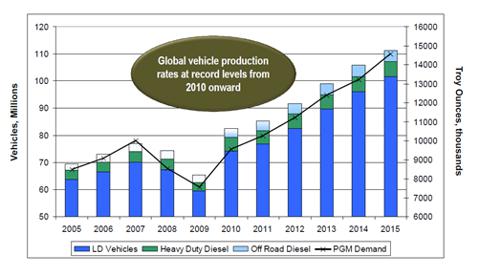 Investor demand is also growing and ETFs are now reducing notable amounts of physical PGMs from available supply:

Low prices and major labor stoppages in South Africa have reduced mine output (source: platinum.matthey.com):
Spiraling costs have put the majority of producer's all-in cash costs greater than current prices (source: Thomson Reuters GFMS (Platinum & Palladium Survey 2012):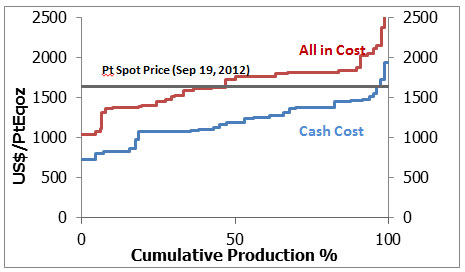 The net result of these factors is a deficit in supply (source: goldsilverworlds.com):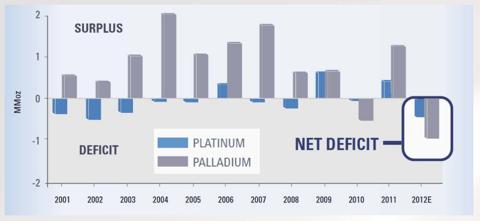 SWC June Quarterly Results were Misleading
SWC went through a considerable shake up in its management, resulting in the early "retirement" of long-time CEO, Frank McAllister. In May, former Montana Governor Brian Schweitzer joined forces with New York based hedge fund The Clinton Group to effectively take control of SWC's Board of Directors, gaining four of eight Board seats and naming Schweitzer as Chairman. The Clinton Group, like many shareholders, felt the previous management had lost their way and made an ill-advised acquisition of a pre-production, South American copper play. The new Board wants to renew focus on the Montana PGM operations where they feel upside potential exists. Terry Ackerman, former Vice President of Projects has been named interim CEO while the Board conducts a search for a new CEO.
During the quarter, SWC posted a loss of $5,666,000. G&A expenses swelled during the quarter to $30,200,000. Nearly half of that G&A expense needs to be normalized for one-time expenses associated with the management shakeup. One-time expenses during the quarter included (in $000s) (source: SWC 10Q):
Quarterly G&A Expense Normalization

 
 

Proxy contest expense

1,529

Accelerated equity compensation

9,063

CEO Retirement

4,000

Loss on long term investment

1,092

Total One-Time Expenses

15,684
Further, as discussed on the earnings conference call, SWC's marketing expense (largely used to promote palladium within the jewelry industry) has been deemed to be less necessary given the supply/demand imbalance of the palladium market and is forecast to continue to come down. Using these normalizations and a reduced marketing expense, I forecast normalized G&A expenses, before taxes, of $60,000,000 annually.
Stillwater is Well Positioned to Benefit From PGM Price Increases
SWC has significant leverage to rising PGM prices, especially palladium. Mining cash costs are forecast by the company to be $560/oz in 2013 with an expectation of 500,000 oz mined. I expect the cash cost number to rise in 2014 as the ore grade has been showing degradation, notwithstanding the company's capex. In the model below I use cash costs of $580 per ounce and annual G&A costs of $60,000,000. I use the company's 2014 production forecast of 500,000 ounces produced. For the base case of current prices, I used the company's most recent quarterly report for average price realized per ounce.
Using these assumptions, one can create a relatively simple earnings model to forecast 2014 EBITDA, based upon various increases in PGM prices.
| | | | | |
| --- | --- | --- | --- | --- |
|   | Current prices | 10% increase | 20% increase | 30% increase |
| Average price realized per ounce | $ 865 | $ 952 | $ 1,038 | $ 1,125 |
|   |   |   |   |   |
| Platinum production (000's oz) | 100 | 100 | 100 | 100 |
| Palladium production (000's oz) | 400 | 400 | 400 | 400 |
| Total Production | 500 | 500 | 500 | 500 |
| (Below in $ 000s) |   |   |   |   |
| Mining Revenue | 432,500 | 475,750 | 519,000 | 562,250 |
| Re-cycling revenue | 600,000 | 600,000 | 600,000 | 600,000 |
|   |   |   |   |   |
| Mining cash costs (assumed $580/oz) | 290,000 | 290,000 | 290,000 | 290,000 |
| Re-cycling costs | 580,000 | 580,000 | 580,000 | 580,000 |
|   |   |   |   |   |
| Mining cash margin | 142,500 | 185,750 | 229,000 | 272,250 |
| Re-cycling margin | 20,000 | 20,000 | 20,000 | 20,000 |
| Total margin | 162,500 | 205,750 | 249,000 | 292,250 |
|   |   |   |   |   |
| Overheads | 60,000 | 60,000 | 60,000 | 60,000 |
|   |   |   |   |   |
| EBITDA | 102,500 | 145,750 | 189,000 | 232,250 |
The table demonstrates the operating leverage to prices and hence the powerful effect on EBITDA if PGM prices increase in the coming year. A 30% increase in PGM prices would more than double EBITDA.
Conclusion
The following attributes make SWC a unique investment opportunity, with compelling prospects:
One of only two North American palladium producers
Supply deficits suggest price increases for products sold
Profitable mining operations though majority of competitors lose money at present prices
Stable political and labor jurisdiction
New Board of Directors will maintain focus on PGMs.
Excellent leverage to PGM price increases
Due to its unique position as one of two US-based palladium producers, SWC deserves a premium valuation. SWC stock price has fallen 50% from its 2011 peak to today's price, even though palladium has remained at the same price as then. Perhaps the market has appropriately punished the former management for not sticking to their knitting. But with a new board, committed to focused operations and excellent prospects for price appreciation in PGMs, Stillwater Mining makes a unique and compelling investment opportunity.
Disclosure: I have no positions in any stocks mentioned, but may initiate a long position in SWC over the next 72 hours. I wrote this article myself, and it expresses my own opinions. I am not receiving compensation for it (other than from Seeking Alpha). I have no business relationship with any company whose stock is mentioned in this article.