West coast banks have been on a run lately as investors become more convinced banks have turned the corner back toward loan growth. However, with over 5,000 banks in the United States, finding the right bank at the right time is a challenge for most investors.
So, I tasked my team at E.B. Capital Markets, LLC to find an under-followed small cap bank with big upside opportunity. One of the names that jumped out was Banner Corporation (NASDAQ:BANR), a bank serving the North Western states of Washington, Oregon and Idaho. The company has been scoring stronger in our work lately, suggesting it's a good time to give the company a closer look.
Source: E.B. Capital Markets, LLC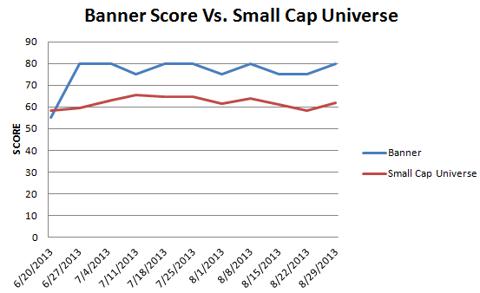 I reviewed the company's SEC filings, earnings transcripts and marketing material and found a bank benefiting from the economic rebound in the Pacific Northwest. Improving growth is fueling demand for commercial construction loans, helping support overall loan growth for Banner and providing the company with opportunities to boost earnings.
As a result, the main catalysts supporting Banner over the coming year are
1. An improving economy in the Pacific Northwest;
2. Loan portfolio growth and improving credit quality; and
3. Better than peer group return on average assets and equity.
The banks Washington State focus supports future growth
Banner Corporation is headquartered in Walla Walla, Washington and has been serving customers since 1890. The bank operates 85 full service branches and 7 loan offices across 28 counties under the Banner Bank brand. It also serves the San Jaun islands through 3 Islanders Bank branches.
Like all banks, Banner's success or failure is decidely local.
If the state's economy sags, so will the banks outlook. Similarly, recovery supports future profit growth. Given this back drop, determining the potential for Banner requires understanding the ongoing economic recovery in Washington state, where the bank conducts the majority of its business.
The good news for Banner is Washington has recovered nicely from the recession lows. In 2012, the state's real total GDP improved to $325,165 million -- a new high -- after bottoming at $300,785 million in 2009.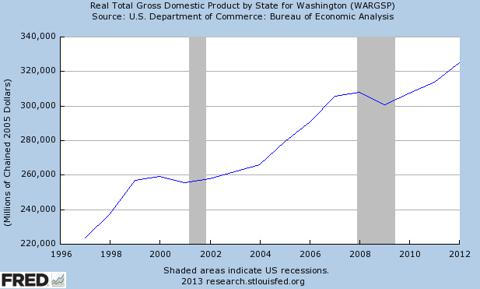 The economic rebound is supporting Washington's job market, with the state's unemployment rate reaching 6.9% in July -- solidly better than the national average.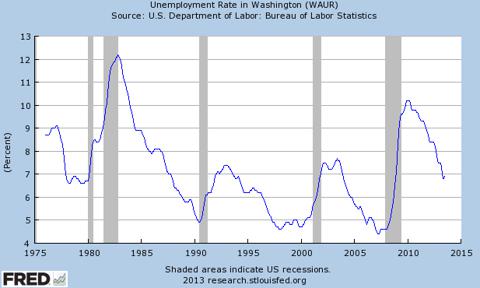 As a result of the improving job market, personal income -- vital to supporting future loan demand and improving bank loan credit quality -- has similarly moved higher.
In 2011, per capita income rebounded to $43,878 in 2011 after bottoming at $41,504 in 2009. That's good news for banks like Banner given job and income growth mean fewer defaults and charge offs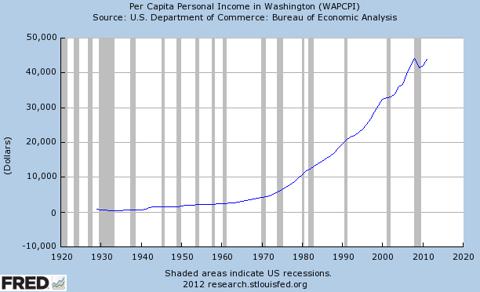 Much like other parts of the nation, income growth has in turn resurrected Washington's housing market, which is leading to more construction loans.
The state's House Price Index has been ticking higher this year, reaching 402.03 in Q2, up from 380.04 a year ago.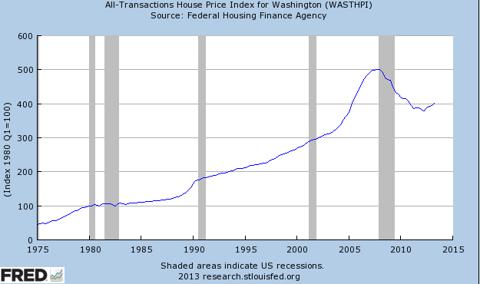 And, despite higher mortgage rates, new housing permits still grew to 2,795 units in July, up from 2,609 last year. This suggests builders remain confident supply is tight enough to support new construction -- bullish for future loan growth.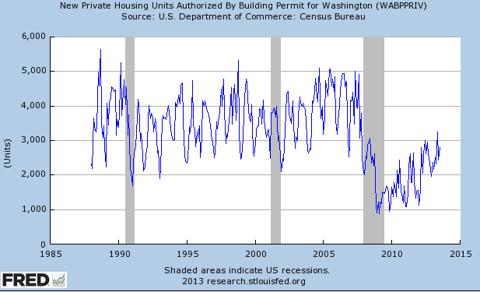 Washington's improving construction market is also evident in rising construction employment. In June, 145,200 people were employed in the industry, up from 138,400 last year.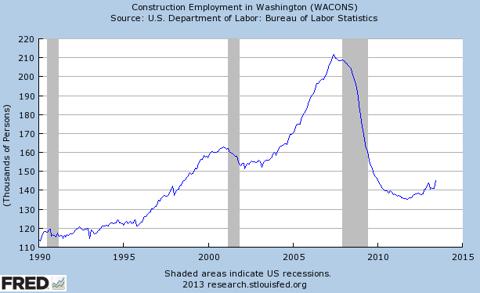 The trend for construction loan demand is further supported by low rental vacancy rates. Vacancies fell to 5.9% in 2012, down from 7.4% in 2009.
Meanwhile, the home ownership rate in the state is just 63.5%, down from nearly 68% prior to the recession. This suggests there's plenty of opportunity for future housing demand and resulting bank loans.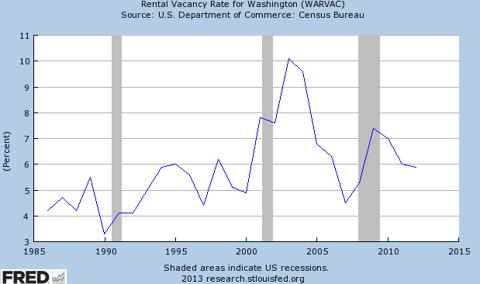 The banks results reflect a stronger Pacific Northwest economy
Banner bank has seen revenue from its core operations improve year-over-year for 15 consecutive quarters. The bank reported core operations revenue rose to $53.1 million in the second quarter, up from $52.3 million a year ago. This led to net income of $11.8 million, in line with the first quarter.
The revenue growth was supported by a growing book of business. The banks total assets finished the Q2 at $4.24 billion -- of which $3.3 billion are loans -- up slightly from $4.22 billion last year.
The business growth was led by demand for commercial and agricultural loans. Those loans were 5% higher than in Q1 and 8% higher than last year. Origination of those loans helped grow the banks total loan portfolio from $3.13 last year.
Banner is heavily reliant on loans tied to commercial and multifamily construction. Those loans represented $1.23 billion of its loan portfolio exiting the quarter; up $100 million from last year. Commercial & agricultural loans rose to $873.8 million in the quarter from $811.8 million last year. And, total construction and development loans reached $353.7 million, up 7% from Q1 and 20% higher than last year's $293.9 million.
The bank thinks there's more room for additional commercial loan growth too.
"Total loans outstanding increased during the second quarter," said CEO Mark Grescovich in the Q2 earnings press release, "although credit line utilizations remained low and businesses and consumers continued to maintain a cautious approach to spending and borrowing. However, we are encouraged by the growth we achieved in targeted loan categories as well as the potential in our loan origination pipelines. As a result, we remain optimistic about capturing additional market share going forward. The increases in construction and development loan balances and significant velocity in that portion of the loan portfolio have had a very positive effect on our net interest margin in recent quarters."
The following table provides more color on distribution of Banner's loan portfolio. As you can see, 33% of the bank's loan portfolio is for owner occupied or investment commercial real estate. Another 19% comes from commercial business loans and nearly 17% come from one to four family homes, which benefit from the state's low vacancy rate.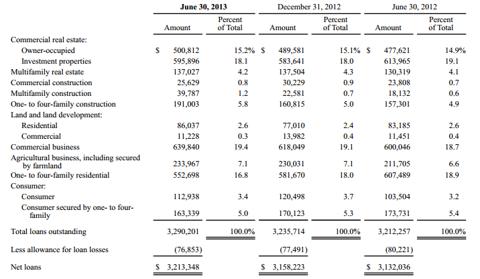 This next table shows you the breakout of its loans by state. 67% of its loan portfolio is tied to Washington's economy and 20% comes from Oregon. Unemployment in Oregon, while at 8% is higher than Washington, is well off its peak over 11% following the recession. According to The Bureau of Economic Analysis, Oregon posted GDP growth of 3.9% in 2012 -- third best in the United States. That marked a third consecutive year of ranking 4th or higher in GDP growth.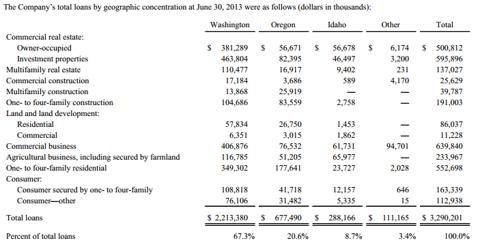 Yield compression is weighing on bank profits, but Banner's doing better than many
While big banks are struggling to generate net interest margins ("NIM") north of 3%, smaller banks continue to produce more enviable returns. Banner's NIM climbed to 4.2% in Q2 from 4.16% in Q1. That was lower than the 4.31% recorded last year, but Banner continues to outpace peers. In Q2, the average NIM for banks with assets between $1 and $15 billion was 3.85%.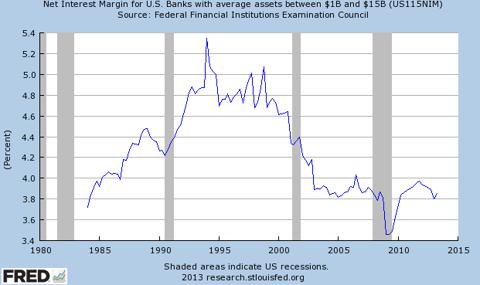 One of the reason's smaller banks like Banner are producing higher NIM's is the migration out of time deposits like CD's into traditional, lower cost savings accounts. This shift helps banks unlock additional fees and service charges while reducing their loan funding costs.
At Banner, total deposits grew to $3.46 billion from $3.43 billion last year as non-interest bearing deposits increased 19% to $958.7 million. CD's fell to $944.1 million from $1.17 billion the prior year and non-CD deposits now make up 73% of total deposits, up from 66% last year.
Deposit fees and service charges collected by Banner grew 5% year-over-year to $6.6 million during Q2. Over the first six months of this year, deposit fees and service charges totaled $12.9 million, up 6% from a year ago. And, Banner's cost of funding fell 19 basis points from 0.48% in Q2, 2012.
Despite higher rates reducing refinance activity, lower funding costs are coming in handy as home loan demand increases. Banner's revenue from mortgage banking increased 31% to $3.6 million in Q2, up from $2.7 million last year.
An improving Washington boosts credit quality
At the same time loan portfolios are growing, credit quality is improving. Non-performing assets fell to 0.78% of total assets exiting last quarter -- 55% lower than a year earlier when the measure was 1.73%.
Non-performing loans decreased by 22% to $26.1 million last quarter, down from $33.4 million in Q1 and 45% lower than the $47.4 million reported a year earlier. Non-performing assets were just 0.78% of total assets exiting the quarter. The improvement puts Banner in a good position given its $76.9 million allowance for loan losses represents 294% of non-performing loans. For consideration, the percentage of nonperforming commercial loans in the Pacific region was 1.19% in Q2, down from 2.08% last year.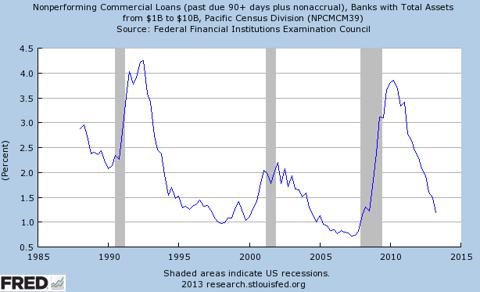 As for net charge offs, they represented just 0.01% of Banner's total loans outstanding in the quarter. For comparison, the bank industry average was 0.79% of loans in the quarter.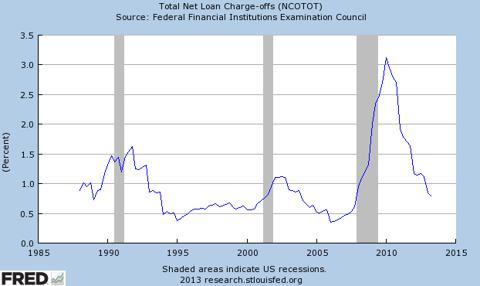 The final take
The improving Pacific Northwest economy suggests loan demand will continue to help offset yield compression, providing opportunities for Banner to boost total net income and book value.
During the second quarter, Banner's tangible book value per share continued to improve, increasing to $26.49 from $24.52 per share a year ago.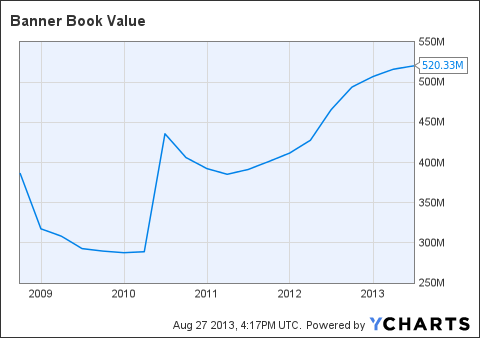 BANR Book Value data by YCharts
Banner is also posting stronger metrics than its peers in return on average assets and return on average equity. In Q2, Banner's generated a return on average assets of 1.11%. That's nicely above the average bank with less than $15 billion in assets, which saw return on average assets of 0.99% in Q2.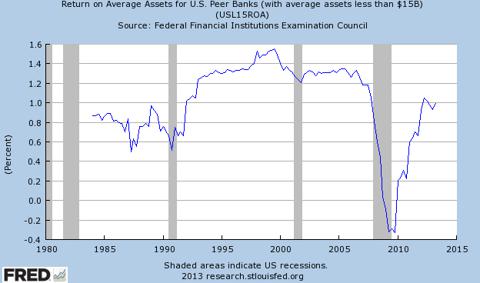 Similarly, Banner's return on average equity was 9%, above the 8.82% recorded by banks with less than $15 billion in assets.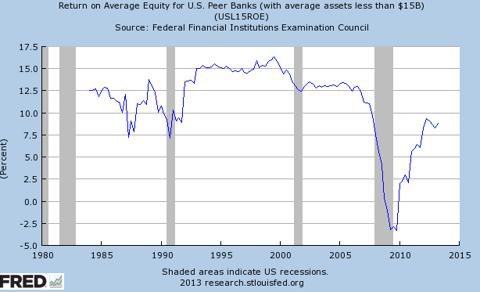 As for timing, shareholders have historically been rewarded in the three months ending October. Particularly, if you take into consideration the weakness through the recession. Over the past 10 years, shares have traded higher 7 times, producing a median return of 8.77%. Interestingly, performance is uncorrelated to the S&P 500 at -0.52. This suggests even if the market pulls back, Banner may buck the trend.
Regardless, given the banks exposure to the growing Pacific Northwest and better-than-peer metrics, now appears a good time to consider owning shares.
Source: Seasonal Investor Database.

Disclosure: I have no positions in any stocks mentioned, but may initiate a long position in BANR over the next 72 hours. I wrote this article myself, and it expresses my own opinions. I am not receiving compensation for it (other than from Seeking Alpha). I have no business relationship with any company whose stock is mentioned in this article.