The cloud casts an ominous shadow over outdated tech companies. Dabbling in business software won't bring profits back. That's because Amazon.com (NASDAQ: AMZN) specializes in web-based cloud computing services that can replace business software.
On Amazon's last earnings statement, Amazon Web Services got lumped into a category with other non-retail activities. That category only contributes about 5.7% of Amazon's revenue, but net sales from the category grew 61% year-over-year in the second quarter of 2013. The web services unit is so successful because Amazon only charges businesses for cloud space that they actually use. For businesses with fluctuating processing needs, Amazon Web Services is a more cost-effective option than buying a hefty software program or server.
Cloud space is the way of the future, as this projection from Cisco's (NASDAQ:CSCO) Global Cloud Index shows: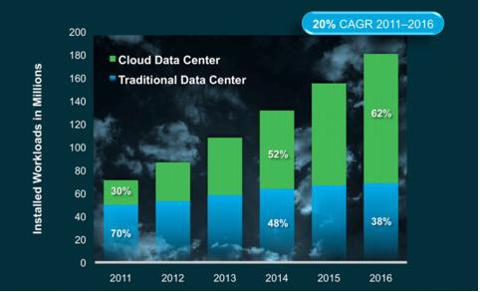 Cisco predicts that workloads will continue to shift from traditional servers to cloud servers over the next three years until almost two-thirds of workloads are hosted by the cloud. In other words, companies will outsource their data storage instead of keeping their own servers. The forecasted growth rate of workloads on cloud servers is 5.5 times that of workloads on traditional servers. Amazon is well-positioned for what's coming next.
Unlikely allies
Oracle (NASDAQ: ORCL) found this threat so ominous that it joined forces on June 24 with rival Microsoft (NASDAQ:MSFT) to certify and support Oracle software on two of Microsoft's cloud offerings. Windows Server Hyper-V is a software program that helps businesses consolidate servers. Windows Azure includes a whole host of cloud-based data services and applications. Both of these products fall under Microsoft's Server and Tools Business. Server and Tools brought in 28% of total revenue for the quarter ended June 30 and grew at 9% year-over-year, but the growth was driven primarily by items other than Hyper-V and Azure. For Microsoft, the deal appears to be a weak attempt to boost a software program and a service that are lagging behind other company products.
Oracle's revenue was flat year-over-year last quarter, and the company didn't meet its own earnings forecasts for four of the last nine quarters. At the heart of these financial difficulties is a strategy issue. In the fourth quarter of fiscal year 2013, 74% of Oracle's revenue came from software. Oracle is business software. We already talked about the need to enter the cloud. Oracle has some cloud services, but its strategy for cloud growth is to partner with companies that do the cloud better.
Unhelpful allies
Here's where I see an issue. The Microsoft-Oracle alliance isn't ideal because both companies do software.
A relationship with Oracle may provide some short-term growth to Microsoft's Hyper-V and Azure. But Microsoft's specialty is software, and that will start to fade along with workloads on traditional servers. Partnering with Oracle ties Microsoft to another software company. Microsoft needs to seriously focus on expanding and improving its cloud-based services. Oracle will hold it back from growing into the cloud.
A better way
On June 25, Oracle announced a nine-year partnership with Salesforce.com (NYSE:CRM), a business cloud computing provider. Oracle will integrate its existing cloud services and software strength into Salesforce.com's cloud CRM service. Salesforce.com has the kind of cloud expertise that Oracle needs to pull it into the modern world of cloud computing. If Oracle's software really is powerful enough to successfully handle cloud operations, then perhaps Oracle is not a lost cause after all.
Gartner, a technology research company, forecasts the global Software as a Service (SAAS) market to grow from $16 billion today to $21 billion by 2015. The North American share is estimated to shift down slightly from about 63% in 2012 to 60.8% of the SaaS market in 2015. These statistics tell us that in less than three years, there will be about $2.5 billion more of Software as a Service in North America. Oracle needs to pivot its $27 billion software products segment into a $27 billion Software as a Service segment. That will take time, but if Oracle starts now, I think it could claim $0.5 - $1 billion of the short-term growth in SaaS.
Get in or get out
Other tech companies also find themselves in the shadow of the cloud. IBM (NYSE: IBM) watched second quarter revenue fall 3% from the year-ago quarter. Conversely, IBM cloud revenue rose 70%. The good news is that IBM recognizes the trend. The 2012 Annual Report talks about a company "transformation in which new capabilities and technologies like business analytics and cloud computing will drive performance." That's the right idea. Going forward, IBM has to commit all the way to a complete transformation in order to survive.
HP (NYSE: HPQ) saw an 8% drop in third quarter revenue year-over-year. According to H-P's 2012 Annual Report, the company only just introduced a "comprehensive cloud strategy" last year. HP recognizes the market transition toward cloud computing, but I have my doubts as to whether HP is really ready for the next three years. Printing and personal systems formed 50% of H-P's revenue in the third quarter of 2013. Perhaps HP should stick to its core hardware business instead of getting walloped in the cloud.
Partly cloudy
A Microsoft-Oracle partnership is redundant. As software companies, neither of them have the pure cloud expertise that Amazon.com flaunts. Oracle's relationship with Salesforce.com gives it a more cloud-savvy partner, but maybe Oracle should look to offer its own software products as a cloud service instead. IBM has a chance in the cloud if it can actually pull off a company-wide strategy transformation. HP, however, is late to the game. In the stormy battleground of the cloud, only companies with focused cloud expertise will reach the silver lining.
Disclosure: I have no positions in any stocks mentioned, and no plans to initiate any positions within the next 72 hours. I wrote this article myself, and it expresses my own opinions. I am not receiving compensation for it (other than from Seeking Alpha). I have no business relationship with any company whose stock is mentioned in this article.