On Tuesday, August 27, it was confirmed by Dow Chemical (DOW) that locations in both Texas and Louisiana would be selected for expansion initiatives that are directly related to four of its top plastics brands. This particular plastics-based expansion is expected to drive strong revenue growth and generate about $2.5B in EBITDA once the locations are fully operational. In the wake of today's announcement, I wanted to take a closer look at Dow Chemical and examine a number of catalysts behind my decision to remain bullish on the company's stock.
Company Profile
Headquartered in Midland, Michigan, The Dow Chemical Company combines the power of science and technology to passionately innovate what is essential to human progress. The company connects chemistry and innovation with the principles of sustainability to help address many of the world's most challenging problems such as the need for clean water, renewable energy generation and conservation, and increasing agricultural productivity. Dow's diversified industry-leading portfolio of specialty chemical, advanced materials, agro-sciences and plastics businesses delivers a broad range of technology-based products and solutions to customers in approximately 160 countries and in high growth sectors such as electronics, water, energy, coatings and agriculture.
Performance and Trend Status
On Tuesday, shares of Dow Chemical -- which currently possess a market cap of $44.55 billion, a P/E ratio of 18.14, a forward P/E ratio of 13.13, and a forward yield of 3.41% ($1.28) -- settled at $37.56. Based on Tuesday's closing price of $37.56, shares of Dow Chemical are trading 1.80% above their 20-day simple moving average, 7.58% above their 50-day simple moving average, and 15.14% above their 200-day simple moving average. These numbers indicate a short-, mid-term, and a sustainable long-term uptrend for the stock, which generally translates into a buying mode for most traders. As of June 30, 2013, and from a cash and debt perspective, Dow Chemical has a total of $4.73 billion in cash and a total of $18.83 billion in debt on its books.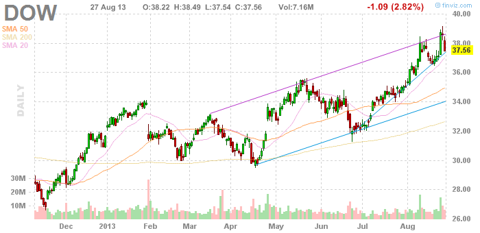 In Freeport, Texas, Dow Chemical intends on expanding both its High Melt Index (NYSE:HMI) AFFINITY brand polymer franchise and its ELITE brand polymer franchise. The components within the AFFINITY Brand deliver stronger bonding in hot melt packaging adhesives, while the components within the ELITE polymer franchise deliver enhanced durability and flexibility among solutions that are geared toward the food packaging, hygiene, and medical sectors.
According to one of the company's more recent fact sheets, "AFFINITY™ GA POEs provide performance, processing, and end user advantages not previously achievable with EVA or SBC formulations. The new polymers are capable of adhering to many substrates over a broad range of temperatures." I strongly believe that these polymers also possess a number of key characteristics that separate them from their competitors within the sector.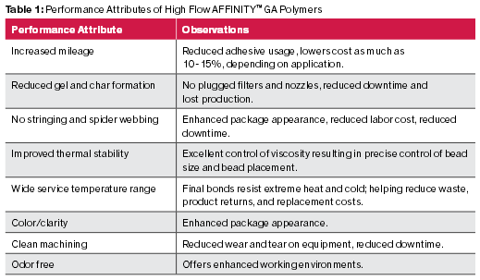 Plaquemine, Louisiana Expansion
In Plaquemine, Louisiana, Dow Chemical plans on expanding two more of its plastics brands. The first of these brands is its NORDEL metallocene EPDM franchise, which possesses next generation technology and provides the infrastructure, automotive, consumer durables, appliance and electrical and telecommunications markets with highly flexible, heat and chemical resistant polymers that deliver enhanced durability and long service life. The second of Dow's intended expansions include its Low Density Polyethylene (LDPE) family of high performance polymers such as the AGILITY brand, which is polymers that are faster to process, more stable and deliver improved optics for applications in flexible food packaging.
Recent Dividend Behavior
Since March 29, 2011, Dow Chemical has increased its regular quarterly distribution twice in the last eleven payable quarters. From an income perspective, the company's forward yield of 3.41% ($1.28) coupled with its continued distribution increases make this particular stock a very viable income option for long-term investors in search of a higher-yielding play in the chemicals sector.
Conclusion
For those of you who may be considering a position in Dow Chemical, I'd keep a watchful eye on a number of catalysts over the next 6-12 months. These catalysts include but are not limited to the near-term performance of the four plastics brands, which are planning to expand their operations in both Texas and Louisiana, the continuation of any upward movement in the company's annual dividend, and the continued improvements of the company's gross margin, which experienced a considerable move upward during its most recent quarter and could continue to do so over the next 12-24 months.
Disclosure: I have no positions in any stocks mentioned, but may initiate a long position in DOW over the next 72 hours. I wrote this article myself, and it expresses my own opinions. I am not receiving compensation for it (other than from Seeking Alpha). I have no business relationship with any company whose stock is mentioned in this article.