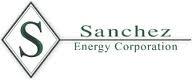 Sanchez Energy (NYSE:SN) is an independent exploration and production company with a market cap of $845 million. Texan readers may remember the 2002 Democratic Gubernatorial candidate Antonio "Tony" Sanchez and his bid to unseat Rick Perry. Sanchez is the founder and CEO of this company which bears his namesake. All of Sanchez's operations are in the Eagle Ford Shale of South Texas.
But it may not be pure-play for much longer. This month management announced a major land acquisition in the Tuscaloosa Marine Shale in central Louisiana. This acquisition was done in partnership with SR Acquisition I and includes drilling rights to 80,000 net acres, of which 40,000 will go to Sanchez. Sanchez will also be the operator on all drilling activity on this acreage. This article will take a closer look at Sanchez's Tuscaloosa purchase and provide context for the long-run prospects of this company.
Management has apparently been eyeing the Tuscaloosa Marine Shale for at least a couple years. Encouraged by Encana (NYSE:ECA) and Goodrich Petroleum's (OTC:GDP) drilling of nearby test wells, Sanchez finally pulled the trigger. In early 2014 Sanchez will spud three initial wells to determine the shale's viability for commercial drilling. Because this shale is so nascent and there is no commercial shale drilling right now, details on profitability and rates of return are very limited.
An Eagle Ford Analog?

SN Corporate Presentation, August 2013
Interest in the Tuscaloosa shale comes from the Austin Chalk formation, of which the Eagle Ford, Woodbine and Tuscaloosa shales are all a part of. It is yet to be determined whether the two latter shales will be as commercially successful as the Eagle Ford, but we will know much more in 18 months.
Here are a few interesting bits that we do know. First, management expects this shale to be oily. Initial surveys show the oil cut at 90%. Secondly, competitors such as Goodrich and Encana have been reporting initial wellhead production of 1,000 barrels of oil equivalent per day. As unconventional drilling technology improves, resulting in longer and longer laterals, well economics will also improve.
Financing
Sanchez has thus far decided to fund its Tuscaloosa expansion with debt: Most of this $78 million transaction was paid in cash. This represents a change in direction. Until only very recently Sanchez has operated entirely without debt. As the company's Eagle Ford operations transition from land acquisition into drilling and development, Sanchez's expenses have exceeded Operational Cash Flow and they've turned to debt to plug this gap. Last year they accessed capital markets for $325 million in financing.
If test drilling in the Tuscaloosa is successful, Sanchez will have another swath of completely undeveloped "green field" acreage requiring capital-intensive investment. Sanchez will likely have to add debt if it develops this play.
A Transformative Deal
Here is why this deal is important. Most obviously, Sanchez goes from being a single-shale "pure play" to having eggs in a couple of shale play baskets. I believe this is part of a long-term effort to become another EOG (NYSE:EOG) or Continental Resources (NYSE:CLR), both of which are large producers specializing in today's premier shale plays.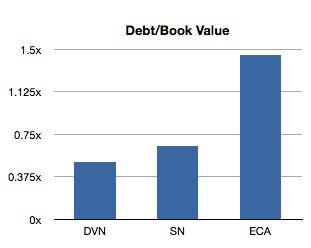 If so, I think Sanchez has a fair chance to be the #1 in this particular shale. The two other large leaseholders here are Encana (ECN) and Devon Energy (NYSE:DVN). With a much higher debt to book value, Encana may not have the financial flexibility the other two do if Tuscaloosa is commercially viable. Encana also has capital commitments in other places: Only about 14% of its $3 billion capital budget, about $420 million, was allocated to emerging US shale plays. While it is a smaller company with negative cash flows, Sanchez's balance sheet flexibility should allow it to raise at least that much.
Devon might have better cash flow and more capacity for extra debt than Sanchez, but it lacks the focus Sanchez has. Devon will have preemptive capital commitments in the Permian, where the company has expended $1.5 billion this year. That doesn't even include its continuing development requirements in the Mississippian, Woodford and Barnett shales where this year Devon drilled 400, 150 and 150 wells respectively. Devon will likely prioritize all these development projects over additional Tuscaloosa acquisitions.
Sanchez, on the other hand, has good balance sheet flexibility and need only consider one other play: the Eagle Ford. If necessary Sanchez can tap into credit markets and divert most of its capital to Tuscaloosa acquisitions. This bodes well for Sanchez's position here.
Conclusion
In my previous article I recommended Sanchez for its comparatively low price to book value and for the possibility that it would become a much larger company than it is today. The Tuscaloosa Marine Shale acquisition affirms Sanchez's long-term strategy of growth through premier US shale resource plays, and therefore Sanchez continues to be a good buy.
Additional Sources:
"Debt to Book Value" chart by author, data by Morningstar and Yahoo! Finance.
Disclosure: I have no positions in any stocks mentioned, and no plans to initiate any positions within the next 72 hours. I wrote this article myself, and it expresses my own opinions. I am not receiving compensation for it (other than from Seeking Alpha). I have no business relationship with any company whose stock is mentioned in this article.