I had recently penned an article regarding unusual trends I had observed in gold, and by extension, the gold mining stocks. I keep a well-diversified portfolio of gold miners; large, small, Canadian, U.S., South African, Chinese, British and Australian. The reason why I had chosen to diversify so widely is quite obviously to avoid country-specific or size-specific risk, while picking what I had hoped would be winners.
Yet an interesting thing happened Tuesday, and continued into Wednesday. They had all, with the exception of one, lost money. You read that right, despite gold pushing its way up, New Crest of Australia (For the majority of its trading on the ASX), Sibanye SBGL of South Africa, Kinross Gold KGC, of the U.S. and Goldcorp GG, Silver Wheaton SLW and Barrick Gold ABX of Canada had all lost between 3.5-5.3% of their gains when gold was going up. in the case of Highland Gold Mining of the UK, it has shown near-zero gains despite the rising spot. I have illustrated some of these trends with the charts below: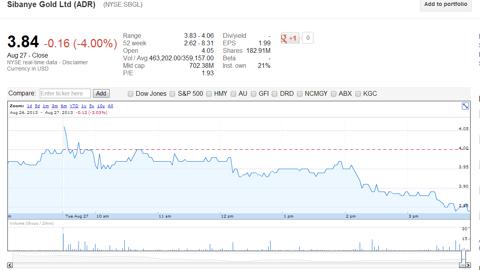 The Market Vectors Gold Juniors (NYSEARCA:GDXJ) (above) as well as the Gold Miners (NYSEARCA:GDX) reflect this sudden loss.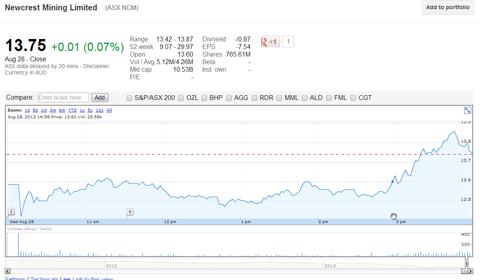 Newcrest Mining had started out on the ASX as low as the others had when trading ended for them; it was only when the price of gold pushed even higher that we saw it buck the trend and trade at a very slight profit. This correlates to the spike in the price of gold at around an hour before; the chart below shows the spot price of gold through both U.S. and Australian trading hours.
As for Highland Gold Mining, the LSE had just started trading at the time I had written this, but shows no gains despite a 10 dollar increase in spot compared to when it had traded the day before. One would expect it to open higher, but it seems to be headed down.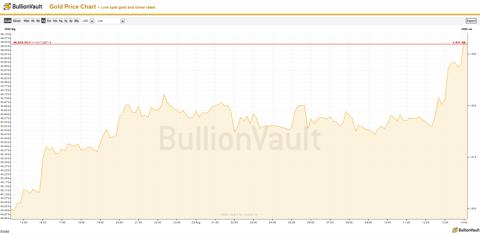 It is safe to say that the price decline was thus not even tangibly tied to the spot price of gold on Monday and earlier on Tuesday. It was obviously not based on any news, as there was nothing negative to be had about gold other than the usual 'shiny metal' rhetoric. It might be argued that the stocks had ALL been overpriced, even after one considers the current bullish trend in gold because they had diverged too far from the gold spot... However, it would hardly be logical for ALL of them to 'correct' at once. This is despite supposed demand resulting from 'Syrian tensions'. (I do believe that the Syrian whatever might have some effect on gold, but I had long predicted this upward trend before any word of this conflict affecting gold had even been uttered. To blame gold's upward trend on first tapering and now Syria is laughable at best. Seriously, Syria has been in civil war for ages, and now when the U.S. is facing economic problems…. I mean recovery…. and an apparently imminent taper, they decide that it is finally time to intervene, causing gold to go up? What a pleasant series of coincidences especially after considering how both Goldman and JP had managed to accumulate a nice stash of the shiny metal for themselves with an eye on gathering more).
I was not the only one who had noticed this trend; The Age is reporting that gold stocks are no safe haven (amazing that they base their assumption that gold price going up does not profit people who sell the stuff on a single day's observation. Not to mention that this premise is completely illogical). What an interesting twist to our story, it would appear that we have gone from gold bashing to gold miner bashing. Quick, sell those miners, JP and Goldman would be happy to take your profit, I mean limit your losses (this is not to say that they and the media have completely given up on bashing gold. In fact, they would have you believe that gold's upward trend was completely irrational or completely attributable to one bloody news item. By the way, they have to report that gold is going up, not because they are good honest folk, but because to do otherwise would be one step closer to obvious lying).
Interesting that miners start behaving so strangely on the very week when we observe the same trend I had observed every week (of gold rising in early trading on Monday, 'crashing' and then recovering mid-week and ending the week higher) being bucked.
You see, although gold did rise above 1400 in early trading on Monday and crash soon after, we observe that its recovery was even faster than any week since the beginning of the Great Gold Recovery. I would hypothesize that whatever (clearly coincidental and completely natural force) had been perpetuating the previous pattern finally decided that market forces were too strong there, setting those flying monkeys free for a while; time to diversify said the Wicked Witch ( by which I mean completely coincidental force of nature. I wonder if my reporting had anything to do with this change of trend; like an electron, one cannot measure its location without changing it. But obviously my articles ramble on too much to be perceived as significant).
Regardless, I hope that those who hold miners are willing to risk further 'downside', as the gold spot continues to climb. Fundamentals always win out. Before I forget, the only stock I had that gained significantly as a result of the spot price rise yesterday was Zijin Mining on the HKSE, for a gain of about 3%. I wonder what might be to blame for that. I also have my fingers crossed that Highland starts doing better as the day progresses, and that the other miners start to perform as expected with regards to the rising gold spot.
Disclosure: I am long NEM, GG, SBGL, KGC, IAG. I wrote this article myself, and it expresses my own opinions. I am not receiving compensation for it (other than from Seeking Alpha). I have no business relationship with any company whose stock is mentioned in this article.
Additional disclosure: As well as a diversified portfolio of other gold miners.