In a Q2 letter to investors, dated July 13th, respected value investor David Einhorn of Greenlight Capital states that at the end of the second quarter, "the five largest disclosed long positions in the [Greenlight] Partnerships are Arkema, Criteria Caixa, Ford Motor Company debt, gold, and Pfizer."
Einhorn has owned French chemicals company Arkema (OTCPK:ARKAY) and Spanish investment group Criteria Caixa for some time. Greenlight has also owned other Europe-domiciled companies in the past, including French auto maker Renault (OTC:RNSDF) and Austrian Post, which was named a top monthly stock pick in the recent issue of European Value Report.
While it is impossible to divine Einhorn's strong interest in European equities, we note the following attractive investment attributes offered by many European markets:
Western Europe has a history of transparency and rule of law. Disclosure and corporate governance standards are high in most European countries, especially European Union member states.
The continued breaking down of economic and political barriers within the EU, as well as the relentless enlargement of the Union via the admission of new states, provides fertile ground for market share gains by well-managed corporations. For example, as pointed out by the Manual of Ideas research team in a recent issue of European Value Report, Austrian Post has expanded beyond the borders of its native Austria, pursuing growth opportunities in several emerging economies of Eastern Europe.
Finally, we believe David Einhorn may have found an interest in European equities as a result of his search for investments that may provide a hedge versus a declining dollar.
Here is a quick overview of the top two European holdings of Greenlight:
Criteria Caixa Madrid: (CRI)
Criteria Caixa is an investment group with holdings in financial and industrial companies. The company's core shareholder is "la Caixa"; it has been listed on the continuous market of the Spanish stock exchange since October 2007. Criteria has a firm commitment to international growth, active management of its portfolio within a framework of controlled risk, and boosting the growth, development and returns of the companies it invests in. Criteria CaixaCorp holds the largest corporate investment portfolio in Spain by net asset volume with a value of €14,823 million at June 30, 2009. [view investor presentation] [read annual report]
(Click to enlarge)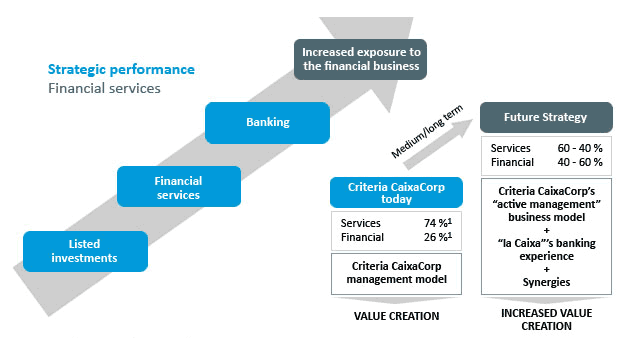 Arkema is a global chemical company and France's leading chemicals producer that operates in three businesses: Vinyl Products, Industrial Chemicals, and Performance Products. Arkema reported revenue of 5.6 billion euros in its most recent fiscal year. The company has 15,000 employees in over 40 countries and six research centers located in France, the United States and Japan. With internationally recognized brands, Arkema holds leadership positions in its principal markets. [view investor presentation] [annual report]
(Click to enlarge)