Key Tronic (NASDAQ:KTCC) started out in 1969 as a company in Washington state making computer keyboards. From its humble beginnings, Key Tronic grew into an Electronic Contract Manufacturing company, which is another way of saying it is an OEM. It now makes a huge variety of products, manufacturing for the printer market, telecommunications, automotive, medical, aerospace, military and more.
To be an OEM, you must be able to do everything from A to Z. Everything from handling supply chain management to prototyping, molding, tooling, product assembly, quality testing, distribution and even repairs.
A Look at The Business
For a small company with a market cap of 100m, it refers to itself as "North America's largest precision injection molding company, capable of molding parts in any size, any volume and any material including multi-material products."
Currently Key Tronic is generating revenue from 183 separate programs from 56 customers. In 2012, it was 165 separate programs and 48 distinct customers. 2011 had 119 programs and 33 customers. These are some very good customer growth numbers.
Think of programs as "projects" from customers. A customer is unique, but a customer may have several different items it gets built. With each new customer acquisition, if the service, quality and reliability is good, it will likely award Key Tronic with more products.
Because Key Tronic is an all-in-one solution, once it gets into a customer's good books, and more programs are awarded, a switching cost is created to the customer. This is an important moat to have in the manufacturing industry.
Contract manufacturing has always been a razor-thin margin business. OEMs make money on volume since the customer will be marking up prices to a suitable retail price, the OEM price is cut throat.
Net margin for 2012 was 3.4% and in 2013, it's 3.5%. This is on the high end when you compare it with other contract manufacturers. Usually, you'll see net margins between 0.5% to 3%. Anything above 3% is fantastic.
The other highlight for Key Tronic is its cost structure. By being able to manage everything in the manufacturing process and more, operations can be scaled to keep the cost structure flexible. When revenues are expected to decline, the costs will be lowered as well to maintain consistency. It has a flexible cost structure so it can scale down expenses when revenues go down.
Let's get into the highlights and lowlights for Key Tronic based on the Fundamental Stock Analyzer.
Key Tronic Highlights
Good consistency with margins; gross, operating and net.
Net receivables have gone down throughout the year. Key Tronic is finally receiving payments from customers.
Aggressively paid off all debt.
Shareholders equity has increased for more than 10 years. From 2003 to 2013, the shareholders equity CAGR is 13.63%.
Working capital was taking a toll on FCF in 2011 and 2012. Collection of receivables is showing a nice increase in FCF.
Owner earnings however, has been impressive since 2006 except for 2009. Average owner earnings since 2006 is $15m.
2013 Cash adjusted PE of 7.7. In 2008, the cash adjusted PE was 6.
EV/EBITDA of 4.8 compared to 6 in 2008.
Delivering ROIC at 15% which is the highest since 2007.
CROIC is above 30% which is excellent.
Excellent Piotroski score of 7 and strong Altman Z score.
Key Tronic Lowlights
Business operations is at the top of the range. What happens if the economy turns? Margins will compress and even though valuation is on the cheap side, it can easily get lower.
Keep an eye on receivables and how customer acquisition affects the cash conversion cycle. TTM shows awesome improvement but Key Tronic shows the tendency to be lenient in this area to increase future revenues. Could be trouble in difficult times.
Changes in working capital varies wildly because for every brand new program and customer relationship that is established, Key Tronic has to spend resources to set up the proper facilities. The ROI will take some time.
Doesn't buy back stock no matter how cheap the stock price is.
Very low insider ownership.
Latest Q4 results shows 36% decline in earnings for the fourth quarter, revenues down 13% from last year.
Quick Valuation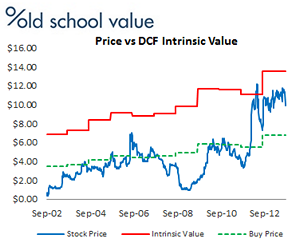 DCF fair value range around $13
Quick DCF: 15% discount rate, 6% growth, $15m owner earnings gives a fair value of $13.50.
A reverse DCF shows the expected growth rate to be around -1%.
Graham Growth Formula has it at $22.
Absolute PE shows $11.
EPV is around $16.