Emerging markets continue to come under pressure as there is a flight to safety and we are seeing serious moves in the Forex markets as big currencies move higher relative to the emerging markets' currencies. The Indian Rupee remains under pressure and the Euro is even seeing weakness due to the potential fallout from any confrontation with Syria.
We think that the White House has advertised the fact that they will do a measured attack to respond to the use of chemical weapons but not a serious enough attack to usher in regime change in order to keep markets calm and make sure neighboring countries and all parties involved do not overreact.
Today we want to point out some stocks which are on a short list of potential buys for a pullback and as we have already seen a decent retreat, we thought today was as good a day as any to bring these names to light.
Chart of the Day:
Once again the Indian Rupee is falling to fresh lows. Gold is rallying in Rupee terms and the general public is feeling the pain of their buying power evaporate. Recent actions by the government there has not helped strengthen the Rupee and all of the years of neglecting to build their economy is catching up to them.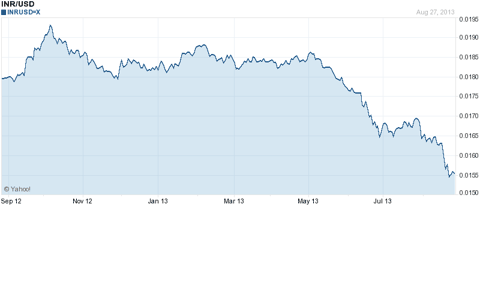 Source: Yahoo Finance
We have economic news today and it is as follows:
MBA Mortgage Index (7:00 a.m. ET): N/A
Pending Home Sales (10:00 a.m. ET): 0.2%
Crude Inventories (10:30 a.m. ET): N/A
Asian markets finished lower today:
All Ordinaries -- down 1.03%
Shanghai Composite -- down 0.11%
Nikkei 225 -- down 1.51%
NZSE 50 -- down 0.71%
Seoul Composite -- down 0.07%
In Europe, markets were mostly lower this morning:
CAC 40 -- down 0.59%
DAX -- down 1.25%
FTSE 100 -- down 0.51%
OSE -- up 0.76%
Financials
With rates having risen sharply as many investors believe that the Federal Reserve will taper their bond buying activities next month, mortgage activity has slowed to a crawl. Wells Fargo (NYSE:WFC) has even announced 2,300 layoffs due to the slowdown in the refinancing portion of the market and the expectation is that other big players in the industry shall follow. Until the most recent pullback, we had seen a nearly 100 basis point rally in the 10-year Treasury over the past four months, with even greater rises seen over a six month period. That being said, we are in the camp that believes tapering will not happen in September and possibly not even until 2014 which makes us interested in names which have been affected by the rise in interest rates. Wells Fargo is a name which should be added on the general market pullback for its exposure to the housing market, national brand and premier banking franchise. We see higher payouts in the future for shareholders and improving earnings going forward... even with a less than rosy outlook for housing.
Wells Fargo has seen a nearly 10% drop from its highs, buying this name on the dip seems to be a no brainer. Anything below $40/share is a strong buy in our opinion.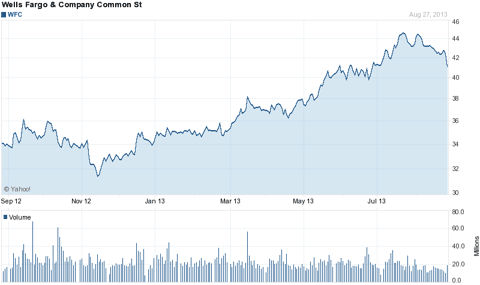 Source: Yahoo Finance
The other financial name we would recommend readers take a look at on the market pullback is American International Group (NYSE:AIG) which has long been a favorite of ours due to their improving overall business and a renewed focus upon the insurance lines which initially made this company great. The increased dividends and buybacks which we believe will only continue to be implemented are one driving force behind our thinking that this name should be bought with the continued improvement in the revenues and earnings being the main reasoning. Over the past few years, this has been a name whereby buying on the dips has been the only proper play and with the potential for another dip on general market jitters now upon us, we think it only reasonable to do more of that which has worked numerous times over the years. We like the stock at current levels, but a dip below $45/share would be a strong buy in our opinion.
Consumer Goods
We were bullish of Johnson & Johnson (NYSE:JNJ) in the low $90s and now that the shares are trading around $86/share, we feel the value is even more apparent. The only thing that has changed is market sentiment due to the possible intervention in Syria and the fragility of the entire political situation in the Middle East (think Egypt). The company has a solid dividend as well as a diversified business model with revenues and earnings coming in from various areas that are in some ways recession resistant. The company always seems to make good moves and with the potential of a pullback to add to positions, or even set up new positions, we think readers should pounce at the opportunity. Yes, the company does have issues with drug manufacturing facilities which tend to creep up every now and then, but aside from that we believe that there are far more potential positive news catalysts out there than negatives. The current price is attractive, but $83-85/share would be an ideal entry point.
The shares should find support around $85/share, but if they trend below that during this pullback one should be a buyer with conviction.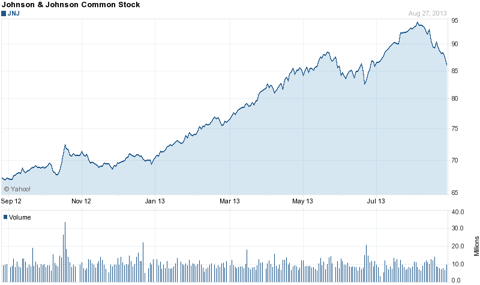 Source: Yahoo Finance
Less of a sure thing right now is Proctor & Gamble (NYSE:PG) which is undergoing a restructuring of sorts with their new, old CEO. The stock is still relatively expensive in relation to where it has traded recently, but a pullback to $75/share would be a strong buy in our view as the pieces are now in place for the company to return to the P&G of old where R&D cranked out new billion dollar product lines regularly and the company made great acquisitions while also increasing the dividend and share buybacks along the way. With the focus on international right now we should see the top line increase and gain momentum over the next few years with those new markets providing additional margin expansion opportunities in the future as the company is able to gradually increase prices. This is a long-term buy and one of those stocks which you buy on dips only to forget about for the next decade or so as the stock doubles and you collect a nice dividend stream.
Technology
As Apple (NASDAQ:AAPL) undergoes its transformation from a tech growth stock to more of a tech cash flow machine, we think that any pullback here represents an opportunity to capitalize upon the future increased dividend payouts, stock buybacks and the next generation of devices which are expected to be due out by the end of the year. The company is long overdue for a new device but an updated iPhone can be just as potent as the company has a very large consumer base and there is always pent-up demand for the next generation which results in strong launches and immediate market share gains. We like the stock under $500/share and if one can manage to buy it in the $470-480/share range, we think that is the move to make for a conservative investor attempting to get technology exposure.
Disclosure: I have no positions in any stocks mentioned, and no plans to initiate any positions within the next 72 hours. I wrote this article myself, and it expresses my own opinions. I am not receiving compensation for it (other than from Seeking Alpha). I have no business relationship with any company whose stock is mentioned in this article.