Welcome to Seeking Alpha Pro! We're excited to have you as a subscriber. To ensure that you get the most out of Seeking Alpha Pro, we've put together this quick guide.

Getting Started

If you are already logged into Seeking Alpha as a user, please log out of your Seeking Alpha account and then log back in. At this point, you should see Pro tab appears on the far left of the homepage, and the homepage background colors will turn black and green.

1. Click on the top right of the toolbar to open your menu, then click "sign out":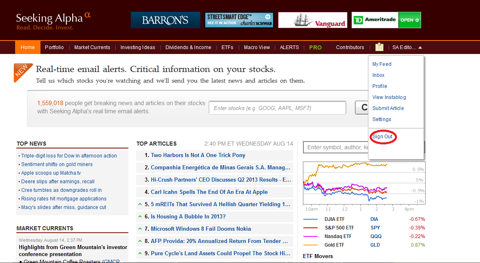 2. Re-enter your username and password to sign back into your account: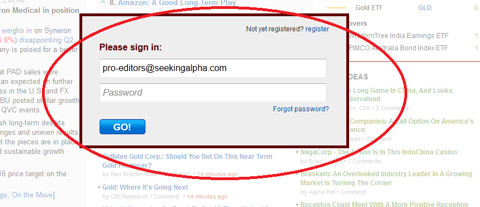 3. You should now be signed in to your Pro account, and should see a Black and Green header: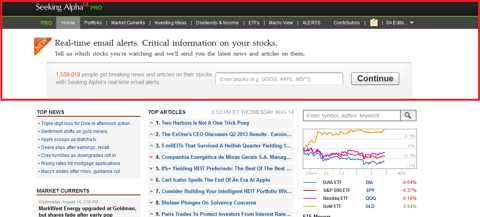 Alpha-Rich Ideas

SA Pro subscribers receive exclusive access to our best long and short ("Alpha-Rich") ideas. Each Alpha-Rich idea presents a single-stock opportunity with demonstrated asymmetric risk/reward.

Alpha-Rich ideas are published on market days between 9:30 AM-3:00 PM ET. We publish as few as zero and as many as 10 Alpha-Rich ideas per market day. On average, we publish 4 Alpha-Rich ideas per market day.

Subscribers receive 24-hour exclusive access to Alpha-Rich ideas. For example, if an Alpha-Rich idea is published at 9:30 AM Wednesday, Pro subscribers have exclusive access until 9:30 AM Thursday, at which point it is shared with all Seeking Alpha readers. The idea is available to the public for 30 days, at which point it is archived in the SA Pro research library for subscribers only. The Pro research library also gives subscribers exclusive access to unparalleled small-cap research.

Subscribers can discover, access, and track Alpha-Rich ideas in more than one way:

Real-Time Alerts
When an Alpha-Rich idea is published, Pro subscribers instantly receive an email notifying them of the new idea.

Pro Dashboard
On the Pro Dashboard, subscribers will find links to and descriptions of all Alpha-Rich ideas. They can also see how much time remains until an article will be released to the public.

Daily Summary Email
Every market morning at 7:45 a.m. ET, Pro subscribers receive an exclusive report of that day's Top Long And Short Ideas. The daily email also includes performance highlights of earlier Alpha-Rich ideas.

In addition, all existing email newsletters that Pro Subscribers receive (Investing Ideas, for example) are modified where appropriate to include links to recent Alpha-Rich ideas (non-subscribers will not see these ideas in their newsletters).

Quote Pages
If you are researching a stock and want to check if we ever published an Alpha-Rich idea on it, you can also check the Pro tab on that ticker's quote page.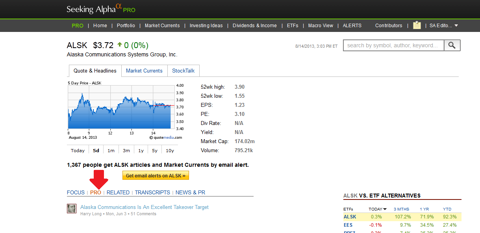 We care about your feedback. If you have any questions about Seeking Alpha Pro or any thoughts to share, please email us at pro-editors@seekingalpha.com