When Microsoft (NASDAQ:MSFT) announced on Friday last week that its CEO Steven Ballmer was to retire within a year, Wall Street investors and analysts were (pleasantly) surprised. That Microsoft's stock price jumped 7% on this news demonstrates investors' overwhelming consensus that Ballmer was not the right person to lead the company forward. What it also shows is the level of expectation from Microsoft's next CEO who would be expected to make the software giant 'relevant' again and transform Microsoft into a 'devices and services' company. Former Microsoft executive and Nokia's (NYSE:NOK) current CEO Stephen Elop is reportedly in the running for the hot seat, and in this article, I will discuss the reasons why Microsoft could steal Elop from Nokia.
Stephen Elop: A short profile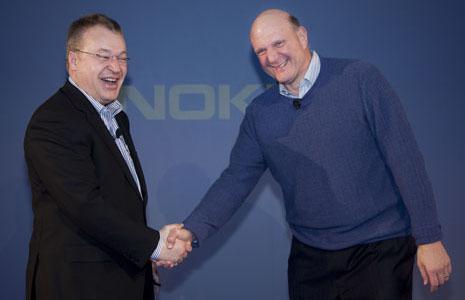 Photo Credit: Nokia
Stephen Elop is the current CEO and President of Nokia. Before joining Nokia, Elop served as the president of Microsoft's Business Division and was a member of Microsoft's senior membership team. Earlier, Elop worked as the Chief Operating Officer of Juniper Networks (NYSE:JNPR) and, before that, he served as the president of worldwide field operations of Adobe Systems (NASDAQ:ADBE).
Elop joined Nokia in September 2010 at a time when the Finnish phone-maker, much like Microsoft, was struggling to get out of its comfort zone. While competitors like HTC (OTC:HTCKF) and Samsung (OTC:SSNLF) were rapidly adopting Google's Android, Nokia was still stuck with producing phones based on its outdated Symbian OS. Soon after joining the struggling company, Elop issued a damning internal memo addressing Nokia's position in the global market which was leaked in the media. The strongly worded memo compared Nokia's situation to that of a man standing on a burning platform, with no choice but to jump into the uncertainties of freezing waters down below.
The "burning platform" memo demonstrated that Elop had grasped Nokia's problems very well, but it was his solution to the problems that proved more controversial. In February 2011, Elop announced that Nokia would form a strategic partnership with Microsoft and adopt Windows Phone as its primary smartphone OS at a time when Google's (NASDAQ:GOOG) Android was showing rapid growth. Elop has continued with this strategy despite facing some staunch criticism from shareholders and analysts alike.
After joining Nokia, Elop undertook a massive restructuring program and cut thousands of jobs to cut costs and make Nokia a smaller, leaner and more agile organization.
Here are some of the reasons from Elop's profile that make him a strong candidate for Microsoft's CEO:
Elop is a Microsoftian
Stephen Elop is a Microsoft alumnus and understands the Microsoft way and culture. Even during his tenure at Nokia, Elop has remained close to Microsoft, so much so that he was accused of being a Microsoft mole. I believe that a close connection with Microsoft would be important for any prospective CEO because even though Microsoft is looking for change, I don't think Microsoft's board of directors would replace a man who has served Microsoft for 30 years with a complete outsider.
Elop understands devices and services
Another thing which goes in Elop's favor is his experience with mobile. As I have mentioned above, Microsoft is looking to transform itself into a 'devices and services' company, and thus should prefer a leader who has the right experience to lead this transformation. Since Nokia makes smartphones exclusively based on Windows Phone, Elop should know the strengths and weaknesses of Microsoft's mobile ecosystem inside out. Moreover, after his stint with Nokia, Elop's invaluable experience on the hardware side of the mobile devices market would be difficult to match for many of Microsoft's internal candidates for the coveted position. Thus Elop's in-depth knowledge of the Windows Phone ecosystem combined with his experience in the mobile devices market makes him a very suitable person to lead Microsoft into the 'devices and services' era.
Elop has experience leading restructurings
A few weeks before Ballmer's retirement decision, Microsoft had announced a major restructuring of its operations. Dubbed by Ballmer as the "One Microsoft" strategy, the aim of this reorganization is to streamline the company's operations in order to give users a unified experience across various Microsoft products. Given the size and complexity of a software giant like Microsoft, a corporate restructuring is not a small task; it could take many months before the overhaul of the management structure is completed in its entirety. Therefore, Microsoft would be looking for a person who would be able to properly implement the restructuring.
Nokia's CEO Stephen Elop is no stranger to restructurings; Elop has overseen Nokia becoming a much leaner and more agile organization than it was when he joined. The impact of Elop's restructuring plans is most visible in the turnaround of the Nokia Solutions and Networks. Formerly known as Nokia Siemens Network, NSN was considered to be a deadwood investment with subzero operating margins. In its latest earnings release, Nokia reported that NSN achieved operating profitability for the 5th consecutive quarter and is now considered to be a bright spot in Nokia's businesses. Thus, Elop's experience with restructurings could also count as an important factor in Microsoft's search for a CEO.
My opinion: Windows Phone was a mistake, but could land Elop the CEO job
Elop's decision to shun Android in favor of Windows phone has been a controversial one. While the argument that Windows phone allows Nokia to differentiate its products is a valid one, it still doesn't explain why Elop chose to remain exclusive to Windows Phone at a time when Android was seeing explosive growth. I still believe that Elop made the wrong choice in choosing to be exclusive with Windows Phone.
However, this mistake is exactly what makes Elop the right choice for Microsoft's top post. Elop has been working with Windows Phone right from the start, and he is in a unique position to understand the strengths, weaknesses and possible improvements required in Microsoft's mobile ecosystem from both the hardware and the software side. Moreover, Elop also understands Nokia inside out and thus would be the perfect guy to advise Microsoft if it should acquire the Finnish phone-maker in its quest to transform itself into a 'devices and services' company.
Remember, Ballmer made many mistakes with some of Microsoft's core products, but the main reason that he is leaving earlier than expected is that he simply did not understand the dynamics of the mobile market; this shows the importance Microsoft has placed to becoming a relevant player in the future of mobile. Even though Microsoft has many talented executives who could be promoted to the top, none of them can provide the unique experience that Elop would bring. That is why I believe that Stephen Elop is in a strong position to become the next CEO of Microsoft.
Disclosure: I have no positions in any stocks mentioned, and no plans to initiate any positions within the next 72 hours.
Business relationship disclosure: This article was written by a Dividend Pros' analyst covering technology.