Chipotle Mexican Grill, Inc. (NYSE:CMG) has had a fantastic year so far. The quick service restaurant company's share price has risen 35% year to date (as of 8/27/13), despite recommendations to short the stock from prominent fund managers. David Einhorn, the manager of Greenlight Capital, and Jeff Gundlach, the prominent bond fund manager, both advocated short positions in Chipotle at the Ira Sohn conference in May. Gundlach specifically said he liked Chipotle's product, but the idea of a gourmet burrito is an oxymoron. Both Einhorn and Gundlach have made this recommendation previously. However, the trade has not gone their way as of yet.
The tide looks to be slowly turning though, with a number of factors indicating Chipotle may be headed for a downturn. These factors include decreased fund and institutional positions in the stock, less upward pressure from short sellers, and the stock hitting technical resistance.
Hedge Funds and Institutions Reducing Their Positions.
First off, it appears Chipotle is becoming less popular among hedge funds and institutions. Funds released their 13F filings last week, showing their positions as of the end of June. Many investors and market observers closely review the holdings of prominent money managers and hedge funds. They believe following the investing strategies of the pros can help them outperform the market or otherwise gain some helpful insight. Databases that compile 13F information show a number of prominent funds have significantly reduced their positions in Chipotle. For the second quarter, funds and institutions sold 4.459 million shares, versus new positions of 3.665 million shares.
According to the newest 13Fs, Goldman Sachs Group, Inc. (NYSE:GS) reduced its position in Chipotle by 999,000 shares, still holding 554,000 shares, while increasing its call position by 15,000 shares. Eaton Park Capital Management, L.P. completely exited its position of 400,000 shares. Renaissance Technologies, LLC has been slowly selling off its stake in Chipotle on a quarterly basis. Renaissance held over 603,000 shares in the company at the end of the second quarter 2012. The hedge fund reduced its position by 167,000 shares for the second quarter of 2013, leaving it with 69,000 shares. This represents an 88% decrease in its stake over the past year. Renaissance, with more than $23 billion under management, is known for its use of complex mathematical models to analyze and execute trades, often using automated trading. If funds like these are reducing or exiting their positions in Chipotle, the increased liquidity may place downward pressure on the share price.
Still, some funds have increased their positions in Chipotle during the second quarter - including Steve Cohen's SAC Capital. SAC increased its position in the Company by 274,000 shares for a total of 320,000. (SAC and Cohen have been under a cloud recently, as they are facing federal indictments for insider trading violations.)
However, on the aggregate, funds are holding smaller positions in this stock.
Many Shorts Have Been Stopped Out
Chipotle is one of the heavier shorted stocks in the market. With the positive share price movement, many short sellers have scrambled to cover their positions. This has likely resulted in a short squeeze that has placed artificial upward pressure on the price. However, as short interest falls, this upward pressure will no longer be a catalyst for future price movement.
The most heavily shorted stocks have outperformed the market as a whole this year. The strong overall momentum of the markets has undercut short sellers, and resulted in strong upward price movements due to shorts being squeezed out of their positions. According to The Wall Street Journal, hedge fund performance has suffered due to bad short plays. Zillow (NASDAQ:Z) is a prominent heavily shorted stock, with a short float of 21.86%, and is up over 200% year-to-date as of 8/27/13. Tesla (NASDAQ:TSLA) has an even higher short float of 24.89%, and is up an incredible 341% so far this year. The crowded short trades are going against the sellers. This trend indicates that Chipotle's rise may be due in part to a short squeeze.
Sourced from Zacks Investment Research.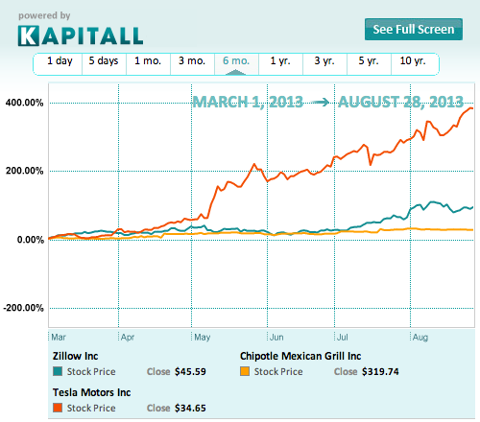 Chipotle shares have been in a strong upward channel. Since late October 2012, the stock has risen 80%. Shares hit a 52-week low of $223.82 on October 19, 2012, and rose to a 52-week high of $418.23 on August 1st of this year. The positive performance has clearly hammered the shorts in the trade, and many have likely been squeezed out of their positions. Back at the end of February, there were 4.06 million shares being shorted. As of August 15th, there were 2.64 million shares being shorted, for a lower short ratio. The number of shares sold short fell by 34% during that time frame. The following table shows the gradual monthly decline in the number of shares shorted: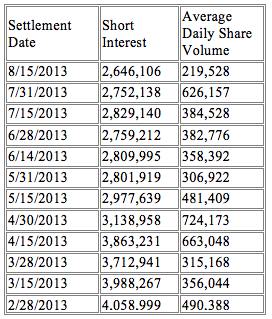 The stellar performance of Chipotle appears to be due in part to a short squeeze, similar to the other crowded short trades in the market. Thus, with fewer shorts in the market, there will be less of an upward pressure on the price, allowing the stock to come back into a greater equilibrium. Without the upward pressure, Chipotle is more likely to begin to drift downwards.
Technical Resistance Despite Strong Fundamentals
Chipotle has solid fundamentals, continuing to generate strong quarterly revenues and earnings. For the second quarter of 2013, revenue increased 18.2% to $816.8 million versus the same quarter last year. Chipotle reported net income of $87.9 million, an increase of 7.6%. In addition, comparable restaurant sales increased by 5.5% during the quarter. Diluted earnings per share were $2.82, for an increase of 10.2%. The company opened 44 new restaurants during the second quarter, for a total of 92 new restaurants so far this year. The stock trades with a P/E ratio of 42.95, and a forward P/E of 31.57. The high P/E ratio for Chipotle is an indication that investors expect revenue to keep growing substantially. Any misstep in quarterly results could be a fairly bearish event for the stock, as revenue growth appears to be built into the share price valuation.
However, all that said, Chipotle's stock chart shows it is close to hitting resistance. Although the stock is trading well above its 50-day and 200-day simple moving averages, there appears to be resistance around $415. A failure to push through this level may be a bearish indicator.
Sourced from Zacks Investment Research.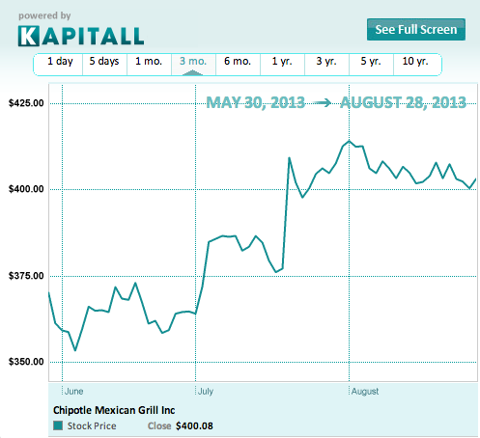 The stock reached an all-time high of $442.40 in mid-April 2012, whereby the current price is only 9% below the all-time high. Further, a topping head and shoulders pattern may be playing out, with the right shoulder currently forming. A head and shoulders formation consists of a left shoulder, a head, and a right shoulder and a line drawn as the neckline. Here, the left shoulder was formed around $407, with the head formed at $412, and the right shoulder appears to be forming at $404. A break below the neckline at around $401 [went below intraday 8/27/13] on moderate volume could be a confirmation of the pattern, and would technically indicate a further move downwards.
It's possible Chipotle's stock may still have some steam left in it. However, as prominent funds and managers reduce or exit their positions, it is increasing the stock's liquidity, leading to a greater likelihood of a drop in price. The lower short squeeze pressure may further lead to the stock's drift downward. Finally, while Chipotle's fundamental performance continues to be solid, the stock price appears to be hitting technical resistance.
After an amazing run up in price, the market may be slowly deciding that Chipotle is currently overvalued.
Disclosure: I have no positions in any stocks mentioned, and no plans to initiate any positions within the next 72 hours.
Business relationship disclosure: Business relationship disclosure: Kapitall is a team of analysts. This article was written by Josh Reider, one of our writers. We did not receive compensation for this article (other than from Seeking Alpha), and we have no business relationship with any company whose stock is mentioned in this article.