Coming off a dismal performance in its first quarter of fiscal 2014, Alliance One International (NYSE:AOI) continues to underperform the market. Even before its earnings report the share price of the company began to plummet on expectations of weak earnings.
The market has hammered Alliance, as it was trading at $2.91 per share on August 27, 2012, and actually moved up nicely July 19, when it traded at a 52-week high of $4.23 per share. Since then it has plunged to $2.85 per share as of the close of trading on August 27, 2013, lower than it was trading a year ago.
For the last 18 years this company has disappointed, and there is nothing to suggest that's going to change any time soon. The only hope for investors is for those wanting to get in at a low entry point and make a quick buck if the stock rebounds some over the very short term.
While there are a number of reasons for the poor performance of the stock, the major challenge in the short term is to deal with its supply and pricing problems. Until it does that the rest of the steps that need to be taken are basically meaningless.
Unless that becomes more consistent, and assuming continuing demand for its products, Alliance is going to continue to trade in the range of $2.00 to $3.50 per share, with an occasional foray above $4.00 per share on a surprise quarter to the upside. There is nothing to point to sustainability for that type of performance over time, so investors will need to look at low entry points as the only way to make money with this company. I see no growth here at all.
source: StockCharts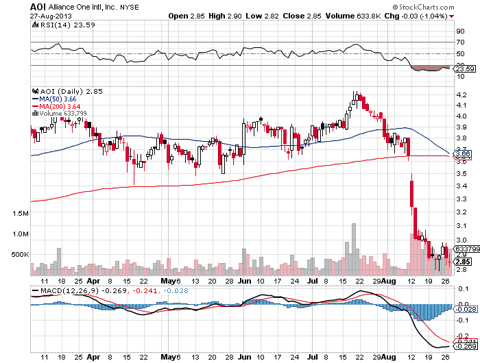 Latest Earnings Report
In the first fiscal quarter Alliance reported a net loss of $36.9 million or $0.42 per share. That is in comparison to a net loss of $30.7 million, or $0.35 per share, in the same quarter of fiscal 2013.
Vice President and Treasurer Joel L. Thomas attributed much of that to seasonal performance, but I'm not buying that because of the company's similar performance year after year. That implies the company has no strategy in place to move off of the bottom in a slow time of the year. While I can understand a company slowing down during certain times of the year, I can't see it operating within similar parameters year after year without improvement. The lows should gradually move higher, even if it underperforms in regard to other quarters.
The reason for the slow season is in connection to the time when crops come in throughout the regions of the world that supply Alliance with product. We'll get more into that in a moment. What that does is reinforce the supply problem as being the major issue Alliance must solve, as it is ludicrous to have the same challenge year after year without at least improving it.
As for gross profit, that plummeted to $28.5 million, a decline of 31.5% over last year in the first fiscal quarter. Reasons given for that were the Brazilian real depreciating against the U.S. dollar and losses in derivatives.
My observation and main concern is even without some of the expenses (restructuring) cited by Alliance for a weak performance, these weren't part of the narrative last year, and it still ended up with a earnings per share loss of $0.35 at that time. That suggests more than one-off issues.
Income Statement
source: Ycharts

Cash Flow Statement
source: Ycharts

Cost Management Problems
One of the problems the management of the company has is in containing costs. In the latest quarter the Brazilian crop was a challenge because the higher costs weren't able to be offset by raising prices. This is another reason why gross profit in the quarter was a disaster.
Chief Executive Officer J. Pieter Sikkel said he sees it taking until 2014 before the size of the crop finally catches up with demand. That means crop prices will continue to be high.
He never mentioned how that higher crop price would be offset, suggesting Alliance will take another gross profit hit in the next couple of quarters because it apparently doesn't have the pricing power to counter the higher crop prices. If the company did, I believe it would have fallen all over itself to point that out.
In other words, supply continues to be a major problem, and we'll take a look at that vital area next.
Inventory and Supply
Supply is crucial to the success of Alliance One, which processes, stores, sells and ships leaf tobacco to cigarette manufacturers and other producers of products including tobacco.
It's business is easy to understand. If it doesn't have enough tobacco, you can't sell it. If you have low inventory and have to buy at higher prices, you can't make a profit if you have no pricing power. At its essence, this is what Alliance One is, as far as a company goes, and if it can't manage inventory and supply, it will be a victim of prices it can't sell at for a significant profit.
Zambia was a disaster for the company in the latest quarter, as it incurred an expense of about $11 million in relationship to reducing the recovery of farmer advances in the country. The company says it is improving its credit procedures and agronomy staff to recover as much of the advances as it can, but there is no certainty at all that this won't continue to be a major problem. I believe it could take some time before this is resolved satisfactorily on behalf of shareholders. Zambian suppliers will continue to weigh on the company.
Other supply concerns are in relationship to the past pattern of having the second half weighted heavily. To counter that problem the company has acquired its African crops earlier and in larger quantities, while at the same time attempting to increase capacity at its facilities in Africa.
The hoped for result is that processing and shipments will be quicker than in the past, which would allow the higher amount of inventory to be prepared to ship earlier than before. Not only is the company hoping to have a lower back-end weighting in the fiscal fourth quarter, but also to push up some of what was expected to ship in the fourth quarter into the third. If the company is able to achieve that, it would be one of the very few positive catalysts it has going for it.
There is a low supply of burley along with other flavored tobaccos that command higher prices at this time, and that could be a problem in relationship to higher costs versus pricing. Also an issue is how much of the product Alliance will be able to acquire.
Its overall inventory is valued at about $1,134,000,000, much higher than the $987 million in inventory it acquired in fiscal 2013. The stated reason for boosting that is expected sales growth in the Asian market. While that's true, I also see it as a protection against potential higher costs as the year goes on.
All of this is important to know, but what is obvious from it all is Alliance One has a lot of work to do to make its supply chain much more predictable. To me the company needs to have more alternative suppliers as well as increase its processing capacity even more.
As it is, it remains a hit and miss supply operation, one that has been less than inspiring over the last decade and longer.
Conclusion
Having access to enough supply is the heart of Alliance One's success, and the company will continue to perform as it has for many years if it doesn't improve itself in that regard. It has taken some steps that appear to help, but we won't know if it will really shore up the bottom and top lines for another year or so.
A major consequence of not having adequate and predictable supply is pricing power. Higher costs have not been able to be offset by the ability to increase prices, so the firm continues to take hits on margin and earnings.
The fact that the company was "surprised" by the issue in Zambia, had shipment delays in Asia and Europe, and appears clueless as to what to do about it, doesn't exactly generate confidence in shareholders and investors. With a trailing P/E (TTM) of 14.39, and a forward P/E of 4.07 (Thomson Reuters), others aren't positive on Alliance turning things around anytime soon either.
source: Yahoo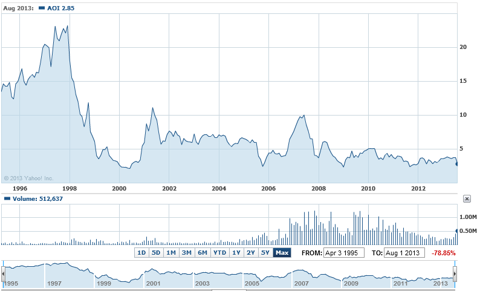 Other than waiting for the inevitable poor earnings report that depresses the share price of Alliance One International, which provides an entry point that will usually ensure a profit in the short term, I see no reason to invest in the company.
When hearing the steps being taken to right the ship, it is very underwhelming and points to the same-as-usual for Alliance. Even if it is able to process its product a little quicker, I don't see that as being a major benefit for the company or something that will move it out of the share price range it has been operating in for years.
Disclosure: I have no positions in any stocks mentioned, and no plans to initiate any positions within the next 72 hours. I wrote this article myself, and it expresses my own opinions. I am not receiving compensation for it (other than from Seeking Alpha). I have no business relationship with any company whose stock is mentioned in this article.