We believe that market share for Medtronic's (MDT) Infuse will continue to be soft in the market, allowing other players to chip at its market share. Infuse revenues were down 11% for the second quarter, leaving an opportunity for other players to pick up MDT's lost market share. For a full report please contact: research@thecockrellgroup.com
Issue That Dilute Market Dominance
Medtronic's Infuse Bone Graft market dominance in bone grafting. But, the product has been losing market share due to safety issues, which has resulted in significant impact on the company's spine business. Independent research studies from Yale University also confirmed that Infuse has certain risks that must be evaluated carefully by both physicians and patients before use.
What Is Infuse Bone Graft
The Infuse Bone Graft is a biologic for bone growth and is heavily used off-label for spinal fusions. The material is made up of two parts: recombinant human bone morphogenetic protein (rhBMP-2) and a sponge fabricated from cow collagen. The powdered protein is mixed with sterilized water and is then applied over the sponge. The product is commonly placed within a spinal cage which is implanted into the spine. Infuse is often used in replacement of autograft, which involves harvesting bone from the patient's own hip, and can be more painful for the patients and usually requires more healing time. This product, however, has been associated with a series of side effects that led patients and physicians to seek other treatment options available in the market.
Risks Associated With Infuse
The most common and serious adverse events associated with Infuse include cancer, bone and nerve injury, male infertility, infection and urinary problems. In addition, the product may have a potential risk for pregnant women due to its active ingredients based on an experimental rabbit study. According to this study, the rhBMP-2 extracts antibodies that are capable of crossing the placenta, which becomes a threat to the fetus.
In addition, there are no well-controlled studies in pregnant women, and there are concerns as to the safety and effectiveness of the device, which is not yet established in nursing women.
Safety Issues Impact Medtronic Spine Business
Medtronic's spine segment showed significant pressure on its quarterly results due to decreasing sales of Infuse, resulting from safety concerns. During first quarter, FY14, Infuse Bone Graft revenues, which is commonly referred to as BMP, were $124 million, down by approximately 11% at constant currency over the prior year, due to lower sales volume. But, the decline is offset by the company's core spine offerings, which provides some stability with increased sales of new products and enabling technologies such as imaging, navigation, and powered surgical instruments. Overall, Medtronic's spine business posted revenue of $765 million, down by 1% on constant currency over the prior year.

Source: Company Reports
Source: Company Reports
Competitive Products In The Bone Grafting Market
Besides bone morphogenetic proteins (BMP), a comprehensive number of technologies are available in the market for bone grafting. They include demineralized bone matrix (DBM), bone graft substitutes and platelet concentration systems. The DBM technology is considered as effective among the available bone grafting methods. Companies like Bacterin International Holdings (BONE) develop bone graft materials and biologic allografts for transplant using its proprietary DBM technology.
Technological Advantage Of Bacterin's Allograft
Bacterin's core competencies are focused on how allografts are processed, and most specifically, DBM scaffolds. For DBM, allograft material is broken down into small pieces and then submerged with hydrochloric acid to remove bone minerals without affecting the protein (collagen) materials. This process supports bone growth due to its osteoconductive and osteoinductive properties.
Increasing Prevalence Drives Bone Grafting Therapy Market
Back pain is a common problem that frequently occurs with changing life style and an increasing elderly population. Severe back pain can happen due to spine and other related degenerative diseases. Physicians recommend treatment options based on the severity and duration of the disease. But with increasing incidence of chronic cases, patients are opting for spine surgery as the best possible option. Among surgeries, biologic treatment such as bone grafting is considered as one of the best possible therapies for patients with spine aliments such as severe back pain. Though a number of existing therapies such as Infuse Bone Grafting are available; some are vulnerable to causing side effects. In addition, the cost of surgery is high, approximately $34,000 or more. This has led to increasing unmet needs. It is also estimated that 84 % of bone grafts are used for spinal fusion to treat chronic back pain. In the U.S., around 432,000 spinal fusions are performed annually.
Opportunity For Bacterin In Bone Grafting Business
In bone replacement, Medtronic dominates the market with Infuse, accounting for over 40% of the $1.9 billion bone grafting market, followed by DePuy and NuVasive (NASDAQ:NUVA). Besides BMP, other technologies including demineralized bone, allograft bone, cell-based matrices and bone substitutes offer services in the market. As the market is growing with increasing new products and technology and expects growth of around $3.3 billion by the year 2017. Based on the effectiveness and safety of DBM in the grafting process, Bacterin expects to generate continued and improving sales within its core bone grafting business.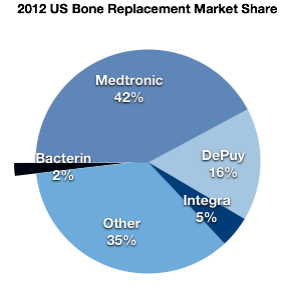 Bacterin's Biologic Support Growth
In the second quarter 2013, Bacterin reported stable growth in sales of $8.2 million with increased sales volume. Patent-pending technology based products will further support top line growth in the coming periods. Bacterin is yet to report positive earnings as the company is focusing mostly on market development and optimizing the sales force. The company had a cash balance of $5.1 million as of June 30, 2013 to carry out its operation.
Looking Ahead
Though the core spine segment will continue to provide positive growth for Medtronic. Nonetheless, lost credibility with its most profitable product - Infuse - will make sales challenging going forward. This will create an opportunity for other players to position their respective, competing technologies to take advantage of the bone grafting market. This will also be the case for Bacterin and its clinically superior DBM technology. The effective and safety profile of the DBM process should boost the Company's bone grafting business.
Disclosure: I have no positions in any stocks mentioned, and no plans to initiate any positions within the next 72 hours.
Business relationship disclosure: COCKRELL GROUP does and seeks to do business with companies covered in COCKRELL GROUP Research. As a result, investors should be aware that the firm may have a conflict of interest that could affect the objectivity of COCKRELL GROUP Research. Investors should consider COCKRELL GROUP Research as only a single factor in making their investment decision. Certification: The following analysts hereby certify that their views about the companies and their securities discussed in this report are accurately expressed and that they have not received and will not receive direct or indirect compensation in exchange for expressing specific recommendations or views in this report. Unless otherwise stated, the individuals listed on the cover page of this report are research analysts