Stratasys (NASDAQ:SSYS) has responded aggressively to 3D Systems' (NYSE:DDD) bid in the consumer segment with the acquisition of MakerBot. The company has decided to begin participating in the consumer market, a field that was avoided so far. The initiative is expected to bring in long-term revenue gains, and expand the company's footprint in the 3-D printing industry. Earlier this month, Stratasys reported Q2 earnings that beat analyst estimates, and raised full-year revenue guidance, with sustained momentum in the quarter as the global demand remains strong.
Q2 highlights
Stratasys reported second-quarter earnings and revenue ahead of analyst estimates. Adjusted earnings came in at $0.45, one cent ahead of estimates and 32% higher than last year's $0.35. Revenue grew 20% to $106.7 million, above $105.5 million consensus estimates. Non-GAAP gross margin improved to 59.2% from 57.5% in Q2 2012, while GAAP gross margin improved 200 basis points to 47.3%.
Growth accelerated in the second quarter as a result of benefits from the Objet merger, and as the cross-selling initiatives began to materialize. Margin expansion is a result of operating synergies and stronger sales of higher-margin products and services.
In my previous article about Stratasys, following the first-quarter results, I said that only one thing was missing - guidance was not raised. Well, we have it now, as far as revenue guidance is concerned. Management raised full-year revenue guidance to $455 million to $480 million, up from previous guidance of $430 million to $445 million. The MakerBot merger is expected to accelerate the growth rate, and negatively impact earnings this year, and hence, the full-year non-GAAP earnings guidance was lowered to $1.75 to $1.90 per share, from previous guidance of $1.80 to $1.95 per share.
This is consistent with my previous article's conclusion: the company is executing its growth strategy quite well, revenue and earnings growth continue their pace and margins are continuing to expand. These are the key segments I monitor in order to get a grasp of a growth story's future prospects.
MakerBot and the consumer segment
In mid-June, Stratasys announced the acquisition of MakerBot, a Brooklyn-based desktop 3-D printing company. Stratasys will issue approximately 4.76 million shares in exchange for 100% of the outstanding capital stock of MakerBot. This will enable Stratasys to compete with 3D Systems in the consumer segment. MakerBot is expected to generate $75 million in revenue this year, a significant increase over last year's $15.7 million. MakerBot makes an easy-to-use desktop 3-D printer called the Replicator, which sells for about $2,500. And last week, MakerBot announced that its Digitizer desktop 3-D scanner is available for pre-ordering. It has a $1,400 price tag, and users can scan objects and make a 3-D model that they can later print with a 3-D printer.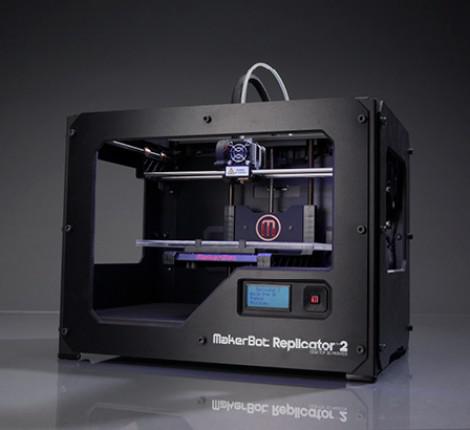 MakerBot's desktop 3D printer Replicator 2. Source: MakerBot website.
On the other hand, 3D Systems has made headway this year on the consumer front. The company had a few very important announcements this year, like the exclusive agreement with Synnex Corporation (NYSE:SNY), a major IT hardware distributor, and with Staples (NASDAQ:SPLS), which will enable the company's Cube desktop printers to be readily available to a much broader customer base. And, as I speculated in my previous piece on 3D Systems, the consumer segment is getting more crowded now, as Stratasys decided to aggressively enter the field.
Group movement
The 3-D printing group is advancing nicely, with all three companies (Stratasys, 3D Systems and Exone) making new highs recently. The Exone Company (NASDAQ:XONE) disappointed investors with its second-quarter results, but it is not far from its all-time highs. Exone has missed both earnings and revenue estimates, and said that full-year revenue will probably be at the low end of the previous guidance of $48 million to $52 million.
3D Systems beat the revenue estimate, but missed the earnings estimate, as the company decided to boost R&D spending. This is an effort to increase broader 3-D printing adoption. Both 3D Systems and Exone investors had a negative initial response to their results, but they quickly rebounded afterwards. So, the whole group seems ready to go higher in the near term, as good news is cheered and bad news is quickly forgotten. But, there is one major threat, and that is the recent deterioration in the general market, as a result of concerns over Syria and the QE tapering by the FED, among other things. If the sell-off continues, Stratasys, 3D Systems and Exone could go down with the rest of the market.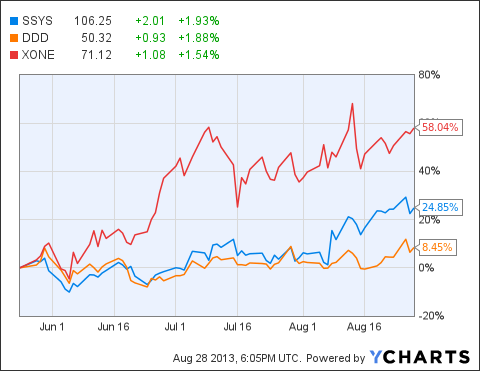 SSYS data by YCharts
Conclusion
Recent developments are contributing to the bull case for Stratasys. The company is broadening its presence in the 3-D printing industry with the MakerBot acquisition, the integration with Objet is resulting in strong operating synergies, earnings and revenue are growing at a robust rate and profit margins are expanding. The biggest threat to Stratasys' share price and the 3-D printing group is the general market weakness, which might dampen the near-term prospects.
Disclosure: I have no positions in any stocks mentioned, and no plans to initiate any positions within the next 72 hours. I wrote this article myself, and it expresses my own opinions. I am not receiving compensation for it (other than from Seeking Alpha). I have no business relationship with any company whose stock is mentioned in this article.