It's easy for players of the blame game to finger Steve Ballmer as the principal player in Microsoft's tragic downfall (NASDAQ:MSFT). And while Ballmer certainly shares a great deal of responsibility for the once-mighty software company's apparent tumble from grace, the company's misfortunes are both symptoms of a shifting paradigm in the global tech industry and reflections of flaws that would doom any company in its once-great position.
Ballmer is leaving Microsoft, according to an announcement the company made last week. The move, expected by none but a few, immediately sent Microsoft soaring. The prevailing thinking is that anyone but the heir of Bill Gates would be better at leading the company. While the hubbub has certainly settled down in recent days, there's no doubting that a positive element has entered into the minds of Microsoft investors, and this could be good news for those hoping to see some upward development in stock prices.
Microsoft: A history
To unpack the issue, we'll start with a two year chart of Microsoft's performance overlaid by the SmartStops risk state data. As you can see, things became interesting in September and October of 2012 when Windows 8 was released. The operating system was barraged with criticism which didn't quite spur the return to glory that Ballmer had reportedly envisioned. Instead, Microsoft was forced to essentially admit defeat and vaguely promise a "reworking" of Windows 8. Microsoft has spent much of the last 2 years alternating between periods of promise and disappointment. Much of this time the stock as been in the SmartStops elevated risk state where it sits today as seen below.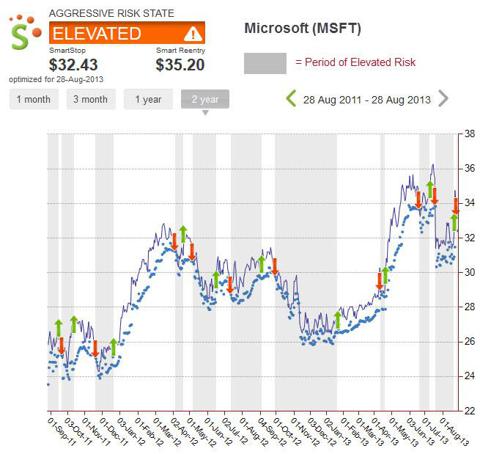 Source: SmartStops.net
But it's not just Windows 8 that's to blame. A broad shift in opinion regarding Microsoft's professional software suite, Office, has been fueled in part by Google's free-to-use answer to stalwart programs like Word and Excel. In a sense, Microsoft is trapped by its own past as senior management officials don't want to move on from the licensing-based model for Office that produced huge revenue streams - and still do, for now - for the company.
Ultimately, Microsoft is at a crossroads that is very much about its history. An article published by Vanity Fair late last year exposed some of the inner workings of the software company, some of which called into question the judgment of both Gates and Ballmer. Included in the retraced history was Microsoft's aborted ebook venture, which would have cornered the market years before any other company had the technology in progress. A desire for the system to "look more like Windows," as dictated by Gates, doomed the project and cost Microsoft potentially billions of dollars in revenue. Mistakes like this snowballed over the years, leading Microsoft to the point where it has had to eject its top brass to appear conscious of shifting market winds.
The future of a past giant
An insightful analysis published by The Atlantic shortly after Ballmer's resignation was announced correctly identified a fact that most investors don't realize: Microsoft is slowly but surely becoming a business-to-business solutions company. Yes, it will continue to play for consumer markets, especially as it tries to widen the appeal of the Xbox, but the majority of its profits - over two thirds - came from its server services and business solutions divisions in 2012.
This evolution is positive or negative, depending on how you look at it. If Microsoft - and, more importantly, its new leader - embraces this path, the company could still play a huge role in the technology market. On the other hand, Microsoft may choose to continue contesting the consumer market and competing with Apple (NASDAQ:AAPL), Google (NASDAQ:GOOG) and Samsung (OTC:SSNLF) for a slice of the demand for tablets and smartphones.
Ballmer's exit is good for Microsoft. His tenure was marked by a series of missteps, un-seized opportunities and outright errors that have cost the company its position as the world's top technology business.
Will it ever recapture its former light? That depends on the next generation of Microsoft leaders who have seen the company pass from its golden age and enter an apparent twilight. The company has been beaten to the punch on innovation, but its wealth and institutional standing are capable of attracting creative and dedicated minds if given the right incentives. Instead of a chief executive like Ballmer, who drank the Microsoft Kool aid for so long he was blinded to their offering's short falls, Microsoft needs a leader with a fresh product and service vision and the courage to take risks and execute, like Amazon's (NASDAQ:AMZN) Jeff Bezos or Netflix's (NASDAQ:NFLX) Reed Hastings. If Microsoft can find such a leader, it has the resources and talent in place to make another run at being the technology leader. But time is short and the odds are against it.
So, is now the time to buy Microsoft? A change of leadership will be a good first step, but the business and its challenges and prospects have not yet changed. A market shift away from Microsoft's traditional licensed business suite and toward web based software as a service solutions continues. The market shift from PCs to mobile phones and tablets continues. And Microsoft's also ran position in these areas continues. Until we see a launch of new products or services that gain traction in these areas, I would maintain a wait and see attitude toward Microsoft's stock.
Disclosure: I have no positions in any stocks mentioned, and no plans to initiate any positions within the next 72 hours. I wrote this article myself, and it expresses my own opinions. I am not receiving compensation for it (other than from Seeking Alpha). I have no business relationship with any company whose stock is mentioned in this article.