By: Brendan Gilmartin, VP Research And Content
Salesforce.com.com (NYSE:CRM) is scheduled to report 2Q 2014 earnings after the close of trading on Thursday, August 29. A conference call will follow at 5:00 p.m. EST. The actual results are typically released at 4:05 p.m. EST.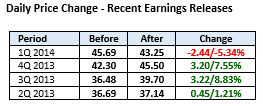 Key measures:
Non-GAAP EPS: For the 2Q 2014 period, Salesforce.com is expected to earn $0.07 per share, with some estimates running as high as $0.11. (Source: Yahoo Finance)
Revenues: Revenue is projected to rise approximately 30% to $939.25 mln, above the range of $931 mln to $936 mln provided this past May.
Adjusted Earnings Per Share Guidance (3Q 2014): In most cases, Salesforce.com provides earnings guidance for the upcoming quarter that tends to have a direct impact on the direction of the share price. The current estimate is $0.07.
Adjusted Earnings Per Share Guidance (FY 2014): In the 1Q 2014 earnings release, Salesforce.com.com gave guidance for FY 2014 in the range of $0.47 to $0.49.
Implied Volatility: The average move for the past eight quarters has been approximately 7%. Options contracts are pricing in a bit more of a move this quarter, at about 7.9%.
Recent News
08/28: Bernstein Research reiterated an Underperform rating on Salesforce.com with a price target of $29.00, according to a post on Benzinga.com. The firm cited valuation, asserting that growth and margin projections were too optimistic, with slower growth in the core sales and cloud division. Competition is another factor contributing to the cautious outlook.
08/20: Jefferies raised its price target on Salesforce.com from $50 to $52 ahead of the 2Q earnings release, according to a post on StreetInsider.com. The firm expects Salesforce.com to benefit from the recent ExactTarget (NYSE:ET) acquisition, along with improving fundamentals, sales execution and new products.
08/16: Global Equities upgraded Salesforce.com from Equal-weight to Overweight, according to StreetInsider.com, with a price target of $60. The positive outlook is based on new products, improving fundamentals and returns on recent investments.
07/09: Wedbush reiterated a Neutral rating on Salesforce.com and cut the price target from $42 to $40, according to Benzinga.com.
06/04: Salesforce.com agreed to acquire ExactTarget in a transaction valued at approximately $2.5 billion.
Technical Review
Salesforce.com shares have been slipping in recent weeks, and now hover just above a key support level near $42.00, the intersection of the 50-Day & 200-Day SMA crossovers. Should earnings disappoint, there is downside risk to $40, a level going back to late April. Conversely, if results surprise to the upside, Salesforce.com could make a run back toward the $45 level. (Chart courtesy of StockCharts.com)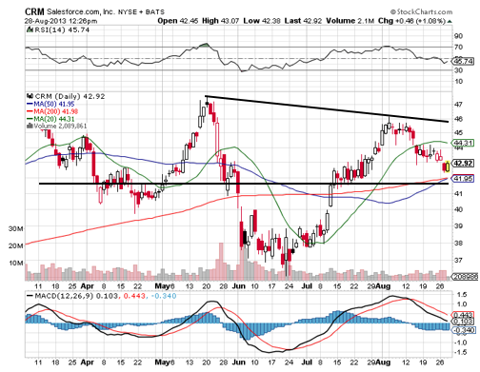 Summary
Salesforce.com.com shares have come under pressure in recent weeks amid concerns over the backdrop for the global economy, valuation, competition and concerns that margins could shrink further in fiscal 2014. Despite those headwinds, Salesforce.com is benefiting from a recent string of acquisitions, improving fundamentals and a series of new product offerings. As always, guidance for the upcoming year and balance of 2014 will likely dictate the trading reaction.
DISCLAIMER: By using this report, you acknowledge that Selerity, Inc. is in no way liable for losses or gains arising out of commentary, analysis and or data in this report. Your investment decisions and recommendations are made entirely at your discretion. Selerity does not own securities in companies that they write about, is not an investment adviser, and the content contained herein is not an endorsement to buy or sell any securities. No content published as part of this report constitutes a recommendation that any particular investment, security, portfolio of securities, transaction or investment strategy is suitable for any specific person.
Disclosure: I have no positions in any stocks mentioned, and no plans to initiate any positions within the next 72 hours. I wrote this article myself, and it expresses my own opinions. I am not receiving compensation for it (other than from Seeking Alpha). I have no business relationship with any company whose stock is mentioned in this article.