Apple, Inc. (NASDAQ:AAPL) might be the most widely-followed stock. Yahoo! Finance shows a mean recommendation of 2.0, the equivalent of a Buy, that results from 53 ratings. For my research, I prefer to emphasize the work of the largest investment banks as they tend to be influential and have price targets that are not excessively optimistic even though they do business with the corporations reviewed. Switzerland's largest, UBS, fits the bill, and provides terrific coverage. It is pleasing to be able to turn to the firm as several important matters are unfolding at the personal computer products maker, and a pullback is at hand. The time appears to be right to look for further gains stemming from appreciation of Apple's stock over time.
UBS has had a buy rating on AAPL since July, 2012. The firm's 12-month price target has been raised to $560 from $500 as of August 21st. The valuation is based "on an increased EV/FCF multiple of 6.5x (from 6x) our C14 FCF estimate of $50bn. On a P/E, our target would be 12x our C2014 EPS estimate of $47.18."
Having observed Apple CEO Tim Cook's leadership for some time, confidence in him is increasing: Apple is now a shareholder friendly company, and I cannot think of anyone who could launch a product better.
New iPads should be brought to the marketplace later in the Fall. This product's growth is forecast to be slower, with its percentage of the company's total revenues remaining at 20% through 2015. One issue is cannibalization of the iPad by the less expensive iPad mini: some sales of the higher end product are lost.
Two new options for the iPhone, the device predicted to account for just over 50% of Apple's revenues, are to be released later this year, tentatively on September 10th. The 5C model is assumed to have an average selling price of $399, being a relatively affordable midrange offering with appeal to customers in emerging markets. The 5S is eventually to replace the 5, which is available now.
Cook has said that China is to be Apple's largest market outside the USA. Apple currently has relationships with China Unicom and China Telecom. Cook has been meeting with Xi Guohua, Chairman of China Mobile (NYSE:CHL), "The crown jewel of the mobile world." Almost a month has passed since their most recent, July 31 parley. There is suspicion that a relationship may be announced. While I have seen no clear indication that a deal is more likely than not, it potentially is a means for substantial upside. Here is a graphic from UBS that puts things in perspective:

Obviously, Xi has a hand to play. UBS says this deal is worth 17M iPhones and $3.25 per share in earnings. It seems that Cook needs to get it done. Barclays also says it is increasingly likely.
Another catalyst seems to have played out, but may portend further upside. At 77, Carl Icahn has a hot hand, and has generated publicity with his extraordinarily profitable stakes in Herbalife (NYSE:HLF) and Netflix (NASDAQ:NFLX) among others. By some accounts, his net worth has increased 25% within months, from $20B to $25B. His revelation of a $1.5B stake in Apple has coincided with the share price rising from around $475 to approximately $500. His statements on his investment pertain to the company's share repurchase plan.
The buyback is a popular topic, and rightfully so. Let's return to UBS. The Swiss firm's statement issued in April says that a capital return could send Apple's share price up 10%, which has proven to be fairly accurate as Apple announced the largest repurchase program in history. The same analyst team forecasts a further increase from its $60B, or 5% of shares per annum value, though not the imminent $150B one Icahn seeks:
We doubt Icahn will cause Apple to increase its buyback in the near term though we think Apple easily could fund a 50% or $30bn increase in its three-year plan, adding over $2.00 per year to earnings.
UBS believes that the buyback provides support and new product success is needed to take the stock higher. The 2.5% dividend yield also helps.
A different story sounds probable. Thestreet.com is reporting that Japan's largest carrier, NTT Docomo (DCM), with 61M customers, is considering a deal. The company has 15M extra-high speed LTE mobile service subscribers.
There are at least four potential near-term, and existing, catalysts:
NTT Docomo (maybe before September 10)
China Mobile (year end, maybe before iPhone 5C)
iPhone (September 10)
Icahn (Present)
Apple does not announce earnings until October 22nd, which is not confirmed. Until then, the bulleted list above should include the matters most material to the company. News surrounding Apple's suppliers, logistics, and shipments certainly cannot be ruled out, though.
Trade
Apple's stock has traded in strange ways. Many a pundit has declared that the company is for investing, not trading. However, there have been times when that is not accurate. With a share costing just under $500, I am prepared to risk what is probably less than that amount. The following is an idea for how to do so; and may be effectively modified.
The process entails selling 2 September calls at a $525 strike price, then buying a September $530 and an October $525. The October call has less volatility built into its price, probably because it does not include the earnings event.

With the stock currently at $493, the trade should cost around $370. It can be profitable in a number of ways, but requires time; and preferably an increase in share price. A graphic through September options expiry follows, with the likelihood of profitability increasing after this weekend: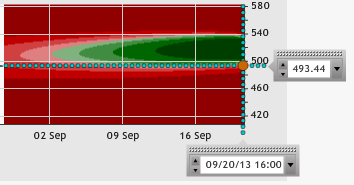 If AAPL rises above $530, losses can result. There might also be the opportunity to close the trade out at a profit before then - if, for example, the stock moves up 5% in a day. After September 2, the stock would need to be below $490 for losses to the downside, which could amount to the cost of the trade.
It should be worth a profit of over $400, before commissions if the share price is at $510, and around $670 if AAPL closes at $525, on Friday, September 20th. In any similar situation, there would be the choice of closing out the trade for gains, or keeping an October call and watching for the stock to rise above the strike price over the next month, which is a substantial amount of time. Further, in the event that the stock is then priced close to or above $525, an October call at a higher price would probably bring in over $1,000, with the potential for further upside, via a vertical spread especially if the long call is in the money.
Apple has several near-term catalysts. Its share price is nearly $500. Risking less than that can feasibly result in profits that are far greater. Shareholders should be fine too, and enjoy rewards for their patience.
Disclosure: I have no positions in any stocks mentioned, but may initiate a long position in AAPL over the next 72 hours. I wrote this article myself, and it expresses my own opinions. I am not receiving compensation for it (other than from Seeking Alpha). I have no business relationship with any company whose stock is mentioned in this article.
Additional disclosure: Any position over the next 72 hours would be an options trade only.