Saving for retirement is about setting investment goals early in life, structuring your lifestyle so you live within budget, maximizing your savings and investing them safely so you have the lowest possibility of capital loss and the highest probability of achieving your retirement goals. How you manage these three key aspects - investment goals, savings and investments - strongly determines the success or failure of your retirement planning.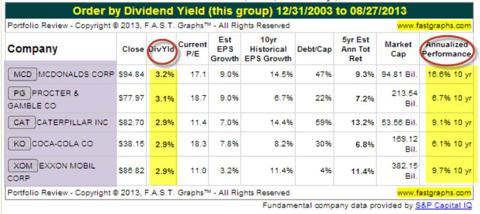 Dividend Value Strategy - Best for the Long Run
Studies have shown that a Dividend Value strategy - investing in blue chip stocks that have historically offered solid total returns through dividend income and dividend growth - dramatically reduces downside risk and strongly outperforms the broader market. This strategy is based on the Dividend Yield Theory which, at its root, holds that the price of a stock is driven by how management delivers shareholder value over the long-run through dividend yield, dividend growth and share repurchases. Dividend growth is directly correlated to share price performance; dividend increases have historically moved shares higher while dividend drops have led shares lower. Dividend increases reflect management comfort with future earnings growth and the strength of their balance sheet.
The Dividend Value strategy places dividends at the core of stock selection, making a short list of stocks far easier and quicker than comparing P/E or other ratios. With this approach, I shortlist stocks based on dividend consistency, yield and growth, and then use valuation and credit ratios (such as price-to-earnings, price-to-book and debt-to-assets) to further evaluate a stock's suitability as an investment.
Blue Chip Retirement Portfolio - XOM, MCD, KO, CAT, PG
With dividend value in mind, we've put together a simple portfolio for retirement income and share price appreciation with five bellwether stocks - ExxonMobil (NYSE:XOM), McDonald's (NYSE:MCD), Coca Cola (NYSE:KO), Caterpillar (NYSE:CAT) and Procter & Gamble (NYSE:PG) - across industries such as oil and gas, consumer goods and construction equipment. Each of these companies is a blue chip stock based on 25 years of uninterrupted dividends, at least five dividend increases over the past decade, high S&P quality rankings and a solid institutional investor base. In addition, all, except Caterpillar, feature on the S&P 500 Dividend Aristocrats index for excellent, long-term dividend, financial and business performance.
Solid, Market Beating Returns Over the Long Run
As the graph below shows, the five blue chip stocks have handily outperformed the S&P 500 index over the past 30 years - a very meaningful time horizon that spans economic cycles and is comparable to retirement investing timeframes. McDonald's and Coca Cola, in particular, have handily trumped the market while the other three have delivered at least twice the returns of the index.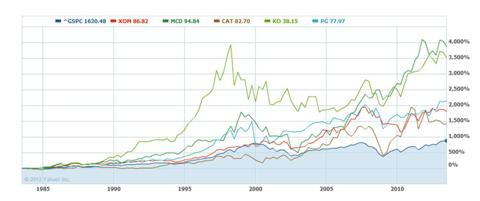 High Total Dividend Returns Have Richly Rewarded Investors
All five companies have paid dividends for decades without interruption, with steady dividend growth over time. Their dividend yield ranges from 2.9% to 3.2%. Notice here that the yields are not very high compared to companies out there that pay high single- and low double-digit dividend yields, but are at levels that are sustainable and grow-able over time… and that's key.
Over the past year, these five have raised dividends from 7% to 15% even in this weak global economy. Historically, their annual dividend growth has done much better, ranging from 34% to 3,328% , adjusted for stock splits.
The dividend payout ratio is another key parameter in the Dividend Value strategy that measures how much of the company's earnings are paid out as dividends. For the five companies listed here, the dividend payout ratio varies from a low of 40.6% to a high of 68.4%. On average, these five pay out about 55% of their annual earnings as dividends - putting cash back into investors' pockets regularly. And while retirees might choose to use dividend income for daily expenses, younger investors would be very well served by reinvesting dividends back into company shares for the magical benefits of compounding.

Billion-Dollar Buybacks Boost Shareholder Wealth
In addition to dividends, share repurchases significantly boost returns by reducing the number of outstanding shares so the next time dividends are paid, each outstanding share gets a little more - and this too adds-up pretty significantly over time. All of the five companies listed here have multi-billion-dollar buyback programs that steadily reduce float.
With the exception of McDonald's, each company spent at least $1 billion in buybacks in the most recent quarter ended June 30, 2013. ExxonMobil, at the high end, spent $4 billion on share repurchases in the quarter while McDonald's, on the low end, bought back shares worth $432 million in 2Q2013.
At the low end, McDonald's and Procter & Gamble bought back 0.4% of all outstanding shares in 2Q2013, which translates to 1.6% annualized (over four quarters). On the high end, Caterpillar bought back 1.8% of its float in the quarter, a 7.2% reduction in outstanding shares on an annualized basis that is equivalent to a 7.2% boost in dividends per share.

Attractive Valuations, Strong Potential for Future Returns
While dividend yield is at the core, price-to-earnings and price-to-book are two key measures of value which, when compared to historical levels and peer ratios, provide good direction on whether a stock is worth buying or not.
The S&P 500 Index currently has an average P/E ratio of about 18.76, relative to which, ExxonMobil, Caterpillar and McDonald's appear underpriced while Coca Cola and Procter & Gamble appear a tad rich… but are really not overpriced because income seeking investors have been flocking to these companies because of their rich inflation-beating total returns that are well above yields on long-term bonds and the market.

Solid, Low-Risk 5-y Returns Even Off Current Share Price Levels
Moreover, shares for each of these companies are expected to deliver significant gains over the next five years - so now is still a great time to add these companies to your portfolio. On the low end, shares of Coca Cola are expected to go from recent levels of $38 to $46 by 2018, with a projected total annual return of 6.8% (dividends and share price appreciation). That's still well above anything you'll get in the bond market, specially if you factor in inflation over the next five years. On the high end, ExxonMobil shares are projected to deliver an 11% annualized return by 2018. So relative to all the other low risk investment options out there, these five stocks offer compelling value - for income seeking retirees and for growth oriented younger investors.

Fundamental Business Strength for Retirement Peace of Mind
Each of our five blue chips has solid business fundamentals - established, defensible business models with revenues that range from $27.6 billion to $482.3 billion, operating income that has grown consistently over the years and strong operating cash flow.
ExxonMobil, for example, generated a whopping $56.1 billion in operating cash flow in fiscal 2012. McDonald's, on the other hand, converted 25% of its revenues into cash (for every $4 of burgers bought, the company had $1 left over after paying for operating expenses) - that's quite remarkable as margins go. This substantial cash is then used to pay dividends and buy back shares.

Low Debt, Excellent Credit Ratings
These companies have limited their use of debt and have rock-solid balance sheets with almost no threat of debt-related woes. ExxonMobil, for example, has debt at 2% of total assets. McDonald's debt is the highest of the lot at 39% of total assets. But, even for the Big M, interest payments on debt take up only 4% of operating income with a very wide 96% margin of safety that's more than enough to navigate seasonality or even deep economic slumps. As a result, all of these companies enjoy excellent corporate credit ratings that range from a highly coveted AAA for ExxonMobil to an A- for Caterpillar. As a result of their solid credit ratings, these companies have also attracted a stable base of top-tier institutional investors that reduce volatility while providing ample liquidity.

Excellent Management
Over the long run, a company is strongly influenced by management decisions. Standard performance metrics for the five companies listed here show excellent return on assets, equity and invested capital. McDonald's, for example, has delivered a 37.8% return on equity and an 18% return on invested capital which is well above its cost of capital - and this positive differential significantly builds shareholder value.

Summary
A dividend value strategy's simple reliance on historical dividend yields, dividend growth, reasonable valuation (based on Price/Earnings, Price/Book) and blue chip stocks is a proven, long-term income and wealth building strategy for retirement planning. It's one that has helped young investors build rock solid nest eggs and enjoy regular dividend income in retirement, often without selling underlying shares. And even though the stock market may seem richly valued to many after 2013's sustained bull run, the five blue chips listed are best positioned to deliver bond-beating income and market beating returns again, over the next thirty years. Fundamentally, with stocks such as the five blue chips listed here, investors have peace of mind that their retirement nest eggs will not implode while they're in retirement. These reliable stocks provide peace of mind, safety, security, investment growth and income when you need it most in retirement.
Disclosure: I am long KO, PG. I wrote this article myself, and it expresses my own opinions. I am not receiving compensation for it (other than from Seeking Alpha). I have no business relationship with any company whose stock is mentioned in this article.