Currencies and Stock Markets of Four Countries in Crisis
Since what is currently happening in a number of emerging market countries is probably more important than one would believe when looking at Western markets, we have picked out four of the countries which are currently experiencing intense pressure in their currencies, debt and stock markets and show their currency and stock market charts below. The countries in question are India, Indonesia, Thailand and Turkey. Brazil and South Africa have also seen their currencies decline sharply, and we will discuss what is happening there in a future update. Essentially, the countries with problems all have current account deficits and have seen capital outflows in recent months which have lately intensified greatly. India's central bank has created a dollar swap line for the country's largest oil importers, picking winners on the grounds that energy imports are essential. After the decision was made public, the stock market bounced a bit and small bounces were also seen in the stock markets of the other countries in our list. The rupee came off its extreme lows as well, but not by much.
Obviously, the RBI cannot alter the state of India's foreign exchange reserves with this measure, so the market's worries have only been partially soothed. The only good news from the point of view of traders was probably that no rate hike was announced in order to defend the rupee. Meanwhile, price controls on energy products remain in place in India, or rather, the baby step removal of price controls has been overtaken by the plunge in the rupee and has thus come to naught.
Without further ado, here are the charts:
India: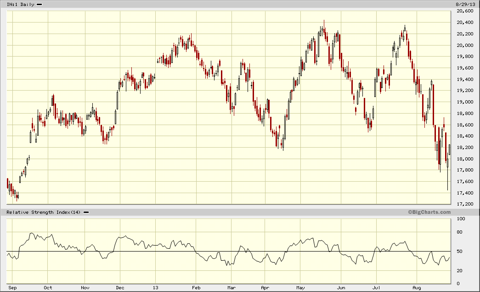 The Sensex index in Mumbai – bouncing after an erratic decline – click to enlarge.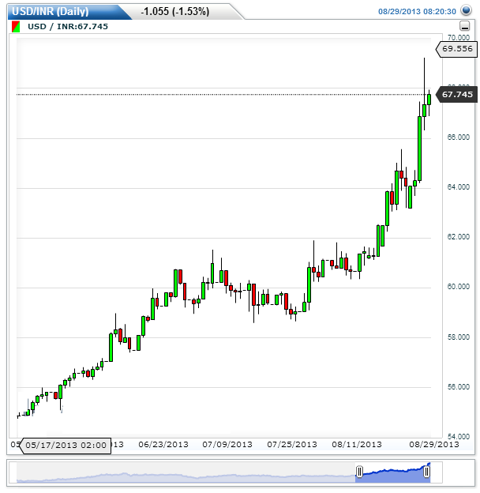 The Indian rupee has briefly spiked to the 70 level before retreating intra-day. It is already weakening again (daily chart)
- click to enlarge.
Indonesia:
---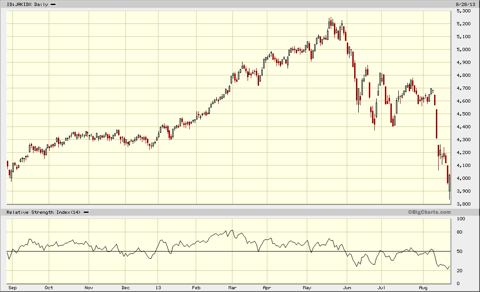 The Jakarta Composite – also bouncing overnight after a dramatic decline in recent weeks – click to enlarge.
Note, there hasn't been much change in the Indonesian rupiah from the levels shown here.
Thailand: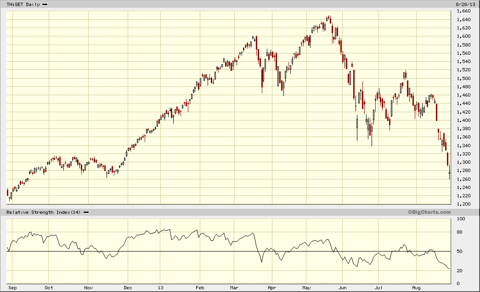 The SET index in Thailand has suffered a decline that looks very similar to that of the Jakarta Composite Index – click to enlarge.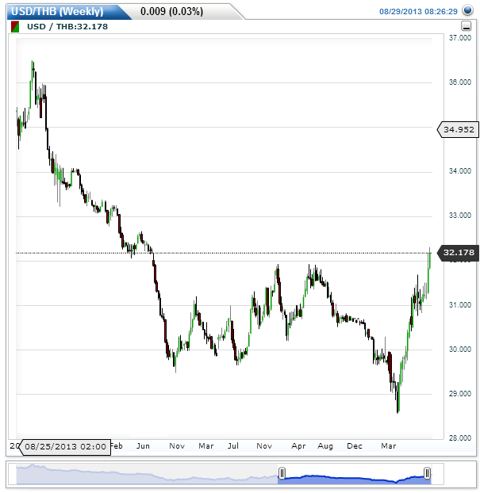 The Thai Baht, weekly. After strengthening until April of 2013, the Baht has turned violently weaker – click to enlarge.
Turkey: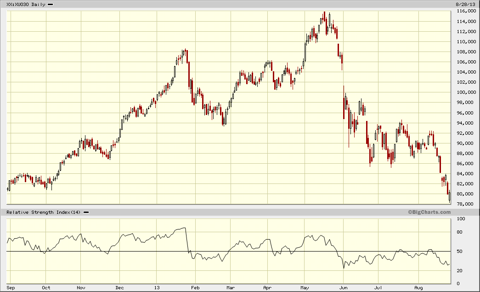 The Istanbul National 30 Index – a small bounce after a relentless move down from the highs. More than a year worth of gains have been vaporized – click to enlarge.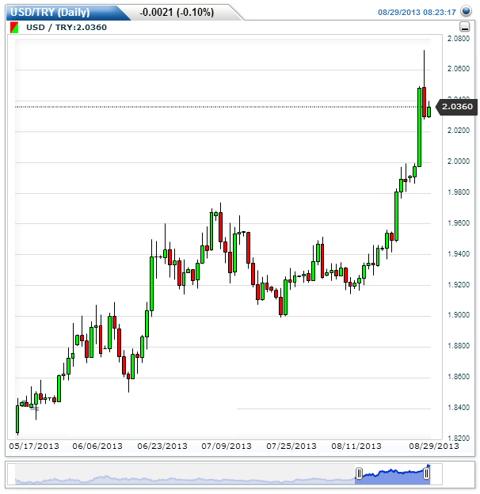 A daily chart of the Turkish Lira. The currency is probably short term oversold enough to strengthen for a little while after the accelerated plunge of recent weeks – click to enlarge.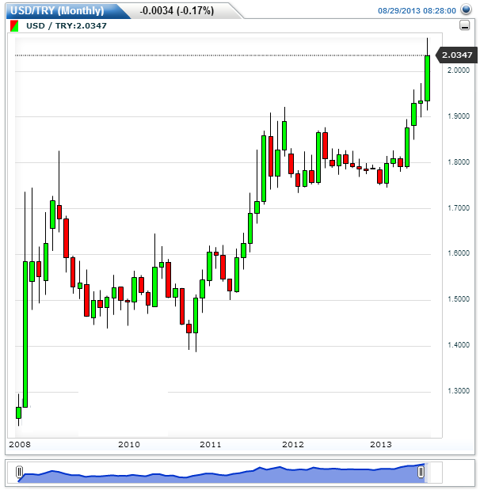 A monthly chart of the Turkish Lira for perspective. The currency has been in a severe bear market since 2008 – click to enlarge.
Conclusion:
The currency crises in a number of emerging market countries have intensified greatly this month. It is hard to tell when 'oversold' is 'oversold enough' in such cases, as often a few days of panic can make a big difference in terms of where prices and exchange rates go. However, crises always create opportunities, especially for investors armed with relatively strong currencies. It seems to us that the importance of these developments has been largely ignored in the West so far, but that may be changing. Thinking back to previous crises such as the Asian crisis of the late 1990s, temporary or even final troughs are often reached when Western 'risk asset' markets finally fall prey to sizable swoons as well (this happened both in 1997 and to an even greater extent in 1998). Until then, caution seems advisable.
Charts by: Investing.com, BigCharts