The Bon-Ton Stores (NASDAQ:BONT) recently lowered guidance on its latest earnings call in August, sending shares lower. After reviewing the company, I believe that SG&A projections are still $50-60MM too aggressive, and that we will see further guidance reductions over the next several quarters. Normally $50-60MM in annual SG&A would not be a big deal, but considering the company only does about $90-$100MM in operating income annually (3% operating margins) and the fact that the company has only 20MM shares outstanding, I believe that EPS, EBITDA, and free cash flow guidance could be slashed from their already low levels. Furthermore, the company is extremely over-levered with debt and may be unable to meet future payments and maturities over the next several years because of these weak earnings. Put on top of this a decline in sales due the company-specific competitive disadvantages and a lack of capital to make the necessary investments in the business, and you have a company whose outlook looks bleak at best.
Business Overview
The Bon-Ton Stores is a big-box, department store retailer that competes against the likes of Boscov's, Dillard's (NYSE:DDS), Macy's (NYSE:M), Von Maur Inc, J.C. Penney (NYSE:JCP), Kohl's (NYSE:KSS), and Sears (NASDAQ:SHLD). The company also competes against mass merchandisers such as Target (NYSE:TGT) and Wal-Mart (NYSE:WMT). The company operates 271 stores in 24 states (see chart above). The company's two major segments are women's apparel and home goods. Here is a breakdown of its business by product type:

Source: Bon-Ton Stores 10-K
Overall, you can think of Bon-Ton's major competition as J.C. Penney and Kohl's. Most stores are off-mall and the company targets many of the same customers.
Bad Locations/Older Stores
Is the reason for the drop-off in sales at BONT company-specific or industry related? Actually, it's a little bit of both. On the company-specific end, management noted on its latest earnings call that sales were worse in their regions than the overall country. Let's take a look at where the company is located: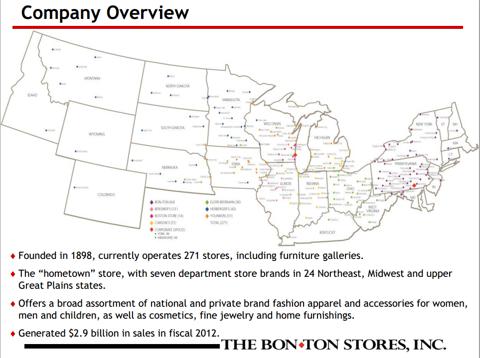 Source: Bon-Ton Stores Company Presentation March 2013
The company has a pretty broad base of 24 states to be able to justify that "their regions underperformed." I actually think it has more to do with the company's real estate, which has a large percentage of stores located in more low-end, off-mall locations in the areas where BONT does business. This puts the company at a severe competitive disadvantage.
I remember attending a retail conference a few years back where JCP CEO Mike Ullman, before his first retirement, noted that one trend he saw in the future of retail was that there was too much real estate developed as sales shifting to e-commerce. After spending a few years in the real estate sector, I learned that in an oversaturated market, the poorest locations are hit the hardest on traffic declines, which puts BONT really up against the wall. Furthermore, these locations are usually more frequented by a lower-income consumer who, as we have seen throughout the latest earnings season, is still struggling.
Not only are the locations not ideal, the BONT stores (from the ones I have been to) appear to be very outdated. This only adds to the challenges the company faces. Let's take a look at some of the pictures of stores I found online when reviewing the company: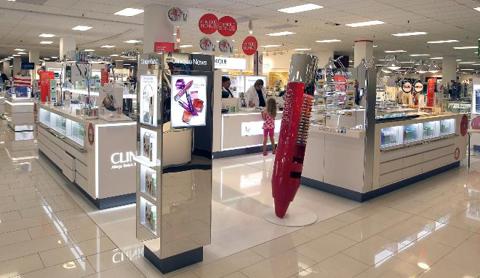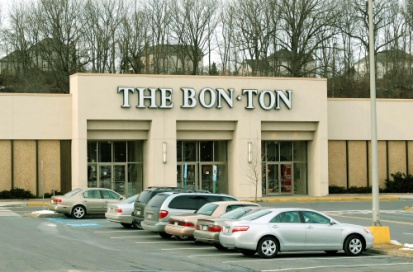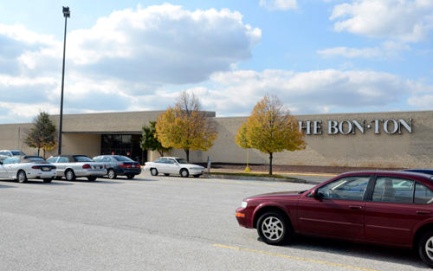 One could say that this problem is easily fixed through a refresh program, except for the fact that BONT does not have the money necessary to complete these remodels. Let's take a look at capex figures for the off-mall concepts:
| | | |
| --- | --- | --- |
| | Capex ($) | Capex as a % of Sales |
| JCP | $800MM | 31% |
| KSS | $950MM | 18% |
| BONT | $70MM | 2% |
As you can see, BONT severely lags its competition when it comes to capex. Furthermore, the company does not have the resources available to increase capex without losing the ability to pay down a small amount/take on additional debt. Considering the company hardly makes any money now, it would be tough to service any more debt. Additionally, management cannot use much of the remaining commitment on its revolver because 1) it is required to keep a safety margin and 2) it may need to use this liquidity to refinance maturing debt in the future.
E-Commerce
As for the overall big box retail market, we have seen a decline in total sales as the consumers switch some of their shopping to the likes of Amazon (NASDAQ:AMZN) and other e-commerce retailers. I believe that BONT has acknowledged this fact in its long-term guidance of $3B sales, 10% EBITDA margins, and growth in e-commerce (the company already does about $3B in sales, so the e-commerce sales will just offset lower sales in its stores and it will try to leverage less fixed costs).
The big box retailers have been quick to change course and promote their own e-commerce and omni-channel strategies. BONT has a stated goal to increase e-commerce sales by 50%, but as we can see, it is already losing the battle for dollars:
| | | |
| --- | --- | --- |
| | E-Commerce Sales ($) | E-commerce as a % of Sales |
| KSS | $1.4B | 7% |
| M | $2.5B | 9% |
| BONT | $120MM | 4% |
Furthermore, companies like Macy's and Kohl's have spent tons on money to transition to the omni-channel or increase awareness for e-commerce. This is a convenience that BONT can simply not afford.
Overall when looking at these examples and the performance of companies in the industry, it shows that the segment has just become more competitive. BONT simply doesn't have the cash or wiggle room on margins (3% of sales) necessary to compete effectively.
Company Update
The company recently reported its Q2 2013 financial results, which were disappointing:
Comparable store sales decreased 6.4%.
Gross margin rate increased 100 basis points to 37.0%, compared with 36.0% in the second quarter of fiscal 2012.
Operating loss improved by $2.2 million to $15.5 million, compared with an operating loss of $17.6 million in the second quarter of fiscal 2012.
Adjusted EBITDA increased $1.6 million to $8.7 million, compared with $7.1 million in the second quarter of fiscal 2012.
Management stated that inclement weather, higher gas prices, and higher taxes, coupled with an unfavorable shift in consumer spending patterns, contributed to the overall sales weakness. Also, management noted that regions where the company operates were less favorable than the overall country (we noted that this is more likely due to poor real estate).
Furthermore, the company lowered its fiscal year guidance:
Comparable store sales in a range of a negative 2.5% to flat (down from original guidance of positive 2.0% to 3.5%)
Gross margin rate in a range of 36.0% to 36.2% (down from original range of gross margin rate of 36.0% to 36.4%)
SG&A expense, including increased performance incentives, flat to down two-tenths as a percent of sales compared with fiscal 2012 (same as original)
Estimated 20.5 million average diluted shares outstanding (increased from 20MM shares)
EPS of $.15 to $.70
EBITDA of $170MM to $190MM (down from original range of $180MM to $200MM)
After reviewing the guidance, understanding that D&A and interest expense is basically locked in for the year, it becomes impossible to hit these estimates without a reduction in SG&A. This would be the pro-forma financials using management's guidance:
| | | |
| --- | --- | --- |
| | Low | High |
| | | |
| Sales | $ 2,904 | $ 2,970 |
| Gross Margin | $ 1,045 | $ 1,075 |
| SG&A | $ 874 | $ 886 |
| D&A | $ 88 | $ 88 |
| EBIT | $ 83 | $ 101 |
| Interest Expense | $ 80 | $ 80 |
| EBT | $ 3 | $ 21 |
| Tax | $ 1 | $ 5 |
| Net Income | $ 2 | $ 16 |
| | | |
| Shares Outstanding | 20.5 | 20.5 |
| EPS | $ 0.12 | $ 0.77 |
| | | |
| EBITDA | $ 171 | $ 189 |
| Free Cash Flow | $ 20 | $ 34 |
| Dividend | $ (4) | $ (4) |
| FCF for Debt Repayment | $ 16 | $ 30 |
This would be a good scenario for the company, considering it would trade at 6.0-6.5x EV/EBITDA and have free cash flow yield of 9-14%. As we noted above, it would take a deep cut in SG&A (taking SG&A as a percentage of sales to 30% of sales, from its normal level of 31-32%) to reach these goals. Yet, management has already stated that SG&A cuts will be small and intentional, and analysts have already voiced concerns that more cost cuts could materially impact sales (from the latest earnings call:
"I think with the SG&A, I think Keith articulated real well. We are very comfortable with where we're at. We are always looking for ways to get more efficient and streamline the business. At this point, I think it will be done methodically and incrementally. No big great unveil at this point. If anything, we were hoping by now to be able to invest back in the business in certain parts of the organization to drive some of these initiatives and that's really still our hope as we hopefully get some increased performance." (Brendan Hoffman - CEO)

"Just wondering where we are in terms of the cost cutting initiative. Wondering if you are worried that you may be taking out too much cost out of the model, especially given the drop in sales during the first half?" (Jonathan Hart - Buckingham Research)

"I believe Brendan and I both, feel very good about where we are in our cost structure. We have pulled out the cost we talked about last year. Remember that $30 million benefits that year. And, then on the run rate, will be $40 million. You are seeing those costs come out. We are down $11 million in the spring season compared to the prior year. Those costs were very surgically defined as to where they are. There is no question some of them are reaction to volume drops." (Keith Plowman - CFO)
Considering this, I believe its highly unlikely that management can cut SG&A in the range necessary to meet estimates.
Outlook
So now we know that the company does not expect to grow sales, does not have the money to invest in the business, needs cost cuts to reach estimates, and analysts are concerned that further cost cuts will materially impact the business. Throw on top of that an 80% debt-to-capital ratio, and you get a very bad situation for the company. Considering I see no decreases in SG&A on the horizon, I am bumping up SG&A estimates by $50-60MM (into the company's normal range of SG&A as a percentage of sales). Let's look at my projected pro-forma:
| | | |
| --- | --- | --- |
| | Low | High |
| | | |
| Sales | $ 2,904 | $ 2,970 |
| Gross Margin | $ 1,045 | $ 1,075 |
| SG&A | $ 929 | $ 944 |
| D&A | $ 88 | $ 88 |
| EBIT | $ 28 | $ 43 |
| Interest Expense | $ 80 | $ 80 |
| EBT | $ (52) | $ (37) |
| Tax | $ (18) | $ (13) |
| Net Income | $ (34) | $ (24) |
| | | |
| Shares Outstanding | 20.5 | 20.5 |
| EPS | $ (1.64) | $ (1.18) |
| | | |
| EBITDA | $ 116 | $ 131 |
| Free Cash Flow | $ (16) | $ (6) |
| Dividend | $ (4) | $ (4) |
| FCF for Debt Repayment | $ (20) | $ (10) |
As you can see, because of the company's small margins and low share count, small impacts make a huge difference on profitability (this is the reason why the company has to give a range of $.15 to $.70 when giving their EPS estimates!). Under my scenario, the company will be negative from a free cash flow perspective for the year and will have to increase borrowings for business operations and to pay a dividend (I could see this being suspended at some point). This is due to the company's poor balance sheet, which we will now talk about.
Balance Sheet
When looking at BONT, one of the first things investors need to understand is that the company currently has a considerable amount of debt on the balance sheet. Let's take a look at the capital structure:
Revolving Credit Facility ($219MM outstanding) - $675MM Revolver. Interest charges of Adjusted LIBOR (based on the British Bankers Association per annum LIBOR Rate for an interest period selected by the Borrowers) plus an applicable margin or (2) a base rate (based on the highest of (A) the Federal Funds Rate plus 0.5%, (B) the Bank of America prime rate, and (C) Adjusted LIBOR based on an interest period of one month plus 1.0%) plus the applicable margin. 0.375% to 0.50% per annum fee on unused portion of the revolver. Credit Facility requires that the minimum excess availability be an amount greater than or equal to the greater of (1) 10% of the lesser of: the aggregate commitments at such time and the aggregate borrowing base at such time and (2) $50.0 million (basically means that the company has about $400MM remaining to draw from.
CMBS Mortgage Facility ($222MM outstanding) - Matures March 2016 - Blended rate of about 6.5% plus amortization that encumbers the company's real estate assets
2017 Senior Secured Notes ($57MM outstanding) - 10.675% interest
2021 Senior Secured Notes ($350MM outstanding) - approx 10% interest rate
Capital Leases and Other Debt ($56MM outstanding)
This gives us a total of $904M in debt outstanding and $8MM of cash on the balance sheet. Considering that I think it is unlikely that the company will produce positive free cash flow to pay down debt, and that the company's current blended cost of debt is just under 10%, I see a risk that this debt becomes too much of a burden for the company to handle. Even in management's most bullish forecast for the year, the company will only have the ability to pay down $30MM (3%) of the total debt. Furthermore, the company lacks any real ability to take on more debt besides increasing their usage of the revolver. They will most likely have to use this for maturities in 2016 and 2017.
Valuation
We have already gone over what I believe to be the real earnings estimates of the company, now let's take a look at Bon-Ton's valuation compared to its competition:
| | | |
| --- | --- | --- |
| | EV/EBITDA | EV/Sales |
| JCP | N/A | 0.4x |
| KSS | 5.5x | 0.7x |
| M | 6.0x | 0.7x |
| DDS | 6.5x | 0.7x |
Considering I don't expect the company to make, if any money on its sales, I think it is incorrect to value the company on an EV/Sales ratio (if you still choose to use EV/Sales, I would use the JCP multiple - the value would be $14.50)
I really don't think EV/EBITDA is the best metric to use for the company. Neither is a free cash flow valuation since the company will most likely not make any free cash flow. Furthermore, all assets are encumbered so we cannot do a sum-of-the parts analysis.
Considering the large amount of interest the company has, EV/EBITDA is not the best metric, but its looks like the best multiple we have to work with. I am using a range of 5.0x to 8.0x for sensitivity purposes (I also believe that the company should be valued at a discount to KSS, M, and DDS). With the large amount of debt and operating performance, 8.0x would be quite aggressive:
| | | | |
| --- | --- | --- | --- |
| Equity Value | | Low | High |
| | 5.0x | $ (15.38) | $ (11.76) |
| EBITDA Multiple | 6.0x | $ (9.71) | $ (5.46) |
| | 7.0x | $ (4.05) | $ 0.92 |
| | 8.0x | $ 1.62 | $ 7.29 |
We see almost no equity value in the company using this analysis. I am using a $7.20 price target in order to be conservative (35% downside). What could be a higher end price target? Let's say the company can get $150MM in EBITDA and an 8.0x multiple on EBITDA (if it gets into this range there will be greater investor confidence that it can grow the business and get to the long-term $300MM EBITDA target, so a "growth but you still have a lot of debt" multiple would be used). This gets us a price target of $14.50. Also note - the $22 price the stock reached this year was based on an 8.0x multiple of $170MM EBITDA.
Short Interest
A risk to shorting small-cap names is 1) the ability to borrow stock for the short 2) short squeezes due to a lack of shares outstanding. I believe fundamentally that shares of BONT are significantly overvalued, but I do want to highlight the risks of shorting the company due to its size:
20% short interest ratio - with only 20MM shares outstanding, the company has a very high short interest ratio. Considering over 4MM shares are shorted currently, and average daily volume on the stock is only 200K shares, there is a significant chance of a "short squeeze" if the company was to produce results better than expectations.
I currently believe the company does not have the proper liquidity position to be successful in the long-term, but there are no debt maturities until 2016, so this thesis could take a while to play out. I also believe estimates are too high for this year, a shorter-term catalyst, but the real value of the short could be several years away.
Risks
Risks for the company include:
A reduction or suspension of the quarterly dividend
Missed earnings estimates and a reduced guidance in the coming quarters
Continued downward trend in retail sales - again, the company is impacted greatly by small changes in performance
Higher interest rates - the company's variable rate debt (revolver) will require more debt service. Considering the small amount of income the company works on and the magnitude of changes in profitability because of low margins/low share count, a small change in interest rates can have a big impact on net income.
Inability to reduce SG&A.
Catalysts
Catalysts for the company include:
Improved performance in operations (impact from small changes again)
Meeting SG&A targets
Extending maturities on debt
Amending debt in order to obtain a lower interest rate
Conclusion
Even after the lowered guidance, I believe that estimates for BONT are still too high due to the SG&A line and expect further downside guidance over the coming quarters. This company is more susceptible to major sell-offs than most of the retail industry because of its small margins and low share count. Once the company lowers guidance again, the stock should considerably. I have a minimum downside target of $7.20 on the stock, and am encouraging investors to short the stock (depending on availability and price to borrow) and at the least, stay away from the name.
Disclosure: I have no positions in any stocks mentioned, and no plans to initiate any positions within the next 72 hours. I wrote this article myself, and it expresses my own opinions. I am not receiving compensation for it (other than from Seeking Alpha). I have no business relationship with any company whose stock is mentioned in this article.