The Walt Disney Company (NYSE:DIS) is a diversified worldwide entertainment company which operates in five business segments: Media Networks, Parks and Resorts, Studio Entertainment, Consumer Products and Interactive. On August 06, 2013, the company reported third-quarter earnings of $1.03 per share, which beat the consensus of analysts' estimates by $0.02. The stock is up 22.7% in the past year, and is beating the S&P 500, which has gained 15.85% in the same time frame, and with that in mind I'd like to take a moment to evaluate the stock on a fundamental, financial, and technical basis to see if it's worth buying some more stock right now for the services sector of my dividend portfolio.
Fundamentals
Disney currently trades at a trailing 12-month P/E ratio of 18.43, which is fairly priced, but I mainly like to purchase a stock based on where the company is going in the future as opposed to what it has done in the past. On that note, the 1-year forward-looking P/E ratio of 15.55 is currently fairly priced as well for the future in terms of the right here, right now. Next year's estimated earnings are $3.91/share. The PEG ratio (1.48), which measures the ratio of the price you're currently paying for the trailing 12-month earnings on the stock while dividing it by the earnings growth of the company for a specified amount of time (I like looking at a 5-year horizon), tells me that Disney is fairly priced based on a 5-year EPS growth rate of 12.42%.
Financials
On a financial basis, the things I look for are the dividend payouts, return on assets, equity and investment. Disney boasts a dividend of 1.23% with a payout ratio of 18% while sporting return on assets, equity and investment values of 7.5%, 14.4% and 11.4% respectively; which are all respectable values. If maybe you feel the market will retract a little more and would like a safety play, I don't believe the 1.23% yield of this company is good enough for you to take shelter in for the time being, but the dividend growth prospects are phenomenal. Granted, Disney pays a dividend only once a year; the last time it increased the dividend, it was increased by 25%, and that is dividend growth I love to see.
Technicals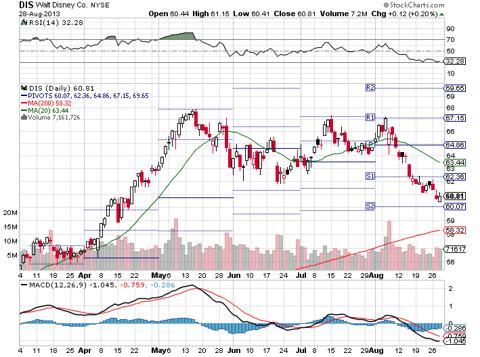 Looking first at the relative strength index chart [RSI] at the top, I see the stock in oversold territory with a value of 32.28 and flattening out. Next, I will look at the moving average convergence-divergence [MACD] chart and see that the black line is below the red line with the divergence bars decreasing in height toward the positive side, indicating the stock has a bit of upward momentum. As for the stock price itself ($60.81), I see $62.36 acting as resistance and $60.07 acting as support with a risk/reward ratio of -1.23% and 2.54%.
Recent News
The company will do away with roughly 2.3% of the TV business workforce for streamlining purposes.
The company's ESPN sports show now has competition in the form of Fox's (NASDAQ:FOXA) Fox Sports 1, but shouldn't really affect it as ESPN is the best in-class option at this point with its long history with sports enthusiasts everywhere.
On August 6, 2013, the company reported earnings of $1.03 versus $1.01 on revenue of $11.5 billion versus $11.64 billion. Parks & resorts were +7%, Studio Entertainment was -2%, Media Network was +5% and Consumer Products was +4%. Increased revenue and higher ad rates offset higher programming and production costs for the company's cable programs. Theme park guest spending was boosted by new guest offerings and the wristband initiative. Film revenue was great but had a difficult comparison to last year, which included The Avengers blockbuster.
Conclusion
Disney is fairly valued based on future earnings and fairly valued on future growth prospects. The growth prospects are in double digits for the company, which is what makes this stock attractive. Financially, the payout ratio is extremely low in spite of raising its annual dividend 25% back in December of 2012. The company has only been raising the dividends since 2010, after a brief halt in increases back in 2008. This dividend growth doesn't bother me, as I see this to be a well-run company with great growth prospects, which will in turn allow the company to increase the dividend going forward. The technical situation of how the stock is currently trading is what is telling me that it can trade to the upside for a bit (it is down about 10% from its 52-week high making it intriguing), which is why I will buy some more shares right here. Some people might not believe this company to be a dividend growth stock because it only pays a dividend once a year, but it sure doesn't bother me.
Disclosure: I am long DIS, FOXA. I wrote this article myself, and it expresses my own opinions. I am not receiving compensation for it (other than from Seeking Alpha). I have no business relationship with any company whose stock is mentioned in this article.
Disclaimer: These are only my personal opinions and you should do your own homework. Only you are responsible for what you trade and happy investing!