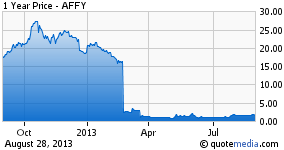 [Editor's Note, August 29: This article has been revised since original publication, as the author has added extra content]
This is an article written in response to an Affymax (NASDAQ:AFFY) article that was recently published on August 28, 2013 regarding its 1x per month CKD drug, OMONTYS and a follow up to my article here.
Anyone who knows me will tell you that I always try to post the real facts when there is a disconnect in the price of a company and its stock value as I have done with the following companies:
1) Stock was $20 - Questcor (QCOR) - Link to article
2) Stock was $5 - Cheniere Energy (NYSEMKT:LNG) - Link to article
3) Stock was mid-$15 - Uni-Pixel (NASDAQ:UNXL) - Link to article
4) Stock was $10 - Vivus (NASDAQ:VVUS) - Link to Article #1
5) Stock was $10 - Vivus - Link to Article #2
6) Stock was $10 - Vivus - Link to Article #3
Alpha Exposure misled readers to believe that OMONTYS has 9x the Fatality Rate of Epogen, a 3x weekly competitive therapy from Amgen that has dominated this therapeutic area for years.
The New England Journal Of Medicine Report
The New England Journal of Medicine (NEJM) stated in its summary report that Peginesatide, (brand name OMONTYS) administered monthly, was as effective as epoetin, administered one to three times per week, in maintaining hemoglobin levels in patients undergoing hemodialysis. For comparison, let's take the OMONTYS actual 25,000 delivered doses and three attributable fatalities and project to the 260,000 doses of Epogen.
Well, if you take the OMONTYS doses and fatalities and multiply them by 10.4 to reach the same number of doses as Epogen?
25,000 doses x 10.4 = 260,000 doses
3 fatalities x 10.4 = 31 fatalities
Conclusion: Apples to Apples (not Apples to Oranges) -- each drug projected to 260,000 doses, the calculation shows that OMONTYS actually has less fatalities than Epogen. Another way to look at it: OMONTYS had 3 reported deaths per 25,000 doses and Epogen had 5.76 deaths.
The Death Rate of Epogen is 0.85% vs. 0.02% of OMONTYS
It's totally different from what is in the prior article: 0.0027% deaths using Amgen's (NASDAQ:AMGN) Epogen vs. 0.02% of OMONTYS. We are literally taking about fuzzy math here folks. It sounds enormous, but in fact we are talking about tenths of a percent. Please check it out yourself.
Conference Call With John Orwin - Link
Since the product was launched in 2012, over 25,000 patients have been treated with OMONTYS. The rate of overall hypersensitivity reactions reported is approximately 0.2%, with approximately 1/3 of these being serious in nature, including anaphylaxis, requiring prompt medical intervention and, in some cases, hospitalization.
Ultimately in collaboration with the FDA and Takeda, we decided to "voluntarily" recall the product nationwide. To date, fatal reactions have been reported in approximately 0.02% of patients following the first dose of an intravenous administration. The reported serious hypersensitivity reactions have occurred within 30 minutes after such administration of OMONTYS.
Three (3) cases of serious anaphylactic reactions associated with fatal outcomes were reported in February. Two deaths reported prior to February were deemed to be cardiovascular (CV) in nature. In these 2 cases, patients' symptoms were not consistent with hypersensitivity reactions, and in consultation with outside experts, these events at the time were not considered likely to be a result of drug-related hypersensitivity. These cases were reported to the Food and Drug Administration in accordance with regulations.
To date, and to be conservative, we are considering all of these cases in our evaluation and recall decision.
The Withdrawal of European Marketing
On June 20, 2013, there had been much speculation as to why the European Marketing Application was withdrawn. The shorts would like you to think it was because the drug kills people. On the contrary. Because of the three fatalities in the US, Affymax had agreed to do a "voluntary" recall of the drug. This occurred within the same time frame that a European marketing application was in process. Takes felt that because they were doing the "root cause analysis" they would not be able to complete the investigation because it was still in process and "ongoing" despite the fact that severe reactions were not present at the time of the clinical trials. Furthermore, Takeda (OTCPK:TKPHF) stated that they would like to reserve the right to make a further submission at a future date, following the investigation. Source: Click Link
Additional Due Diligence -- Research
I did a recent phone call interview with Dr. Steven Fishbane's clinical study group research coordinator. When asked about their history and experience with OMONTYS this was the response that I received:
They believe that the drug worked. They didn't have any serious adverse events (problems). The drug was administered subcutaneous (under the skin) and Not intravenous (in the vein). Their study was very successful and was surprised that the drug was every removed from the market. Again, commenting to the fact that the "drug worked." Also - that the administration of the drug should be sub-q and this could alleviate many issues.
Restating The Brenner Groups Role - Interim Management
The Brenner Group's Affiliation With Affymax
We all know that The Brenner Group (TBG) does offer some clients bankruptcy work (according to its web site) and it has instilled undue fear by many shareholders. This type of visual disclosure may be good in the restructuring process when dealing with the banks and suppliers, but not to the loyal shareholders who found their way in the middle of a stock collapse from the high teens.
So, the fear is present to some extent that TBG is working for Affymax (to close their doors). I don't see it this way. Many other biotech and pharma experts don't either. Not with the new amended $180MM royalty agreement on the line as disclosed in the 10Q and also with all of the restructuring that has already taken place with the suppliers, banks and most recently the real estate lease.
Here is the truth to the matter as I understand it:
1) While TBG does on occasion some bankruptcy work, this is not all that they do. They do take on assignments whereby they are brought in as interim management. They are fundamentally a turnaround firm.
2) They generally do a lot of corporate restructuring. Sometimes it's customers have issues that are beyond revival and do in fact go away.
3) It is my firm belief that with Affymax backed by Japanese pharma leader Takeda (#1 in Asia and #8 in Worldwide Pharma) under the stewardship of The Brenner Group has not, is not, and most likely will not be subject to bankruptcy proceedings before the results of the investigation are finalized.
4) Cash burn calculations against current assets (the balance sheet is now cleaned up thanks to the Brenner Group) and should provide more than ample time to complete Takeda's Investigation.
5) It doesn't make sense that Takeda (who has many years and over $600MM invested in the dialysis market with OMONTYS) has ever had a goal in mind in letting Affymax go under. And while Affymax has been turned into a "shell company" they still retain all valuable IP rights on the OMONTYS drug and have the recently Amended Agreement with Takeda to re-monetize its residual economic interest in OMONTYS. It is absolutely not in Takeda's interests to let or even force Affymax into a bankruptcy situation and lose control of OMONTYS. Quite the contrary, Takeda has supported Affymax's economic survival if not their operational survival.
6) That is why we have seen TBG take great strides in eliminating all unnecessary staff (in this case all Affymax staff), renegotiating to eliminate all debt and other corporate obligations down to near zero and immediately cutting costs to keep the burn rate so low as to weather the storm relatively indefinitely until Takeda's investigation is complete and Omontys is either returned to the market as is or with additional warnings or on the remote chance, not at all. Under this last scenario obviously that would be the end of Affymax, but I and many others who have spent countless hours researching this situation and other drug recalls simply don't believe this outcome is particularly probable though anything certainly is possible. There are just so many drugs on the market right now that have far worse fatality statistics than OMONTYS and it is pretty unthinkable to believe OMONTYS will be permanently withdrawn due to 3 fatalities out of 25000 patients. I don't believe this has ever happened before.
Let's Put This To Rest Already
TBG, was hired to help turnaround Affymax and not to put them into bankruptcy or they would have done this over 6 months ago. Come on, think for a moment. Six months ago they could have filed for BK but didn't.
They currently have a very low BURN RATE with extremely low overhead expenses and millions in the bank. The company has very successfully discharged most the creditor obligations.
The longer the time span since the February recall, the more likely I feel that all of the parties are at the least communicating and trying to finalize the next steps - hopefully, the announcement of the strategic plan on the re-introduction of the once-promising drug.
The Alleged Insider Admission By Takeda Is Unverifiable
As a former Wall Street executive I will tell you first hand that no Takeda investor relations employee would ever tell a caller that they are not doing any further work in working with OMONTYS until a deliberate public announcement were made to that effect. On the contrary, the company filings show that Takeda is leading the investigation to develop a root cause analysis so that they can get to the bottom of what was in the poor individuals who developed the AE's.
Have there ever been any deaths with the lead competitor's drug EPOGEN? Well, truth be told, you can see some data here - Link.
There are 100's of drugs on the market that have caused fatalities.

OMONTYS #1 competitor has fatalities. So, have there ever been any deaths with the lead competitor's drug EPOGEN? Well, truth be told, you can see some data here - Link.
A Letter From Fresenius (NYSE:FMS):
How can one explain the recent letter from Fresenius? It's kind of interesting when they make statements about OMONTYS. Let's take a look at what it said:
February 13, 2013

We have accumulated experience in more than 56,600 administrations in over 18,000 unique patients. Two months into the FMCNA pilot program, the FDA released revised product information that added language similar to the prescribing information for EPOGEN® concerning the risk for allergic reactions, which we communicated to you in November 2012.

To date, we have seen infrequent allergic reactions in our patient population receiving their first dose of OMONTYS®.

Most of these reactions have been mild, but a small number have been serious. The rate of allergic reactions has been on the order of 1:1000 patients receiving a first dose of OMONTYS®. The vast majority of patients who are receiving the medication on an ongoing monthly basis are tolerating it well.

Franklin W. Maddux, MD, FACP

Chief Medical Office

Executive VP For Clinical and Scientific Affairs

Fresenius Medical Care North America

Jeffrey L. Hymes, MD

Associate Chief Medical Officer

Fresenius Medical Care North America
Lastly - The Binary Event Hasn't Happened Yet
We all know the risks associated in investing in the stock market. Companies have safe harbor disclosures, most have pending litigation, and these are all part of the investment business. Stocks even have shorts and sometimes a high reported short interest as is the case with Affymax, however in this case, the short interest has been dropping substantially. This is Not characteristic of a company going to zero is it? I don't believe so.
The bottom line is that we are waiting for OMONTYS to return back on the market. There are literally 100's of drugs that have caused fatalities that are currently being marketed today. Remember, OMONTYS was "voluntarily" recalled and a recall is used to correct a product for re-distribution back to consumers. Don't confuse the word recall to mean canceled or revoked.
If OMONTYS does return to market folks, you could very well be looking at an immediate $5 to $10 immediate pop in share price (or more), partially depending on whether or not Fresenius dialysis centers will be working with Takeda/Affymax and distribute the drug. The upside to such a positive outcome as described in this article is likely to be quite substantial. Until that time, investors may continue to experience wild swings on news, distorted news, or a complete lack of news.
Please keep in mind that only positive investigation news can save Affymax at this point and it's not up to TBG to referee between the Bulls and the Bears here. Takeda is in charge and as the CEO of Affymax told me over the phone, they are keeping everything locked down until we get a filing and everyone get the news at the same time.
Expect more details to follow.
Disclosure: I am long AFFY. I wrote this article myself, and it expresses my own opinions. I am not receiving compensation for it (other than from Seeking Alpha). I have no business relationship with any company whose stock is mentioned in this article. Also, I may add to my already existing large position within the next 72 hours.