The reports circulating this morning are stating that the intelligence that the US has regarding the chemical weapons used in Syria is not as conclusive as previously stated and that both France and the United Kingdom are backing down from their saber rattling as they deal with their governmental bodies and citizens. This pause in the attack preparations is causing oil to retreat and gold to follow.
Our guess is that any attack happens over a weekend so that the markets can see how smoothly the operation goes, so next weekend would seem to be the first real opportunity for action. Maybe the rockets are launched around 7 PM EST on Friday night and stop early Sunday morning. We are not experts in war, but if we were trying to assure markets everything was ok, that is the way in which we would act.
Chart of the Day:
The question today is whether $1400/ounce will hold. We think it holds into the weekend but if it tests that level today then we could be totally wrong. The SPDR Gold Shares (NYSEARCA:GLD) are most likely a hold until we see action in Syria, or know if there will be any action, and then a sell on the news situation.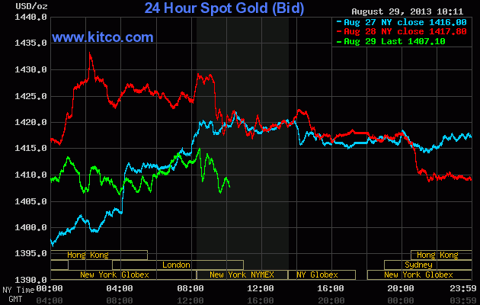 Source: Kitco
Commodity prices this morning are as follows:
Gold: $1409.20/ounce, down by $9.60/ounce
Silver: $24.065/ounce, down by $0.326/ounce
Oil: $109.27/barrel, down by $0.83/barrel
RBOB Gas: $3.0815/gallon, down by $0.013/gallon
Natural Gas: $3.624/MMbtu, up by $0.042/MMbtu
Copper: $3.255/pound, down by $0.0465/pound
Platinum: $1527.80/ounce, down by $12.30/ounce
Oil & Natural Gas
We have come under fire in recent weeks with the same talk that has followed our picks around for the past year. Readers questioning our continued bullishness of names trading at or near 52-week and/or all-time highs. In short we have been right and continue to be right as it pertains to the upward trajectory of these names. Yesterday was no exception as Anadarko Petroleum (NYSE:APC), Cabot Oil & Gas (NYSE:COG) and Gulfport Energy (NASDAQ:GPOR) all hit fresh all-time highs. These are among the premier names in the industry with extremely competent management teams, excellent capital allocation, and most importantly top-tier domestic assets.
Our bullishness has been correct except for a brief period in 2012, however we were buyers during that dip too so the pattern has been consistent...and correct over the long-term.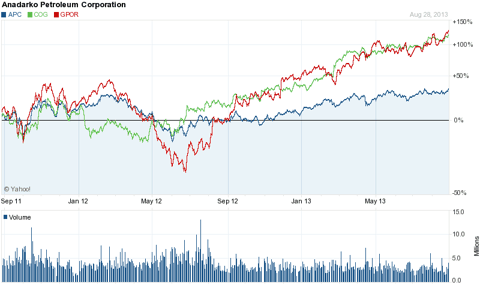 Source: Yahoo Finance
We are personally long Gulfport and have not sold a single share at this point. It is our single largest position at this time and we continue to hold it due to the upside potential still available to shareholders. But just like with the other names we have used the company's success to help us find other potential names that could provide not only our portfolios, but readers' too, with outsized gains.
The recent moves by Anadarko Petroleum we also find interesting as they are selling portions of their major new finds in order to focus on their domestic properties with a focus on the Wattenburg and their Colorado properties.
So if we are bullish of Gulfport due to their Utica exposure and bullish of Anadarko because of their Colorado exploration upside then by extension we are required to be bullish of PDC Energy (NASDAQ:PDCE). We recently purchased a small position in the company and hold those shares in one of our retirement accounts. The capital appreciation potential for the shares is tremendous and something we would want to hold in a tax deferred account, but we would caution readers to not take on too much risk as nothing is a sure thing. We are still awaiting results from their southern Utica properties which will either prove that there is a lot of unrealized value on the balance sheet or prove some of the bearish analysts correct in their assumptions that the southern acreage deserves a $0 valuation. With some of the recent results we have seen from the Utica from a private company we think that there is a very solid chance that the valuation is much higher than $0 and this is why we are as bullish as we are now. The stock may not be at an all-time high, but it did hit a fresh 52-week high yesterday, so the story is becoming more well known here.
Disclosure: I am long GPOR, PDCE. I wrote this article myself, and it expresses my own opinions. I am not receiving compensation for it (other than from Seeking Alpha). I have no business relationship with any company whose stock is mentioned in this article.