A Quick Look At Dividends
In this post-Enron/Arthur Andersen world, dividend companies already are inherently more safe than their non-dividend paying counterparts. They pay cash, they have real earnings.
Portfolio Goal
Portfolio goal is to conserve capital (while possibly increasing it) and beat inflation with a starting dividend yield which is above inflation and a dividend growth rate above the inflation rate.
BDC Overview
Business Development Companies (BDCs) focus on investing in private companies rather than publicly traded companies. They mostly invest in debt instruments. Equity investments play a smaller role, but they provide additional profits that come from capital gains when they exit a position. Thus, by investing in a BDC, shareholders enjoy the liquidity of a publicly traded stock while participating in the private equity industry. Most BDCs are registered as regulated investment companies (RICs), which requires them to pay out at least 90% of their profits in dividends. Compared to other financial firms, BDCs use very modest leverage. In fact, they are only permitted to be leveraged on a 1:1 basis.
To sum up, BDCs are publicly traded closed-end funds that enable investors to participate in high yielding private market investing while maintaining daily liquidity.
Internally vs. Externally Managed
BDCs can be internally managed or externally managed.
Internally Managed BDCs
All operating expenses, including compensation, are paid directly by the BDC, and compensation information is disclosed to shareholders via quarterly and annual SEC filings. Shareholders have the ability to vote on compensation issues.
As an internally managed BDC's assets grow, a greater percentage of each incremental dollar of revenue can fall to the bottom line as dividend income available to shareholders.
Generally internally managed

BDCs' total

operating expense ratios (1) (net of interest expense) average approximately 2.75% - 3.25% of total assets under management and approximately 17% - 27% of revenue.
Externally Managed BDCs
Externally managed BDCs pay expenses and fees to a management company that is not required to provide shareholders with compensation information. The management fee is calculated based on a fixed percentage of assets under management (generally ranging from 1.75% to 2.0% of gross assets under management). Compensation information is not disclosed, and shareholders do not have the ability to vote on compensation issues.
Other annual operating expenses are generally calculated in addition to the base management fee.
Incentive fees of 20% of net investment income and realized capital gains are paid to management after a "hurdle rate" is achieved.
Generally externally managed BDCs' total operating expense ratios (1) (net of interest expense) average approximately 4.00% - 4.50% of total assets under management and approximately 30% - 40% of revenue (source: BDCs At A Glance).
BDC Efficiency
Slide below shows selected BDC companies' efficiency (source: TCAP August 2013 Investor Presentation):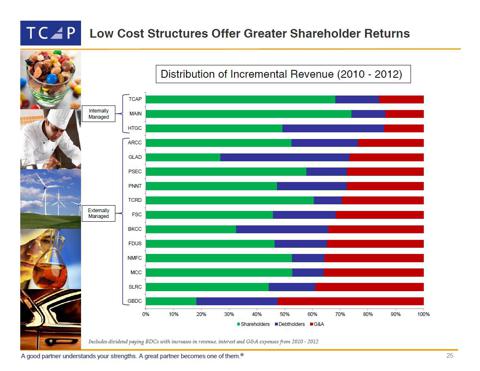 The three BDCs with the lowest cost structure are: TCAP, MAIN, HTGC.
Make Sure Debtors' Payments Will Get To Your BDCs On Time
Making loans is a good business until you get paid back. Slide below shows selected BDC companies' non-accruals as a percentage of total loans (Source: July 2013 PSEC Analyst / Investor Day).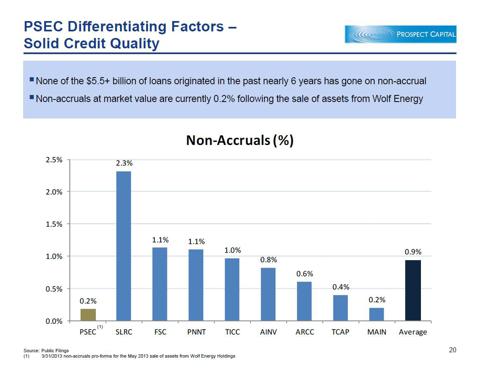 Among the best performers (i.e. non-accruals below average) there are: PSEC, MAIN, TCAP, ARCC.
Dividend Yield
High yield is an ancient and tested indicator of value. It helps to protect the share from falls because this will only drive the yield even higher, assuming the dividend is secure. Regarding security: There are BDCs that cover their dividends with Net Investment Income (NII) and BDCs that - for some reason - do not.
Maybe I'm going to state the obvious, but I'm going to say it anyway: I prefer a BDC that actually covers its dividend with NII.
ARCC, MAIN, PSEC and TCAP do cover their dividends with NII. FSC does not but by just a fraction. FSC management is confident it will be able to make enough money to fully cover the dividend with NII.
As Leonard Tannenbaum - FSC's Chief Executive Officer - said during the last earnings call:
I am not ready to give myself grades yet, but one of the things I will say is that I am disappointed in the report card is this quarter we are short off, there is no question we are short at the dividend. We are very cognizant of it and I know a lot of analysts modeled in that we get there by fiscal year end and we're still doing our best to get there. So we're working hard to try to do better on the report card. I am certainly not scoring straight ace, but I still have a little more time to improve my score.
I would also add that FSC insiders are buying lately (source: Gurufocus.com).
Dividend yields of selected BDCs as of 8/29/2013, before market opens, are:
| | |
| --- | --- |
| Ticker | Dividend Yield |
| ARCC | 9.50 |
| FSC | 10.90 |
| MAIN | 6.60 |
| PSEC | 11.60 |
| TCAP | 7.30 |
Note: MAIN dividend yield doesn't take into account special dividends paid during the year.
Total Value To Shareholders
While a chunky dividend yield is good, what about some good old stock price appreciation? Slide below provides some visual insight (Source: TCAP Q2 2013 investor presentation).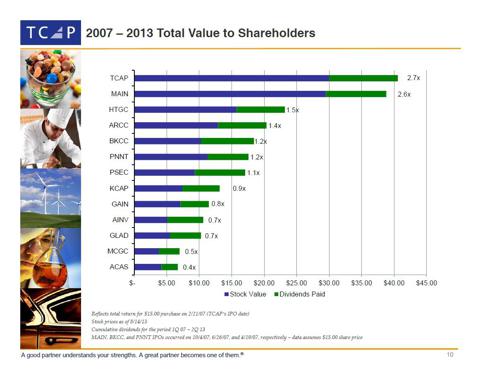 Blended Portfolio
To sum up the data gathered today, I suggest a portfolio comprising of a mix of carefully chosen BDCs which complement each other.
Two - FSC and PSEC - have a very high current dividend yield, and three - ARCC, MAIN, TCAP - have a good yield and a history of steady stock price appreciation.
Chart below shows a comparison between the five mentioned companies and the S&P 500 index.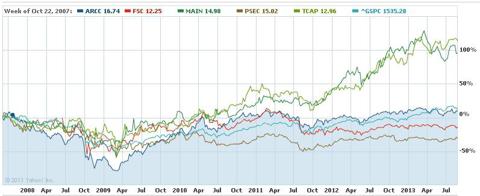 (Source: Yahoo!)
Time frame is from 9/4/2007 to 8/26/2013. I choose those dates to show how the selected companies behaved during the 2008 crisis. As the chart above shows, all did better than the S&P 500 index during the 2008 crisis.
Additional disclosure: Material presented here is for teaching and entertaining purposes only. It is not intended to be taken as financial advice, a recommendation to buy or sell the stocks mentioned above. Investing includes risks, including loss of principal.
Disclosure: I am long FSC, PSEC, TCAP-OLD. I wrote this article myself, and it expresses my own opinions. I am not receiving compensation for it (other than from Seeking Alpha). I have no business relationship with any company whose stock is mentioned in this article.
Additional disclosure: I will not alter my positions within 72 hours of the time of publication of this article.