Advaxis (NASDAQ:ADXS) is a development stage biotechnology company focused on the research, development and commercialization of safe and effective therapeutic cancer vaccines that utilize multiple mechanisms of immunity.
The Company is developing a live, attenuated Listeria vaccine technology under license from the University of Pennsylvania which secretes a protein sequence containing a tumor-specific antigen. This vaccine technology is capable of stimulating the body's immune system to process and recognize the antigen as if it were foreign, generating an immune response able to attack the cancer. This is a broadly enabling platform technology that can be applied to the treatment of many types of cancers, infectious diseases and auto-immune disorders.
This technology involves the creation of genetically engineered Listeria that stimulates the immune system to induce antigen-specific anti-tumor immune response involving both innate and adaptive arms of the immune system. In addition, this technology facilitates the immune response by altering tumors to make them more susceptible to immune attack, and increasing the number and maturation of development of specific cells that underlie a strong therapeutic immune response.
The Listeria platform technology is unique and holds advantages over its peers in three ways.
Advaxis' Listeria-based cancer vaccine can deliver bioengineered cancer antigen fused with a unique, proprietary strong adjuvant LLO which elicits both innate and adaptive immune systems in the body to fight cancer. The immune response elicited by Advaxis' cancer vaccines has been the most comprehensive and robust so far in the industry.
Advaxis' cancer vaccines can reduce the amount of regulatory T cells and myeloid suppressor cells which help protect tumors from attacking by cytotoxic T cells.
Another distinctive feature of Advaxis' cancer vaccines is their ability to change the ratio between killer T-cells and regulatory T cells (the Kill Ratio) inside the tumor from 1:1.3 to 22.7:1.
Based on its proprietary Listeria technology, Advaxis has established a pipeline targeting various cancer indications. The Company's lead candidate is ADXS-HPV.
ADXS-HPV is currently under two Phase II clinical trials for the treatment of cervical cancer and two Phase I trials for the treatment of head and neck cancer and anal cancer respectively.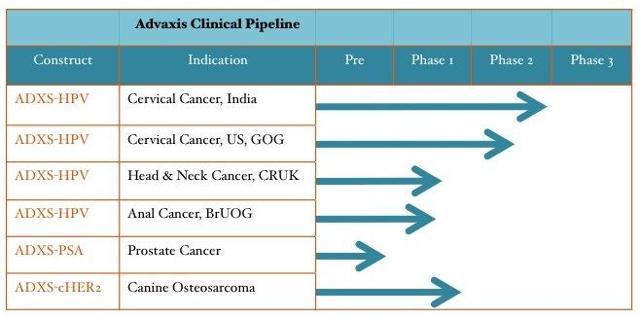 Updated Phase II Results for ADXS-HPV at ASCO
On June 2, 2013 at the ASCO meeting, Advaxis reported final 12 month overall survival and additional data for ADXS-HPV (Lm-LLO-E7-15) from a randomized Phase II study evaluating the safety and efficacy of ADXS-HPV +/- cisplatin in patients with recurrent cervical cancer.
As a reminder, ADXS initiated the Phase II study in November 2010 in India in 110 Patients with recurrent or refractory cervical cancer. This study is being conducted at 22 sites in India. All patients randomized to the trial have been previously treated with chemotherapy, radiotherapy or both, and their cancer has progressed subsequent to treatment and has been confirmed by CT or radiologic scan.
Patients are randomized into 2 groups of 55 patients receiving: ADXS-HPV or ADXS-HPV + cisplatin (40 mg/m2, weekly x5). Patients got either 3 doses of ADXS-HPV at 1 x 109 CFU or 4 doses of ADXS-HPV at 1 x 109 CFU with cisplatin chemotherapy. Naprosyn and oral promethazine are given as premedications and a course of ampicillin is given 72h after infusion thereby clearing any residual vector. Patients receive CT scans at baseline and Days 84, 184, 273, 365 and 545. The primary endpoint is 12 month survival.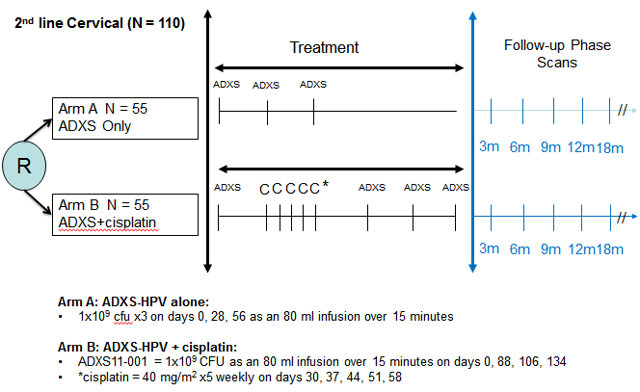 Enrollment was completed in May 2012 and preliminary results were presented at 2012 ASCO and GOG meeting in the summer of 2012 and at the Society for Immunotherapy of Cancer (SITC) 27th Annual Meeting in October 2012.
As of May 17, 2013, 110 patients have received 264 doses of ADXS-HPV (ADXS11-001). Final 12-month overall survival is 36% (39/110) with a (current) 18 month survival of 22% (16/73). This compares to 33% and 17%, respectively, at the last update and are the best results yet reported for this study.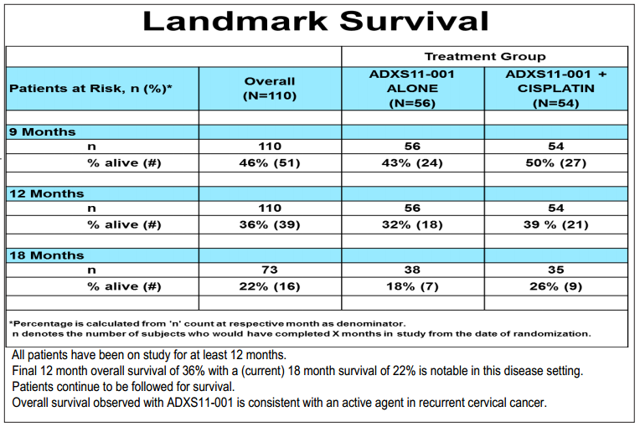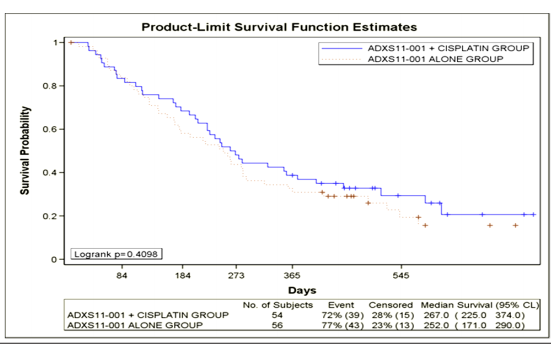 These data are comparable to the results for the landmark 2004 Moore Phase III study of cisplatin alone and cisplatin plus paclitaxel in recurrent cervical cancer patients with the same initial performance (health) status (0-2). In that study, 12 month survival was presented as 35% for cisplatin alone and 32% for the combination and 18 month survival was presented as 20% for combination therapy and 12% for cisplatin, alone.
Median overall survival was approximately 8.5 months. Those patients who have completed the study will continue to be followed for survival. Survival results were not significantly different between groups who had previous therapy of radiation, alone, chemotherapy, alone, or a combination of both.
The tumor response rate was 11% with 6 complete responses and 6 partial responses/110 patients and was similar in both treatment groups per RECIST 1.1 criteria. Stable disease >3 months was observed in 33 additional patients, for a disease control rate of 41% (45/110). Average duration of response after 12 month minimum follow-up was 10.5 months for both treatment groups. In those patients treated with ADXS-HPV alone who had stable disease, the average duration of response was 6 months compared to 4.1 months in patients treated with ADXS-HPV plus cisplatin. Activity was observed against all high risk human papillomavirus (HPV) strains detected, including 16, 18, 31, 33, and 45.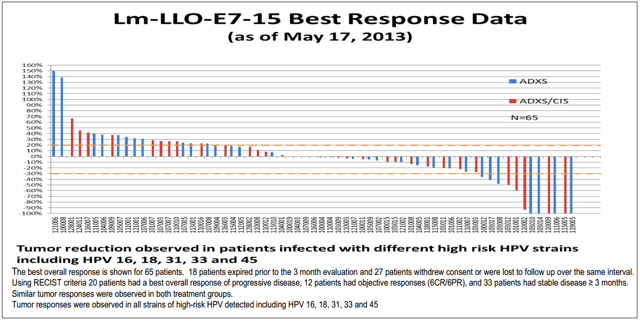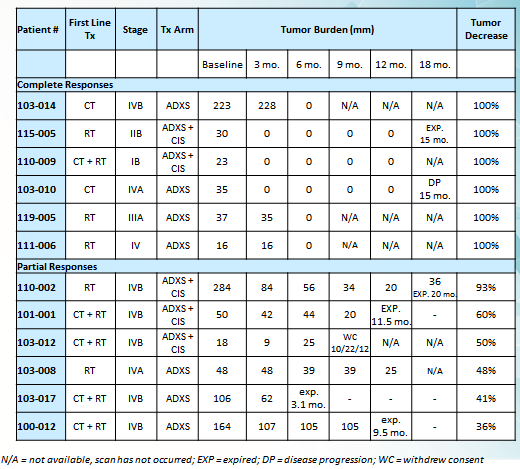 Subset analyses showed that the addition of cisplatin to ADXS-HPV did not significantly improve survival or tumor response in this study; and survival and tumor response were equally strong in patients with aggressive disease (defined as recurrence ≤2 years from initial diagnosis) versus non-aggressive disease (defined as recurrence >2 years from initial diagnosis).
The tolerability of ADXS-HPV continues to compare favorably with single agent and combination chemotherapies active in this disease setting. 41% (45/110) of patients experienced 104 mild-moderate Grade 1-2 adverse events and 2% (2/110) of patients experienced a Grade 3 serious adverse event. This compares to published treatment-related serious adverse event rates of 100%-400% in studies evaluating a range of chemotherapy regimens for cervical cancer, including the Moore study and studies conducted by the Gynecologic Oncology Group (GOG) of the National Cancer Institute (NYSE:NCI).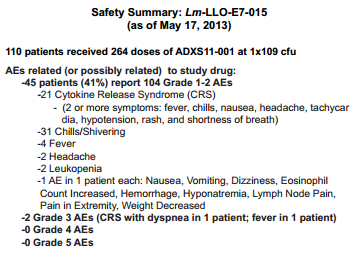 Our Takeaways From the Updated Results
The data presented at the ASCO are very encouraging.
After 110 patients and 264 doses, the safety data is encouraging. ADXS-HPV continues to demonstrate a well-tolerated and manageable safety profile with 32% of patients reporting Grade 1 or 2 transient, flu-like symptoms that self-resolve or respond to symptomatic treatment. Less than 2% of patients reported serious adverse events associated with ADXS-HPV. Published studies on chemotherapy treated patients like these show 100% of patients experiencing severe adverse events, usually multiple times. Serious adverse events result in death, are life-threatening, cause significant disability or require inpatient hospitalization.
Great efficacy has been observed which are very promising. Compared to GOG historical one year survival of 5%, ADXS-HPV has achieved 36% one year survival rate. This is a huge improvement. Other literature data showed that generally, recurrent cervical cancer has a poor 1-year survival rate of 15% and a 5-year survival rate of 3-13%. ADXS-HPV's 36% one year survival rate is also a 100% improvement. Further investigation is warranted. 18 month survival also reached 22%.
ADXS-HPV appears to be emerging as an active agent in recurrent/refractory cervical cancer with significantly less toxicity than chemotherapy.
The positive ADXS-HPV data may trigger partnership talks for Advaxis.
ADXS-HPV for cervical cancer is the Company's current focus. Advaxis plans to conduct new short term clinical trials to support its partnership talks as well as the planned Phase III trial of ADXS-HPV.
Encouraging Interim Phase I Data of ADXS-cHER2 For Canine Osteosarcoma
On July 17, Advaxis announced updated preliminary data from a dose escalation Phase I study evaluating the safety and efficacy of ADXS-cHER2 in the treatment of dogs with osteosarcoma that overexpress human epidermal growth factor receptor-2 (HER2).
ADXS-cHER2 is an Lm-LLO immunotherapy for HER2 overexpressing cancers (such as breast, gastric and other cancers in humans and for osteosarcoma in canines). ADXS-cHER2 secrets the cHER2 antigen, fused to LLO, directly inside APC that are capable of driving a cellular immune response to cHER2 overexpressing cells.
As a reminder, on August 2, 2012, Advaxis announced the initiation of a Phase I study of ADXS-HER2 for canine osteosarcoma at the University of Pennsylvania, School of Veterinary Medicine. In this trial, dogs that have undergone standard of care treatment for osteosarcoma, including limb amputation and follow up chemotherapy, and that over-express the tumor marker HER-2/neu in their tumors, are treated with Advaxis agent ADXS-cHER2. This immunotherapy is designed to stimulate the dog's immune system to attack cancer cells that express the HER-2/neu marker. The goal is to elicit anti-tumor immunity and prolong survival.
Updated preliminary data from the first two of three dose groups (6 dogs/3 dogs per dose group) show a significant survival advantage for dogs that received standard of care (SOC) plus ADXS-cHER2 compared to 11 dogs whose owners elected not to participate in the trial but who were followed for survival (p=0.04). At this point in the study, 8 of 9 dogs treated with ADXS-cHER2 are alive (mean survival undefined), compared with 5 of 11 dogs in the control group (mean survival 265 days).
ADXS-cHER2 continues to be well-tolerated with the dogs experiencing only mild, easily managed side effects (fever, increased heart rate, and vomiting) consistent with immune activation (cytokine release syndrome) observed at the time of treatment. There is no evidence of any cumulative or long-term side effects on the dogs, including their cardiovascular systems.
Once the dose has been selected, the study is intended to expand into Phase II and additional collaborative academic centers will be added.
Canine osteosarcoma is a leading killer of large breed dogs that causes tumors to form on long leg bones. Dogs undergoing standard of care (SOC) treatment (affected limb amputation and follow-up chemotherapy) have a median survival rate of only 1 year. We believe there is a significant commercial opportunity for ADXS-cHER2 in the veterinary medical market. Advaxis is discussing these data with several veterinary health companies.
Pipeline further Expanded by New Phase I/II Trial Of ADXS-HPV in Anal Cancer
On Feb 19, 2013, Advaxis announced that the Brown University Oncology Research Group (BrUOG) will be coordinating a Phase I/II study of ADXS-HPV in 25 patients with HPV-associated anal cancer. Dr. Howard Safran, professor of medicine, will be principal investigator. Patients will be treated at Rhode Island Hospital and The Miriam Hospital (the main teaching hospitals of The Warren Alpert Medical School of Brown University). Multiple institutions will collaborate.
This non-randomized, open-label, multi-center study will evaluate the safety and effectiveness of ADXS-HPV when combined with standard chemotherapy and radiation treatment for anal cancer. The primary objectives of the trial include the evaluation of adverse events and the evaluation of 6-month clinical response.
As of July 2013, 3 patients have been enrolled in the study. Multiple institutions will collaborate.
Virtually all cases of squamous cell cancer (NYSEARCA:SCC) of the anus are caused by a Human Papilloma Virus (HPV) infection. Anal cancer cells infected with HPV have the tumor associated antigen HPV E7. ADXS-HPV causes antigen presenting cells to stimulate other immune cells to attack cancer expressing HPV E7. In Phase I clinical trials and preliminary data from ongoing Phase II trials, ADXS-HPV has been safely administered to 193 patients with other HPV-associated diseases (recurrent/refractory cervical cancer and CIN 2/3), and has demonstrated clinical benefit as a single agent or in combination with chemotherapy.
This new indication of ADVX-HPV for anal cancer is an important step for the pipeline expansion. With this new indication, ADXS has now a series of clinical trials under study including three Phase II trials, two Phase I/II trials and three Phase I trials. This is quite unusual to a small cap biotech company.
Phase I/II Trial of ADXS-HPV Initiated for Head and Neck Cancer
On May 8, 2012, Advaxis' partner Cancer Research UK (CRUK) began to enroll patients into REALISTIC, a Phase I/II study to investigate the use of ADXS-HPV for the treatment of 27 patients with HPV positive head and neck cancer. HPV is associated with 40-70% of head and neck cancers.
This trial is being conducted at the Aintree Hospital at the University of Liverpool, the Royal Marsden Hospital at the University of London, and the Cardiff Hospital at the University of Wales. The study will investigate the safety and efficacy of ADXS-HPV in preventing recurrence of head and neck cancer among patients who have been treated with surgery, radiotherapy, and/or chemotherapy; alone or in combination. A maximum of 45 patients are to be enrolled in this study, and all costs will be assumed by CRUK. Two patients have already been enrolled in the trial at the Aintree Hospital in Liverpool, UK.
As of July 2013, 16 patients have been enrolled in the study.
This trial further expands the ADXS-HPV clinical development program to another HPV-associated tumor type.
According to the National Cancer Institute and the American Cancer Society, head and neck cancers represent approximately 3 percent of all cancers in the United States and are twice as common in men as in women. Historically, head and neck cancer has been associated with people over the age of 50 and with the use of alcohol and tobacco (including smokeless tobacco), however, there has been a recent rise in HPV-related oropharyngeal cancers in caucasian men under the age of 50. Recurrence rates in patients are high, in some studies over 80% within 2 years. ADXS-HPV may provide a treatment option for doctors and patients with HPV-related head and neck cancers.
Huge Market Potential For ADXS-HPV
Cervical cancer is a worldwide problem and ranks as the 2nd leading cause of cancer death of women in the world. According to WHO, about 630 million people are infected with one of the over 100 strains of HPV. Global prevalence of clinically pre-malignant HPV infections is between 28 to 40 million women. Approximately 500,000 women are diagnosed of cervical cancer each year and about 11.4% of women in the general population are estimated to harbor cervical HPV infection. In the US, about 12000 new cases of cervical cancer are diagnosed each year. Prevalence of cervical cancer is higher in developing countries and India, China and South America are the three regions with highest cervical cancer prevalence (50% of cervical cancer burden).
In addition to cervical cancer, ADXS-HPV has potential to target other HPV-mediated cancers, which further expand ADXS-HPV's market. The Company already initiated clinical studies of ADXS-HPV for head & neck cancer as well as anal cancer.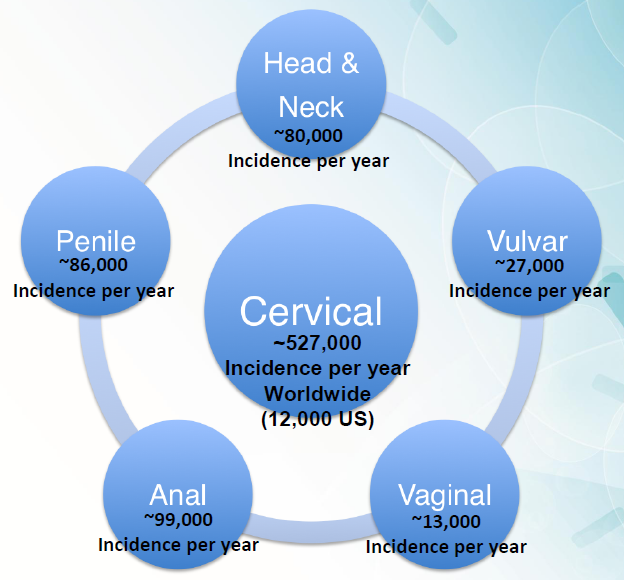 Balance Sheet Boosted By Financial Commitment
As of April 30, 2013, the Company had cash of approximately $1.0 million. However, balance sheet has been boosted by recent financial commitment.
On October 31, 2012, Advaxis announced that it has secured $10 million in equity financing from Magna Group, LLC through its flagship Equity Enhancement Program, with an additional $1.4 million in financial commitments from a combination of sources.
Below are the highlights of the financing.
Magna committed via the Equity Enhancement Program to purchase up to $10 million of Common Stock by Hanover Holdings I, LLC, an affiliate of Magna Group. The purchase price will generally be 90% of the market as defined in the Agreement. In consideration for Hanover's commitment, the Company has issued them 3,500,000 shares of Common Stock. Hanover Holdings I, LLC also funded $265,000 in two private placements during September and October, 2012.
Magna will assume the $740,600 of outstanding Convertible Notes, owned by third parties. The Company will deliver Convertible Notes to Magna Group in the same aggregate principal amount paid by Magna Group. As part of the $740,600 assumption, the Company delivered a new Convertible Note in the aggregate principal amount of approximately $400,100 to Magna Group. The Convertible Notes bear interest at 6% and are convertible into shares of Common Stock at a conversion price of 73% of the market as defined in the Agreement.
The purchase of $375,000 of Convertible Notes by private investors and institutional investors. The private investors include Dr. Yvonne Paterson, the scientific founder of the Company, Dr. James Patton, MD, a director of the Company, and Christine French, the Company's executive director of medical affairs.
On October 17, 2012 warrants to purchase approximately 15.9 million shares of Common Stock containing full anti-dilution protection expired unexercised.
We think this financing comes at a crunch time. The combination of the $10 million Equity Enhancement Program, debt assumption and funding short term capital needs matches the Company's current requirements and boosts its balance sheet. These institutional investments as well as the investments by the Company's management and directors further validate the Company's technology and clinical programs.
Most importantly, partnership talks with big pharma continue. We think this is important because this kind of financing improves balance sheet without diluting existing shareholder base. So far, the existing financing has been at the cost of share dilution. Further, any partnership, if established, validates the Company's technology and clinical programs.
Current equity line can, at the Company's current volume and pricing, deliver over $1.2 million per month versus $0.6 million required. This is a great achievement for ADVX. With the ease of cash concern, the Company should be able to focus on advancing its clinical programs.
Reverse Stock Split Completed, Paving The Way For New Financing
On July 15, Advaxis announced a 1-for-125 reverse stock split of its common stock and a decrease in the number of its authorized shares of common stock from 1,000,000,000 to 25,000,000.
At the effective time of the reverse stock split, every 125 shares of Advaxis' issued and outstanding common stock will automatically be combined into 1 issued and outstanding share of common stock without any change in the par value of the shares. This will reduce the number of outstanding common shares of Advaxis from approximately 609 million to approximately 4.9 million.
We think the reverse stock split is prudent for Advaxis. Though the reverse stock split does not fundamentally change stockholder value or the market capitalization of Advaxis, but increasing the price per share will make its stock more attractive to a broader range of institutional and other investors. Also, the increased price per share also facilitates new financing in our view. Therefore, the reverse stock split will ultimately increase stockholder value.
Valuation Is Attractive
We think Advaxis' live, attenuated Listeria technology is a unique immunotherapeutic platform which can target various cancer indications and infectious diseases.
Based on this unique platform technology, Advaxis has established a pipeline targeting a variety of cancer indications including cervical cancer, head and neck cancer, prostate cancer, anal cancer and breast/brain cancers. The Company currently has three Phase II clinical trials and three Phase I/II under way.
Near term catalysts are shown below:

In terms of valuation, we think Advaxis is undervalued. The Company should be worth more than current value of $16 million in market cap in our view.
Currently, the Company shares are trading at about $2.80 per share which values the Company at about $14 million in market cap based on 5 million outstanding shares. This is certainly a deep discount. We believe this is mainly due to its week balance sheet. However, we reminder investors that the Company recently announced $11.4 million financing, which boosted the balance sheet greatly. Further, according to management, partnership talks continue with big pharma companies about its cervical cancer program. With the preliminary positive Phase II data of ADXS-HPV for cervical cancer, partnership may be able to materialize in late 2013.
Our price target of $7.50 per share values the Company at $38 million in market cap, which is conservative. Apparently, risk is also high for Advaxis at this stage. We will keep a close eye on cash balance.
Disclosure: I have no positions in any stocks mentioned, and no plans to initiate any positions within the next 72 hours. I wrote this article myself, and it expresses my own opinions. I am not receiving compensation for it (other than from Seeking Alpha). I have no business relationship with any company whose stock is mentioned in this article.
Disclosure: I/we have no positions in any stocks mentioned, and no plans to initiate any positions within the next 72 hours.
Business relationship disclosure: I work as a Consultant Analyst for Zacks Investment Research. The article is written by me and is 100% my opinion. I receive compensation from Zacks for writing equity research reports and providing valuation analysis on this company's stock and expect to do so in the future. Zacks receives compensation from the company. Please see the Zacks Disclaimer for further information: http://scr.zacks.com/Disclaimer/default.aspx