"You've got to be very careful if you don't know where you are going, because you might not get there"
- Yogi Berra
On April 18 1981, the Pawtucket Red Sox and the Rochester Red Wings played the longest game in professional baseball history. It lasted 33 innings and ended in a 3-2 win for Pawtucket just after 4 a.m. on Easter morning. It was so cold the players "burned broken bats and the stadium's wooden benches to warm themselves". When the game ended shortly after 4 a.m. there were 19 fans left in the seats out of an original 1,740. Even the home plate umpire had fallen asleep, and a pitcher's wife initially doubted his claim that he spent the night playing baseball.
What was going through the heads of the 19 fans that remained freezing in the stands to watch the game? Probably the same type of thing that is going through the heads of long-time followers of InterOil Corporation (NYSE:IOC). Only in IOC's case, the "game" is IOC's 7-year effort to deliver a monetization scheme for its Elk/Antelope natural gas discovery in the jungles of Papua New Guinea.
In the years I have followed the InterOil saga, I have found myself believing "we'll know a lot more in two or three months". I couldn't have been more wrong. It seems with IOC the process works in reverse - the longer time goes on, the less we seem to know. I feel like I'm trapped in a car with Cheech and Chong and the smoke just keeps getting thicker and thicker.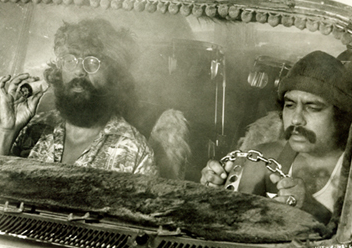 In a previous article I briefly chronicled the ups and downs of IOC's monetization efforts. In a press article from 2006 titled "InterOil gets serious in PNG LNG race" IOC's CEO is quoted as stating the company's LNG plans go back four years even before that, to 2002. If slow and unsteady wins the race, InterOil is on track for a gold medal. Below is a list of companies that at one time or another over the past 7 years have been reported to be involved with IOC's monetization efforts: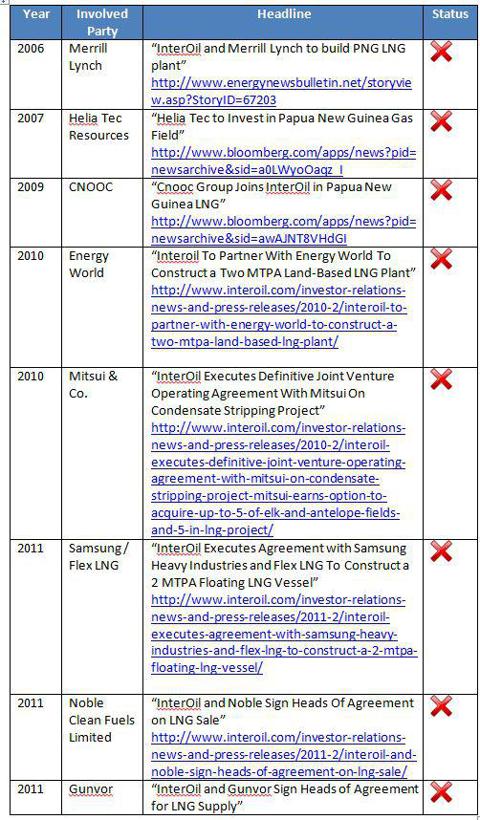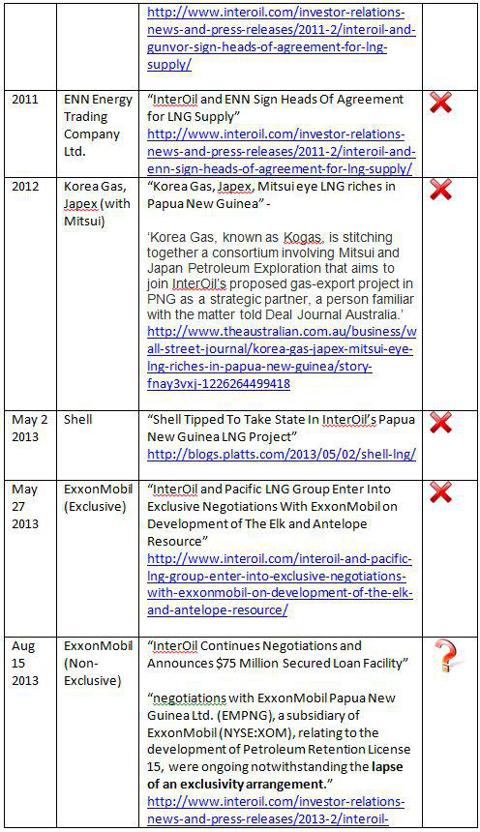 I'm not even sure if I've captured all of the rumored and purported "deals" in the above chart. To be fair, IOC did close a deal with Mitsui in 2010. The reason it receives a big nasty red X in the above chart is because after three years of flailing about a condensate stripping plant, Mitsui is packing up and going back to Japan. Fortunately for the company 100% of the capital it has put out is being refunded by InterOil, with interest.
The smoke has been particularly thick this year.
On January 24, the company announced that:
"it has advised bidders with which the Company has been in discussions that the final binding bid solicitation period for the partnering process currently being undertaken will close on February 28, 2013. The InterOil Board of Directors intends to meet the Company's advisors during the first week of March 2013 for the purpose of evaluating bids received and selecting our partner(s) for the development of the Gulf LNG Project utilising gas from the Elk and Antelope fields in Papua New Guinea."
Final binding bids by Feburary 28. Okay. Given the process started in September 2011 (2011 - not a typo) that didn't seem too unreasonable. Beleaguered IOC investors would no doubt be delighted when, on March 1, 2013 the company announced that:
"its advisors have informed the Company that several bids to partner with InterOil in its Gulf LNG project have been received. Our advisors are now evaluating the submissions. The InterOil Board of Directors will meet the Company's advisors during March 2013 for the purpose of evaluating bids received for the development of the Gulf LNG Project utilising gas from the Elk and Antelope fields in Papua New Guinea."
During March. Well, I guess switching from "the first week of March" to "during March" isn't that big a deal, right?
It seems InterOil entered March like a lion and went out like a lamb. March 31 came and went and on April 23 IOC dropped a bombshell, announcing the "retirement" of founder and CEO Phil Mulacek by the following week. A few days later Mr. Mulacek granted an exclusive interview to PNG Industry News, during which he told the paper:
"I was retiring so that I can focus on my private company after we get the LNG [transaction] closed, and help InterOil as a director and chair certain strategic committees that I enjoy," and
"I recommended a new CEO [for] some months, and we have interviewed to ensure a smooth transition to run the LNG project once it is closed."
From the interview he certainly makes it seems like it was his choice. I found it curious then to see in IOC's Q2 report that he and another "retiring" executive were paid $8,700,000 for their "termination". In addition, IOC is paying Mr. Mulacek $25,000 per month for "advisory services".
Then on May 24, a rather cryptic press release informed us that InterOil had entered into exclusive "negotiations" with ExxonMobil (NYSE:XOM). I felt this raised more questions than answers and wrote about them here. What happened to binding bids? What happened to the Gulf LNG project? What kind of terms and conditions are attached? And so on.
While not the end or the beginning of the end, it seemed we had at least reached the end of the beginning (apologies to Winston Churchill). A few days later it was reported that PNG Prime Minister Peter O'Neil told parliament that the length of the negotiation period was for "up to 60 days".
About a month later it seemed that real progress was being made. At InterOil's June 24 Annual General Meeting, the company informed investors that a detailed term sheet was signed, and "major items both commercial and technical are already agreed"

Two weeks later on July 11 InterOil announced a new CEO in Michael Hession - a well respected and highly qualified oil & gas executive who was most recently Senior Vice President at Browse LNG Development for Woodside Energy. Bravo. Better very very very very late than never, I suppose.
The next day, hitting the ground running, Dr. Hession told Bloomberg that the negotiations with Exxxon are not only "moving along nicely", but that "Exxon and this negotiation are going to be my number one priority".
It's not clear what Mr. Hession's economic incentives are. According to SEDI, (the insider reporting system of Canadian securities regulators) he owns no shares, restricted shares, or even options in InterOil as of August 29 (nearly two months since joining the company):

What happened next is a bit perplexing. We did not hear from Dr. Hession or the company on the partnering process until the company's Q2 results conference call on August 13. In the filing itself IOC warned that "We can give no assurance that we will be successful in completing a transaction with ExxonMobil on terms acceptable to us." Perhaps boilerplate, but given the past statements about major terms being agreed I thought the "on terms acceptable to us" curious.
On the conference call, Hession was asked some specific questions about Exxon, and in particular exclusivity. The full transcript can be found here - below is the exchange between Raymond James analyst Pavel Molchanov (a former understudy of Wayne Andrews, IOC's "VP, Capital Markets"):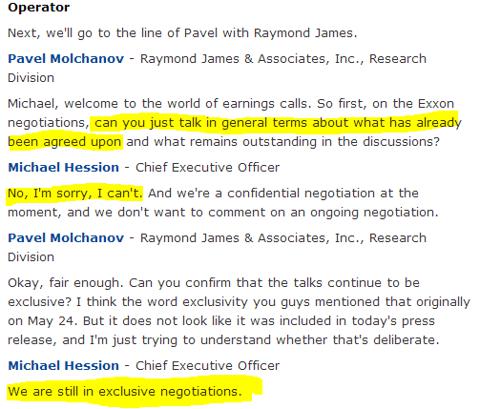 Not a lot of color. Short and sweet. I like it, and certainly an improvement over the gobbledygook IOC investors had been used to. Everything seemed to be more or less on track, and seemed to jive with what Exxon noted on its conference call two weeks prior (transcript here):
"We are also advancing expansion opportunities, including negotiations with Interoil Corporation and Pacific LNG on the future development of the Elk, Antelope resource. Major terms have already been agreed and should negotiations successfully conclude Exxon Mobil is proposing that 4.6 TCF of the gas resource from the Elk Antelope field be used to underpin the construction of an additional train at the PNG LNG project site, subject to partner and government agreement."
Just 3 days after InterOil's August 13 conference call, On Friday August 16 a press report came out claiming that the exclusivity period with Exxon was "dead" according to an unnamed "industry" source, and that InterOil had reopened the "bidding". It appears InterOil felt the requirement to issue a press release on the matter - the following Monday it put out a brief press release stating that negotiations "were ongoing notwithstanding the lapse of an exclusivity arrangement".
Hmmph.
So here we are - the latest we have from the company, shortly after saying (and Exxon confirming) that all major terms are agreed, that the exclusivity period has "lapsed".
It was déjà vu all over again when Phil Mulacek, still a Director of InterOil decided (or was instructed) to start flapping his gums to PNG Industry News on the same day that InterOil confirmed exclusivity has lapsed. Apparently speaking "not as a director" and taking a more laid-back retiree's viewpoint on dates and deadlines, he announced that he doesn't care about them: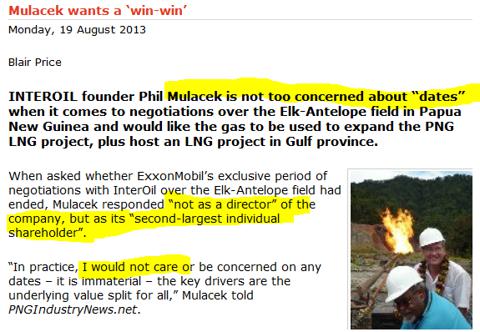 Just what investors wanted to hear after IOC's stock dropped 25% in the 5 trading sessions following InterOil's conference call.
Almost right on cue, another rumor has surfaced in Upstream Magazine from unnamed but "well-placed sources" that, once again, it's Shell (NYSE:RDS.B) that has "submitted a new offer". Upstream noted "Well-placed sources confirmed that third parties are free to make new offers to InterOil, given the expiry of the exclusivity clause."
So, what the heck is going on? I have no idea. What I do know is that closing the Exxon deal was InterOil's top priority. It and Exxon told the world that all major terms were agreed. InterOil confirmed that the Exxon proposal was received as part of the investment banking process that began nearly two years ago. I find it highly unlikely that IOC would walk away from a deal with Exxon at this stage of the game if it were still doable. If Shell or another major is as desperate for IOC's contingent resource as some seem to argue, they would have had plenty of time to submit a "bid" by the Feb 28 deadline. A bird in the hand is worth more than one in the bush.
Did something happen in the past few weeks to potentially scuttle the Exxon deal (e.g. a cold shoulder from the government of PNG? A cool reception from Exxon's existing PNG LNG partners? A change to "major terms"? Something problematic in due diligence? I fail to see much of a silver lining in these scenarios.
Or is Shell or another party actually at the table with bona fide proposals such that IOC would risk an Exxon deal for such possibilities? I am quite skeptical, and have a hard time thinking that any proposal such a party would put forth would be materially higher than they would have by the "binding bid deadline" all the way back in February. It would have to be for IOC to back away from a supposedly attractive offer from Exxon.
Could it be we'll know more in the next few months? I want to believe that but I just can't. In the meantime I am watching from the cheap seats with my popcorn (no position long or short).
At $70 per share InterOil has a $3.4 Billion market cap. Including debt the enterprise value is over $3.6 Billion. Nearly all of that value is derived from the hope of an actual monetization of its gas resource (a resource that requires many billions of dollars in infrastructure to extract).
Cash is tight. As of June 30, 2013 IOC had about $65 million in unrestricted cash. That was two months ago. I calculate the Mitsui refund and executive severance alone will chew up over $43 million of that cash. Not surprisingly, the company was able to rack up a little more debt with a new $75 million loan facility. However only $37.5 million is available now, with the other half only accessible if and when a monetization agreement is executed. One wonders what kind of deal they are contemplating executing if they are going to need that additional $37.5 million. It appears to be a small bridge loan - adding to the pressure to get a deal done fast, and arguably increasing the bargaining power of those across the table from IOC. They aren't quite burning broken bats and broken benches, but the temperature is dropping fast.
How many IOC fans will still be hanging around by the time this game is decided? Will it have been worth the wait?
"The other team could make trouble for us if they win"
- Yogi Berra
Disclosure: I have no positions in any stocks mentioned, but may initiate a short position in IOC over the next 72 hours. I wrote this article myself, and it expresses my own opinions. I am not receiving compensation for it (other than from Seeking Alpha). I have no business relationship with any company whose stock is mentioned in this article.
Additional disclosure: This article reflects my personal views only. I have no position, long or short, in IOC stock. All data and calculations presented are accurate to the best of my knowledge but have not been vetted, checked, proofread, or independently verified. This article should not be relied upon for any purpose other than for entertainment. I welcome comments and or corrections.