Major deals with SoftBank Corp (OTCPK:SFTBF) and Clearwire Corporation (CLWR) have provided Sprint Corporation (NYSE:S) with all the tools it needs to pose a serious threat to the current market leaders. Now the company needs to ensure that it uses its largest spectrum, competitive pricing and solid product lineup to challenge its competitors.
Sprint is the third largest telecommunication network in the U.S. with 53.4 million subscribers, trailing Verizon Communications Inc. (NYSE:VZ) and AT&T Inc. (NYSE:T). It provides wireline and wireless transmission services to individuals, businesses and government organizations.
Financial Performance
In the second quarter, Sprint managed to perform better than what analysts had expected. The strong performance was driven by the wireless segment. Wireless service revenues reached $7.2 billion, up 8% YoY. Sprint platform's subscriber base reached 53.4 million in 2Q'13 from 52 million in the last quarter. Both Sprint's postpaid and prepaid average revenues per unit (ARPU) have grown by 1.29% and 5.76% YoY respectively. The company recently shut down the Nextel platform, around 364,000 postpaid customers was recaptured by the Sprint platform in 2Q'13 which brings the total to 4 million subscriber since the network vision commencement in 2011. The company managed to sell over 5 million smartphones, including 1.4 million iPhones. Out of 1.4 million iPhones sold last quarter, 41% were sold to new subscribers. Over the long term, the company is looking to attract new smartphone activations with its unlimited plan, which will help the company boost the bottom line of its income statement.
Some negative take-away from the recent second quarter earnings is that the wireline segment is showing a declining trend, as customers are generally shifting towards wireless devices. Wireline operating income fell by 46.6% YoY. Furthermore, the churn rate for postpaid reached 1.83% from 1.69% last year. The company has lost its core CDMA customers, but net additions are still positive because Nextel's subscribers were recaptured by the Sprint platform. In my opinion, the lower LTE coverage has been the primary reason for the decline in the postpaid customer base. The company would be able to better compete once its LTE coverage is expanded to its competitors' levels. VZ has already completed its LTE coverage and T is expected to complete it by the second half of next year.
Forecast
Finally, the company has decreased its adjusted OIBDA guidance to $5.5-$5.7 billion for 2013, after the diluting impact of $400 million of the SoftBank and Clearwire transaction. Capital expenditure is expected to be approximately $8 billion for the complete year.
Source: Company Report
Future Growth Prospects
As shown in the table below, the company's margins are lower than its peers, which gives S the opportunity to expand margins. Margin expansion is one of the most important growth drivers for the company. After the Nextel platform was shut down, the company could save around $1.4 billion annually through rent, utilities and the elimination of back haul. The company now has access to the largest spectrum in the country, but Sprint is only using 40MHz to run its core CDMA, which means that it could be used to boost the wireless margins.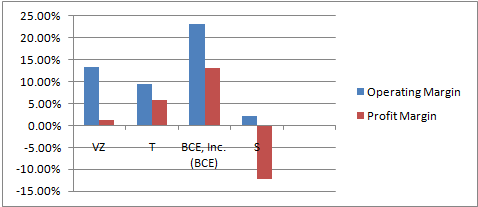 Source: Yahoo Finance
The company has planned to undertake new marketing initiatives by the end of this year. This is an encouraging sign as marketing and advertising expense is the lowest among its peers companies. This will enable Sprint to reach out to new customers and challenge its competitors more aggressively. The company has also launched a new guaranteed unlimited plan; market research had shown that customers were leaving because of no unlimited plan being available. Furthermore, the company has also reduced the price of its unlimited life plan to $80 with similar features. These initiatives will help Sprint give potential subscribers more attractive alternatives and will help gain the company a competitive edge. The company has not only initiated new strategies, but it has also been focusing on its customer care services, as it is the most improved company in this segment in the last five years, according to the 2013 American Customer Satisfaction Index.
Network Vision
The company has launched its 4G LTE network services in 151 cities and it is under construction in another 600 cities. Moreover, LTE is expected to be deployed on the 800MHz by the fourth quarter. More than 20,000 sites are on air and around 30,000 sites are ready for construction or are already being constructed. Sprint is also looking to enhance its speed with the 2.5GHz spectrum, especially in urban centers, along with expanding its coverage to 2 million square miles. This will help the company not only bring its services at par with VZ and T, but also attend to the need of businesses by giving them more bandwidth capacity to ensure high speed.
Recent News
In the second half of the year, Sprint is also adding two new smart phones, the Q10 Blackberry and Samsung's Mega Galaxy, in its range of smart phones.
Sprint has also launched Ethernet Wave Service, which caters to the demand of high speed and heavy capacity bandwidth. This service is primarily designed for businesses to support their large data needs, while maintaining their security and privacy.
Risk
The company faces severe competition from the two telecommunication giants; VZ and T. These two deep pocketed companies have attractive dividend yields and large customer bases. Furthermore T-Mobile is also gearing up to pose a serious threat, especially in the wireline segment. As SoftBank controls the company, public shareholders are in a minority, which puts their interests second to those of SoftBank. Lastly, the telecoms sector is also exposed to the economic cycle and regulatory authorities.
Conclusion
| | | | |
| --- | --- | --- | --- |
| Companies | EV/Revenue | P/S | |
| VZ | 1.55x | 1.14x | 9.7% |
| T | 1 .99x | 1.40x | -0.24% |
| S | 1.27x | 0.75x | 23.42% |
Source: Yahoo Finance
With the two important deals having been closed and a significant cash infusion, the company is all set to benefit from network reconstruction and to prove as to how these two deals will benefit the company in the future. With the ever increasing demand for bandwidth, investors should give considerable importance to the company's largest spectrum. S is trading at cheap valuations based on the multiples of EV/Revenue and P/S. I believe that the current price of $6.67 is a good entry point because Sprint is up by 23.42% on a YTD basis and it has further room to grow.
Disclosure: I have no positions in any stocks mentioned, and no plans to initiate any positions within the next 72 hours. I wrote this article myself, and it expresses my own opinions. I am not receiving compensation for it (other than from Seeking Alpha). I have no business relationship with any company whose stock is mentioned in this article.