Overview of the Boom
The largest driver of the current economic boom in North Dakota is the discovery and further development of the Bakken Formation. With an estimated 167 billion barrels oil, 24 billion barrels of which is currently recoverable, the economy of North Dakota should benefit tremendously in future years. Given this level of oil reserves, and using a current crude oil price of $88.06/barrel, the current value of North Dakota oil reserves is estimated to be around 2.1 trillion $USD without taking into account any possible increase in oil prices.
The resulting benefits are starting to be seen with an increase in per capita GDP for North Dakota. This increase in per capita GDP represents GDP outpacing population increase. Population increased 4% to 699,628 for the time period April 1, 2010 to July 7, 2012. While migration to North Dakota has increased, the growth in GDP is outpacing the rate people migrate to North Dakota. In coming years, as the two equalize and converge to the average of the US, a build out of the North Dakota economy as a whole should occur.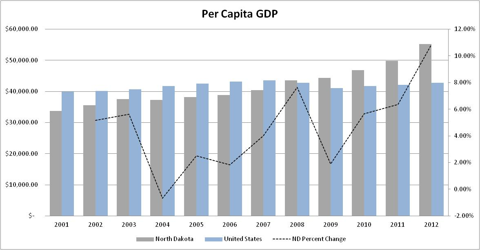 Currently, North Dakota is ranked 6th in the nation in terms of per capita GDP, with an increase of 10.8% from 2011 to 2012. Looking forward, the development of the oil industry should create a GDP growth for North Dakota that strengthens the economy of the state.

The associated GDP increase has benefited the work force of North Dakota. Average incomes in North Dakota have risen to a level above the average of the United States and have been increasing on average 8% since 2007.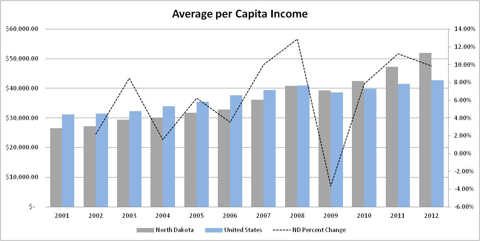 North Dakota is currently ranked 3rd in the US in terms of average per capita income, putting it ahead of many states with robust economies. The rate at which income has been increasing has been impressive. This increase will contribute to the growth and diversity of the North Dakotan economy as a whole. With an increase in earnings, those in North Dakota will seek to spend their income on various other industries in North Dakota. As people continue to develop the infrastructure of North Dakota, other industries not specifically related to the Oil & Gas Industry will begin to grow.

Admittedly, the emphasis on oil & gas does put some additional risk on North Dakota. If the Oil & Gas Industry were to collapse, North Dakota would be significantly worse off than other states due to exposure in oil & gas. However, the viability of the industry should continue for years to come. While clean tech industries do pose a threat, it is likely they will only apply to the developed world. Developing countries will still depend on imports of oil and gas. In a worst-case scenario North Dakota would need to export the majority of their oil & gas to developing countries.
Right now the economy of North Dakota is attractive for investment. Investors should be able to find opportunities that provide returns above the US economy as a whole. The ability to find companies directly involved in the boom will give investors exposure to an area experiencing expansion while much of the US is still dealing with the recent recession.
Corporations in North Dakota
The first step in unlocking personal gain from the economic expansion in North Dakota is finding companies that can act as vehicles to the value of the state. Using S&P Capital IQ, 36 companies meet the criteria of either being located in North Dakota or reporting substantial geographic segment revenue from North Dakota. Thirteen of these companies are public, and have reported revenue since 2007, presenting equity investors with opportunities. These companies belong to 6 of the 10 GICS industry classifications. Post 2008 recession revenues have been up each year for these 13 companies, with an increase in revenue of 1.3 billion $USD from 2011 to 2012.

Sectors of particular interest are Energy, Financials, Utilities, and Industrials. These industries either have multiple companies in them and/or have shown an increase in revenue/operating income.
Titan Machinery (NASDAQ:TITN), the only company included in the industrials sector, operates full service agricultural and construction equipment stores. The linkage between their revenue and the current boom is apparent. The financials companies captured in the S&P Capital IQ screen (Investors Real Estate Trust (NASDAQ:IRET), Alerus Financial Corp. (OTCQX:ALRS), and BNCCORP, Inc. (OTCQX:BNCC)) are made up of depository institutions and a REIT. These all benefit from the increasing average incomes and the recent population increase.
The utilities sector for North Dakota - Xcel Energy Inc. (XEL), MDU Resources Group Inc. (MDU), and Crownbutte Wind Power, Inc. (CBWP.PK) - seems to be relatively flat. Understandably, the wind power company, CBWP, isn't doing well with other cheaper sources of energy available. The other two companies have decent net incomes, with Xcel consistently increasing their net income.

As previously stated, the key industry related to the current economic boom is the energy industry. The aggregate revenue figures for the 4 energy companies of North Dakota seem to verify this, with an increase of 1.24 billion USD from 2011 to 2012. The energy sector of North Dakota offers investors a direct linkage to the current economic boom. The associated companies, along with a brief business description, are as follows:

Each of these companies provide exposure to certain aspects of the oil & gas boom. Ensign Energy Services Inc. and Enservco Corporation (NYSEMKT:ENSV) help investors gain exposure to a unique niche within the oil and gas industry of North Dakota. As various oil companies build out oil and natural gas wells throughout North Dakota the services Ensign and Enservco provide will become increasingly important. With 9,071 wells producing as of June 2013, up more than 1,719 from June 2012, the services provided should return substantial profits in future years. Chesapeake Energy Corporation (CHK) and Pioneer Energy Services Corp. (PES) are established entities in the Oil & Gas Industry. With exposure in North Dakota both companies should expect even greater returns.
Using the Russell 3000 and a custom market cap weighted index of the 13 companies discussed above, the Russell 3000 outperforms the North Dakota index by 16.8%. It would be expected that with the disparity between the economic conditions of United States and North Dakota, North Dakota would surpass the general US market returns on the simple merit of a stronger overall economy.

[10]
The above chart is focused on the custom North Dakota index and the Russell 3000. As show in the chart the North Dakota Index did outperform the Russell 3000 prior to the financial crisis in 2008, but since then has underperformed.
With the above information to aid investors' confidence in the North Dakota investments thesis, it becomes clear North Dakota does represent a unique investment opportunity. The current economic boom should transform the economy of North Dakota in the long run. The disparity between the general US market returns and that of North Dakota also seem to offer an arbitrage opportunity. The Russell 3000 offers returns above the North Dakota, even though North Dakota has a more solid economic story.
Overall these companies' returns seemed to have under-preformed the US economy as a whole, but should this be the case one would expect market inconsistency to converge. In this case the fact that North Dakota as a whole is outperforming the US Economy, economically speaking, should push related North Dakota securities to perform at least on par with the US.
A Quick Pick
While a continued review of these companies will prove advantageous, this preliminary report merely hopes to apprise investors of the opportunities in North Dakota. A brief look at the P/E, TEV/EBITDA, gross margin, and revenue growths of these 13 companies help point investors to some possible selections for investments. Given a cursory glance the companies merit further investigation.

One standout company, Enservco Corporation, seems to offer investors a great value proposition, with a lot of potential for further growth. Keep in mind the size of oil reserves in North Dakota and the existing 9,000+ operating wells. This growth will come from the expansion of the oil industry, as well as building clientele through servicing existing oil wells. This should translate into substantial future profits for the company.
Although the current equity listing for ENSV is listed on an OTC market, the company recently announced plans to have the security listed on a major exchange. This action should increase the exposure of the company to broader markets, allowing for institutional investors, and subsequently driving the share price up further. Considering a similar company, Ensign Energy Services Inc., has a current price of $17.01/share, there is plenty of room for growth from ENSV, which is presently only $1.56/share.
This report has hopefully enlightened the reader on the current boom of North Dakota, and the positive possibilities for investment opportunities. Each company within this report would benefit from a deeper analysis to expose their individual characteristics for investment in and of themselves. Overall, North Dakota provides investors a special macroeconomic opportunity where the underlying companies on the front lines may be currently undervalued, showing potential for more growth in upcoming years.
Note: companies included in the custom North Dakota index include: NYSE:CHK, NYSE:XEL, NYSE:MDU, TSX:ESI, NYSE:IRET, NYSE:PES, NasdaqGS:TITN, NasdaqGS:NAFC, OTCPK:ALRS.PK, OTCBB:ENSV.PK, OTCPK:BNCC.PK, OTCPK:LUMP.PK, and OTCPK:CBWP.PK.
Disclosure: I am long ENSV. I wrote this article myself, and it expresses my own opinions. I am not receiving compensation for it. I have no business relationship with any company whose stock is mentioned in this article.