With QE3 tapering, the Syrian skirmish, and the statistically frequent 'summer swoon' in the carousel of possibilities, investor are turning their attention back from small caps to larger capitalization companies. In particular, conglomerates such as General Electric (NYSE:GE), Emerson (NYSE:EMR) and Honeywell (NYSE:HON) have the ability to weather the storms while participating in positive growth. While all three of those merit consideration, I've outlined four reasons why you should consider General Electric in particular.
Healthy Diversification. As the recent ($250 million) fire sale of the New York Times indicates, all conglomerates aren't necessarily good. In the case of GE, as the pie chart below indicates, it is a conglomerate that participates in markets that are free of secular headwinds (e.g. Tobacco) and generally have either a secular growth path (e.g Healthcare) or a cyclical tailwind (e.g Aviation).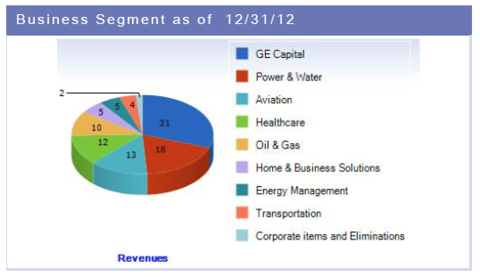 Participation in Growth Markets. GE investors are fortunate that they don't have to rely on access to proprietary analyst reports to get informed updates on the stock. The company's investor relations department publishes a monthly newsletter on the state of the industry and business. The May edition (from which the picture below is excerpted) points out that GE is seeing tailwinds in three markets of particular recent investor interest - Natural Gas, Water and Finance.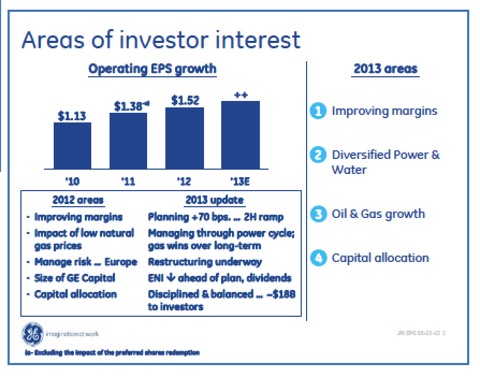 Favorable Technicals. A quick look at the technicals of GE over the past year show a well behaved and favorable chart, with bounces of progressively ascending supports. This suggests that even with adverse short-term market movements, there is near-term support (and perhaps a buy point) in the $22.5 range, not far from where GE trades today.

Historically Cheap. A look at GE's yield suggests the resumption of an increasing dividend policy over the last five years, with an average dividend raise of about 8 cents (or 10%) a year. The chart below also shows that the earnings yield is cheap in historic terms.

With GE you get a combination of a 3% yield, 10% yield growth, a historic earnings yield about 50% higher than where it is, and several growth markets. That and favorable technicals suggest that GE is closer to buy than sell. For an investor with a 3-5 year time frame, you get paid to wait, and are looking at a potential 40% upside (without dividends) to the mid-30s.
Disclosure: I am long GE. I wrote this article myself, and it expresses my own opinions. I am not receiving compensation for it (other than from Seeking Alpha). I have no business relationship with any company whose stock is mentioned in this article.