IBM famously navigated the transition from mainframes to personal computing, flourishing as it diversified into software, consulting and outsourcing. But Big Blue appears to be struggling with the current shift into cloud computing, as big companies cut IT costs by outsourcing their computing networks.
This was evident in IBM's second-quarter results. IBM sales fell 3% to $24.9 billion, less than the $25.4 billion analysts had expected, as hardware and software revenue fell short.
Chief Executive Ginni Rometty blames the poor economy. But some of the smartest money on Wall Street is betting the company has a bigger problem as major cloud competitors such as Amazon.com (AMZN - up 13%) and Salesforce.com (CRM - up 6%) have performed well thus far in 2013; whereas IBM shares are down 2%.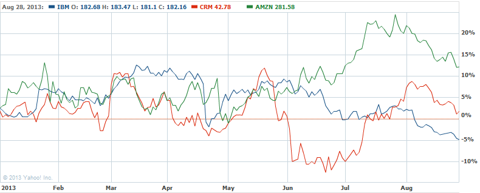 Keeping profit on an upward trajectory is a struggle when revenue shrinks. Pressing on the accelerator of job cuts and software acquisitions has worked relatively well so far - but can that continue?
Problems:
Competition in Cloud: Big companies are increasingly renting cloud services from the likes of Amazon and others and, therefore, don't need to buy their own servers from IBM. In addition, cloud-based software from Salesforce.com and its ilk can replace all manner of IBM's software and service offerings. Some cloud products are based on open-source standards, providing even lower-priced competition for IBM.
Efficiency Drive: Costs have been cut to the point where some investors feel that research and development has been left underfunded. Efficiency drives, naturally, show diminishing returns. Eliminating trash cans and enacting mandatory furloughs for employees in its hardware division are one-time fixes. Attempting further savings could be counterproductive in the long-term.
Altered Income Calculation: IBM uses a different definition of income to inflate its reported income by the way the company accounts for pensions, acquisitions and layoff costs. This has resulted in an investigation by the Securities and Exchange Commission into how the company books revenue for its cloud-based businesses. IBM officials have, thus far, been silent on the issues; which makes it difficult for an outside observer to determine whether there is a problem.
Selling Assets To Improve Ratios: Earnings-per-share has increased far faster than revenue at IBM. The reason is that IBM has been aggressively conducting share repurchases. This is a short term fix which rewards shareholders and improves ratios; however, it's just that - short term. Recently IBM sold its low margin hardware business to generate cash in order to buy back shares, pay dividends, and acquire more profitable software. While this isn't necessarily a problem, it's not a long-term solution.
Conclusion
IBM is losing market share in four of its five largest software businesses. The company aims to increase cloud-related revenue from $3 billion to $7 billion by 2015, a lofty goal. Stiff competition for cloud computing, coupled with falling revenue from its vast software division, makes it increasingly doubtful that IBM will be able to surprise with future earnings. The company has a great track record; however, in the near to mid-term, I'll be staying away.
Disclosure: I have no positions in any stocks mentioned, and no plans to initiate any positions within the next 72 hours. I wrote this article myself, and it expresses my own opinions. I am not receiving compensation for it (other than from Seeking Alpha). I have no business relationship with any company whose stock is mentioned in this article.