RailAmerica's (NYSE:RA-OLD) IPO was yesterday, and it didn't go over very well. This is a railroad owned by private equity shop Fortress (NYSE:FIG), which promptly dropped 4.5% today (Fortess that is), probably because the IPO was poorly received.
How poorly? It had to cut in half the proposed number of shares sold to the public, and had to reduce the price. Even then, the stock closed down :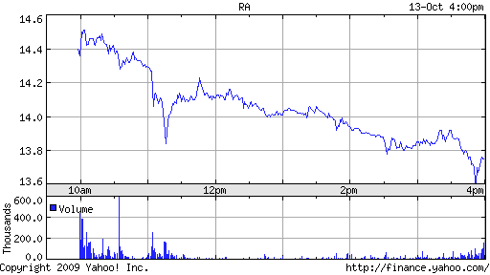 The company description from the
amended s-1:
We believe that we are the largest owner and operator of short line and regional freight railroads in North America, measured in terms of total track-miles, operating a portfolio of 40 individual railroads with approximately 7,500 miles of track in 27 U.S. states and three Canadian provinces. Our railroad portfolio represents an important component of North America's transportation infrastructure, carrying large quantities of freight for a highly diverse customer base. In 2008, our railroads transported over one million carloads of freight for approximately 1,800 customers, hauling a wide range of products such as farm and food products, lumber and forest products, paper and paper products, metals, chemicals and coal.
So why the lack of investor interest? Because you can't even back into numbers that justify the share price.
This company looks like it could earn $16 million, or 39 cents per share, if it's lucky. How about we pretend we're in fantasyland and double that earnings number, getting to 77 cents. A PE of 15 on that fantasyland number gets to $11.50 per share, or 16% below where the stock closed. And remember that's in fantasyland.
Last time they did 80 cents a share in earnings, interest expense was $20 million versus the current $70 million, and they had a gain from taxes. The company has over $700 million in debt, versus the current stock market value of $590 million, and an interest coverage ratio of about 1.8.
And keep in mind that Fortress wouldn't be peddling this IPO without pulling every last cent they can out of the company's cost structure, meaning operational improvements aren't going to materialize. All it can hope for is carloads returning to higher levels, but even then I can't back into this stock price.