Executive Summary
Endeavour Silver's (NYSE:EXK) Q2FY13 quarter left a lot to be desired from investors from a true all-in costs basis, with their costs rising from previous quarters even after the major decline in precious metals prices. Liquidity remains sufficient and production numbers were pretty good, but investors should expect much more from management in terms of lowering costs of production.
Management does forecast production cost decreases in H2 and that is what investors will need to see in Q3FY13. Unfortunately, precious metals mining companies have a bad track record at significantly cutting costs and that is what EXK will have to do in Q3 to justify the current share price at the current silver price. We think there is a lot of risk built into EXK shares and believe investors should look to other silver miners (or silver ETF's) until management can prove to investors that they can lower production costs.
Company Overview
Endeavour Silver is a fast-growing silver producer that owns three producing silver mines in Mexico: the Guanaceví mine in the state of Durango and the Bolañitos and El Cubo mines in the state of Guanajuato. Production in 2013 is expected to total 5.0-5.3 million ounces of silver and 47,000-49,000 ounces of gold at cash costs in the range of $9-10 per ounce of silver equivalent.
They are led by one of our favorite CEO's, Mr. Bradford Cooke. Additionally, they offer investors an excellent set of Youtube videos that detail the silver mining process, drilling, EXK operations, and other silver related topics such as how silver coins are minted - we would encourage all people interested in the silver industry to watch a few of their videos.
In terms of metal reserves and resources the company have the following: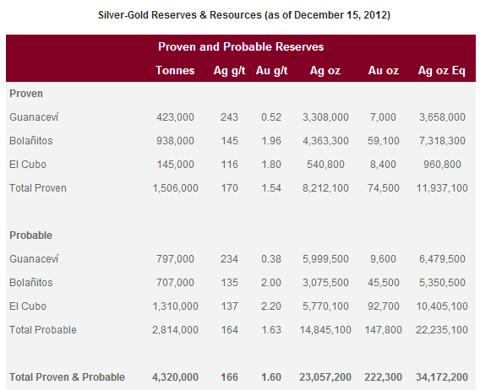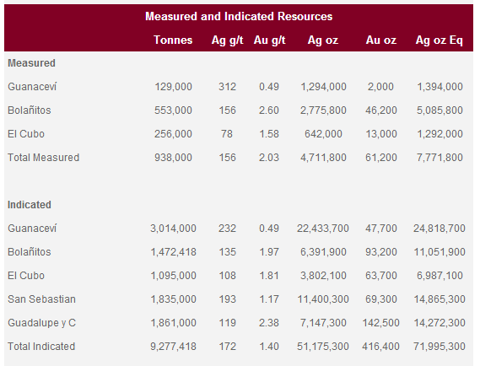 Calculating the True Mining Cost of Silver - Our Methodology
In the previously mentioned article, we gave a thorough overview of the current way mining companies report their costs of production and why it is inaccurate and significantly underestimates total costs. Then we presented a more accurate methodology for investors to use to calculate the true costs of mining gold or silver. Please refer to that article for the details explaining this methodology, and I would encourage all precious metals investors to understand this concept.
Explanation of Our Metrics
Cost Per Silver-Equivalent Ounce - is the costs incurred for every payable silver-equivalent ounce. It is Revenues minus Net Income, which will give an investor total costs. We use payable silver and not produced silver, because payable silver is the silver that the miner actually keeps and is more reflective of their production. Miners also use payable silver and not produced silver when calculating their cash costs, so this is pretty standard.
We then add Derivative Gains (or minus Derivative Losses), which will give investors total costs without the effects of derivatives. Finally, we add Foreign Exchange Gains (or minus Foreign Exchange Losses) to remove the effects of foreign exchange on the company's costs.
Cost Per Silver-Equivalent Ounce Excluding Write-downs - is the above-mentioned "Cost per silver-equivalent ounce" minus Property/Investment Write-downs and Asset Sales. This provides investors with a metric that removes exceptional gains or losses due to write-downs and asset sales.
Cost Per Silver-Equivalent Ounce Excluding Write-downs and Adding Smelting and Refining Costs - is the above-mentioned "Cost per silver-equivalent ounce excluding write-downs" adding in smelting, refining and all other necessary pre-revenue costs. This is a new metric that we are now introducing to our true all-in cost series because it will more accurately measure all-in costs and allow comparisons between miners.
Most investors are unaware that many miners will remove smelting, refining, and other costs BEFORE reporting their total revenues figures and it will not be present in the income statement. The result of this is that it skews all-in costs higher for miners that refine themselves or include the costs in their income statement, while inaccurately showing lower costs for miners that remove it before reporting revenues.
A simple test can be done on any miner to see if there are any pre-revenue costs that are not reported in the income statement. Simply take payable production and multiply it by average realized sales price and this should come relatively close to the total revenues figure. If it gives you a number much higher than reported revenues then there are pre-revenue costs that are not being reported.
This line should alleviate these issues and allow comparisons on a fair basis.
Tax Calculations - Since we are removing Derivative Gains/Losses, Foreign Exchange Gains/Losses, and Write-downs we have to estimate the approximate tax benefit loss based on this removal - otherwise we would be removing a gain/loss but not removing the associated benefit/loss associated with the taxes related to that gain. We use a 30% base tax rate for these calculations, but investors can use whatever tax rate they feel most comfortable with.
For example, if a company reports a $100 million dollar write-down, we will remove $100 million from its total costs (removing the effect of the write-down) and then add $30 million to costs (30% * $100 million) to represent the estimated tax benefit that the company gained from this write-down. You must do this if you want to remove any item from the income statement, otherwise you will be using taxes based on a removed income statement item.
Real Costs of Production for EXK - Q2FY13
Let us now use this methodology to take a look at EXK's results and come up with their average cost figures. When applying the methodology for the most recent quarter and FY2012, we standardized the equivalent ounce conversion to use the average LBMA price for Q2FY13. This results in a gold-to-silver ratio of 61.1:1. Since our conversions change with metal prices, this may influence the total equivalent ounces produced for past quarters - which will make current-to-past quarter comparisons much more relevant.

Observations for EXK Investors
Production Costs - The first thing that EXK investors should note is that Q2FY13 true all-in production costs were $26.93 per ounce, which was up significantly year-over-year. Additionally, $26.93 was also up modestly on a sequential basis (compared to $24.46 in Q1FY13) and was higher than the average FY2012 costs of $24.23. The only bright side to the current quarter true all-in costs number was that it was down from the $27.13 experienced in Q4FY12.
This is something that should be a big disappointment for EXK investors because production costs are still significantly above current silver prices, even after this early August rally. Though compared to other silver producers' Q1FY13 numbers (we stress these are first quarter numbers from other companies), EXK costs are on the higher side but not extremely high. EXK compares to Pan-American Silver (NASDAQ:PAAS) (costs just over $25), Silver Standard Resources (NASDAQ:SSRI) (costs just under $30), Great Panther Silver (NYSEMKT:GPL) (costs around $29) Endeavour Silver (costs around $25), Hecla Mining (NYSE:HL) (costs around $25), Coeur D'Alene Mines (NYSE:CDE) (costs just over $25), Gold Resource Company (NYSEMKT:GORO) (costs around $28), and cost-leader First Majestic Silver (NYSE:AG) (costs just under $22). Again, these are Q1FY13 numbers so the comparisons are not apples-to-apples but are just to establish a general range.
Investors should expect much more from EXK management in reducing costs in the current low-price silver environment, and Q2FY13 results in terms of the true all-in costs basis were poor.
In fact, if it wasn't for the sales of 300,000 ounces of silver and 6,500 ounces of gold that were produced in prior quarters that added more than $10 million to revenues (as shown below), the company would have had a much worse bottom-line.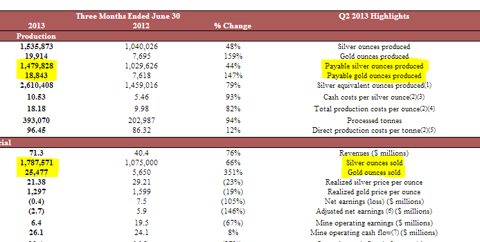 Management did recognize that these costs were a problem and CEO Bradford Cooke did state the following:
These cost cutting programs commenced in May so they did not gain enough traction to significantly benefit our second quarter performance because of severance costs and because Q2, 2013 was budgeted to be our peak spending for the year. However, they should have a positive impact on our second half financial performance. At current metal prices and operating levels, the Company anticipates that our reduced spending and stronger cash flow should benefit the balance sheet going forward.
According to management costs should be lower in the second half of the year, which is expected if the company wants to make any profit at current silver prices.
Corporate Liquidity - Liquidity is very important for investors to monitor in this current low-price silver environment. EXK reported the following balance sheet numbers in Q2FY13: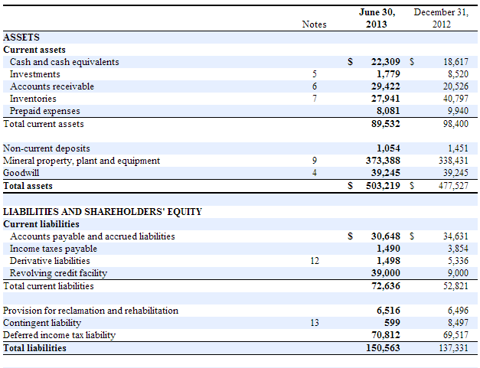 Since EXK's current true all-in costs are above the current silver price, it is even more important for EXK investors to monitor corporate liquidity to make sure the company has enough funds to run operations successfully. Based on the Q2FY13 balance sheet, EXK had $22 million in cash and cash equivalents and just under $2 million in investments. We avoid using inventories in liquidity calculations because oftentimes they may be difficult to sell at a reasonable price - if investors include inventories than EXK's liquidity gets a significant additional boost.
Wither way EXK has ample liquidity to run operations for the near to intermediate future.
Production Numbers - While true all-in costs were a major disappointment for EXK investors, production was not. The company produced 1.48 million silver ounces of silver and 18.843 ounces of gold. On a year-over-year basis this was more than a 40% increase in silver and more than a 100% increase in gold production. Sequentially, these numbers also were higher than Q1FY13, with a 2% sequential rise in silver production and a very large 20% rise in sequential gold production. Based on these production numbers the company is well on its way to eclipse FY2012 production totals - though management does expect H2 production to be slightly lower than H1.
Conclusion
EXK's Q2FY13 quarter was a disappointment in terms of true all-in costs with costs rising on a sequential and year-over-year basis to close to $27 per silver-equivalent ounce. Though management expects costs to drop in H2, we believe that this drop in costs would be a requirement if the company wants to justify its current valuation. In fact if it wasn't for the release of a significant amount of previous gold and silver production, we would have seen EXK's EPS much lower than the slightly negative quarter that was reported.
Corporate liquidity remains ample so the company is able to survive in the current silver price environment even if it experiences some hiccups. The one positive for the quarter was the increase in both gold and silver production, with gold production showing some very nice gains over the last few quarters.
We believe that investors need to expect more from EXK management and the recent share price rise compared to other silver producers has been a little exaggerated. We do believe management will lower H2 costs, but that may be already built into the share price and any surprise probably will be on the negative side if costs do not drop significantly in Q3FY13. While we do like Mr. Cooke as a CEO, we need to see much more from him and the company in the next quarter, and we think there is much more value and less risk found in other precious metals miners and the silver ETF's.
Disclosure: I am long EXK, SIVR, GPL, SVLC. I wrote this article myself, and it expresses my own opinions. I am not receiving compensation for it (other than from Seeking Alpha). I have no business relationship with any company whose stock is mentioned in this article.
Additional disclosure: Even though we are long EXK, the position is a small position