Yahoo! (YHOO) is one of oldest internet companies, and it tops the list as the most visited site in the U.S. according to comScore's July 2013 report. This milestone was a result of its growth initiatives, which Yahoo! is implementing in order to revamp its position in the internet information provider industry. The company faces stiff competition from companies like Google (GOOG) and Facebook (FB), and is striving hard to turn around its stalled revenue growth, which was a measly 0.05% year over year in 2012.
With Internet user growth expected to surpass 3.02 billion in 2014 from 2.41 billion in 2012, there is definitely room for Yahoo! to grow. Let's take a closer look at how these initiatives can pan out for the company's growth perspectives.
Is a turnaround possible?
Google, followed by Facebook and Yahoo!, dominates the digital ad market, which is the main source of revenue for Internet companies These three companies contributed a total of 39% of the worldwide digital ad revenue reported in 2012.
Google has been eating up Yahoo!'s search market share, which declined from 11% in 2008, to 4.9% in 2012. Google's expertise in monetizing search AdWords has resulted in the company's dominance in the search ad market, and 88% of its total advertising revenue in 2012 came from this market. The company is also known for its various search engine technological upgrades; these enhance the search experience and benefit marketers. In July this year, Google rolled out an important update to its AdWords called Enhanced Campaign. This update allows advertisers to better target their audience, as Google will now stream ad campaigns on all desktop, mobile, and tablet devices, despite advertisers' previous device preference. Marketers can now focus on their target customer segment, rather than on which device they should post their ads.
Google is suffering from a decline in the cost per click, or CPC, rate, which fell 6% year over year in the second quarter this year. The company attributed this fall to increasing mobile advertisements, which are relatively cheaper than desktop ads. However, due to device unification, the company is expected to increase its CPC rate since all marketers will now bid for the same devices, increasing the demand for ads posted on Google. Enhanced Campaign is one of the biggest updates implemented by Google recently. This update is expected to fortify its market leadership in the digital ad market and increase its digital ad revenue, which is expected to increase from $32.73 billion in 2012 to $38.83 billion in 2013, as per eMarketer. We are expecting Google to increase its CPC rate in coming quarters, which should boost investors' confidence with its strong income statement.
Mobile Internet is the one of the biggest growing markets, with mobile phones expected to surpass PCs in terms of Internet usage by 2015. Facebook started monetizing this platform last year and reported 41% mobile ad contribution to its total ad revenue during the second quarter of this year. Facebook is growing the mobile advertisement market due to its 819 million monthly mobile active users and technology to place similar ads on both its desktop and mobile platform. This allows it to charge similar prices for both platforms. Due to the increase in mobile users, Facebook acquired Mobile Technologies in August this year. This company specializes in speech recognition technology and owns a translation app called Jibbigo. Facebook is expected to integrate this technology with its mobile app, thus resulting in an enhanced user experience by removing the language barrier. This technology is expected to increase Facebook's mobile presence since users will now feel confident communicating anywhere in the world. Looking at mobile Internet growth, the company is expected to generate $2.04 billion from mobile Internet revenue in 2013, up from $0.47 billion in 2012.
With Facebook's innovative technology to monetize the mobile platform, we expect that this platform will provide the perfect opportunity for it to sustain digital ad revenue growth and survive under stiff competition from the mobile ad market leader, Google.
Under the leadership of Marissa Mayer, who took charge of Yahoo! last year, the company has taken various positive steps to turn around its declining ad revenue, which declined 12% year over year in the second quarter of this year. The main initiative involves applying an aggressive acquisition strategy, with a total of 20 acquisitions in the span of 12 months. It targeted most of these acquisitions towards the growing mobile segment, where the company has negligible presence. The following are recent acquisitions of Yahoo!'s mobile segment:
| | | |
| --- | --- | --- |
| Company | Profile | Acquisition Date |
| Biggnoggins | Developed fantasy sport app, which was number one paid spot app on iTunes | July 2 |
| Qwiki | Automated video production company that developed a pictures to movie conversion app | July 2 |
| Lexity | Provides e-commerce solutions and developed a range of apps for small and medium businesses. | July 31 |
| Rockmelt | Social media web browser that works on both desktop and mobile platforms. | August 2 |
These companies are expected to improve Yahoo!'s R&D, which will help it roll out new apps with variant technologies. CEO Marissa Mayer stated at the second-quarter earnings, "Yahoo's future is mobile." Yahoo!'s mobile users reached 340 million, up 13% quarter over quarter.
We are expecting Yahoo! to recover from its declining ad revenue going forward. With its turnaround strategy in place, the company is expected to be a strong prospect for investors. The company's stock has performed well this year, reflecting investor confidence towards company's strategy. As of August 27, this stock appreciated 35% YTD, as compared with Google's 20% YTD and Facebook's 50% YTD.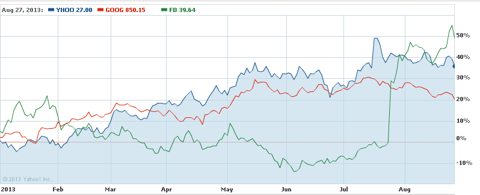 Source: Yahoo Finance
Will an asset sale bear fruit for investors?
During the second quarter of 2013, Yahoo! announced that it completed its commitment to return $3.65 billion in net proceeds received from its partial stake sale in Alibaba last year via a stock repurchase. Alibaba, China's biggest e-commerce website, has proven to be the best recent investment for Yahoo!
The e-commerce giant posted revenue growth of 71% year over year to $1.4 billion in the first quarter of 2013. Yahoo! currently holds a 24% stake in Alibaba, and plans to sell half of that stake in Alibaba's upcoming IPO, which will happen in the coming months, according to news reports. Analysts have estimated that this IPO should give Alibaba valuation of $70 billion; therefore, a 12% stake sale translates to $8.4 billion. Yahoo! has a strong history of stock repurchase, and it is expected that most of the proceeds will be utilized for investors and the remaining will be used to fund the company's growth strategy. The company has a $1.9 billion repurchase balance left of its $5 billion authorization announced last year, and with the upcoming Alibaba IPO, the company is expected to increase its share repurchase program.
Yahoo! currently trades at a 12-month forward PE of 15.88, up from the current 12-month trailing PE of 7.43. With the share repurchase program on the line, investors can expect growth potential from this stock.
Conclusion
Yahoo!'s initiatives toward a mobile platform are expected to support its turnaround strategy, resulting in future revenue growth. Investors can expect good return on their investment in the future with the upcoming Alibaba IPO stake sale. However, investors have to remain patient since its initiatives are expected to result in revenue growth over a period of time.
Disclosure: I have no positions in any stocks mentioned, and no plans to initiate any positions within the next 72 hours. I wrote this article myself, and it expresses my own opinions. I am not receiving compensation for it (other than from Seeking Alpha). I have no business relationship with any company whose stock is mentioned in this article.