Philips Electronics (NYSE:PHG)
shocked analysts by reporting an outstanding third quarter. Profits were $256 million or $0.19 a share. That was more than three times last year's third quarter of $0.06 a share. Analysts were expecting a loss. Sales were down 11%, showing that Philips is not immune from the downward drag of the global recession. Philips' lighting division was hit hard by the slump in housing and commercial real estate. The consumer-lifestyle division which makes everything from coffee makers to flat panel television sets was hit hard by the rising tide of unemployment and consumer retrenchment. Even the health care division saw sales decline (4%).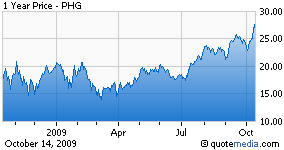 The big surprise was that in the face of a sinking top line an aggressive cost cutting and restructuring program significantly improved profits. Adjusted operating profit margins were 6.8% in the third quarter up from 5.4% in the third quarter of 2008. This quarter's profit margin is one of the best ever for Philips. Philips is an example of how a well managed business can do more than survive a deep global recession. Not only has management kept the company profitable they have increased free cash flow to $519 million and accumulated a cash hoard of more than $5 billion. Management is cautious about the immediate outlook for sales. In commenting about the third quarter the CFO said "the recession is not over."
But there are signs that the recession is winding down. Some economies, such as China and India, are growing nicely again. The International Monetary Fund (IMF) has raised its forecast for the global economy next year. In July the IMF said growth next year would run at a 2.5% pace. Now they see that rising to 3.1% and that is subject to further upward revision. Historically, a global economic growth rate of 3.1% is very good for business. The 2007 global growth rate of 5.2% was considered above average and a threat to inflation. An optimum non-inflationary rate is more like 4%-4.5%. But coming out of the worst recession in decades a 3.1% rate is welcome. Philips will see a rise in sales and a jump in profits if the IMF is even close to right about growth in 2010.
The long term outlook is very bright for Philips. Technology is revolutionizing lighting. No, I am not talking about the problematic fluorescent bulbs with poisonous mercury. I am talking about solid state lighting, or light-emitting diodes (LED). Philips has spent $5 billion for acquisitions in that last five years. Unlike the competition Philips covers the whole market, making the bulbs, fixtures, controls and systems. I know when you see or hear LED you think of small electronics or computer screens. LED for business and household use is still in the future. An LED bulb can cost $30-$50. That is far more than the $0.70 for an incandescent bulb or around $14 for a fluorescent fixture and bulb. But LED technology is developing fast and the cost will come down.
The U.S. Energy Department is holding a contest with a $20 million prize to encourage development of affordable LED lighting. On September 24, Philips was the first to submit an entry. According to the Energy Department there are 425 million 60-watt incandescent bulbs sold each year in the United States. Replacing them with LED bulbs would save enough electricity to power 17.4 million homes.
Say goodbye to the traditional incandescent light bulb. It is highly inefficient, converting only about the first 5% of electricity into light. As of September 1, the European Union banned most incandescent bulbs. The U.S. will follow suit starting with California in 2011 and the rest of the country a year later. As incandescent bulbs are phased out, new technology will develop and grow quickly. The end of incandescent bulbs will mean a rise in sales of all energy efficient lighting including fluorescent. But LED lighting has advantages over fluorescent. Philips' CFO says the pricing premium for LED over fluorescent will become very modest over the next few years. LED is a small piece of the total lighting market, but it is already the fastest growing. The industry is expected to grow 5% a year through 2012. But the LED market is predicted to grow 28% a year over the same period.
Philips is a financially strong, well managed company with above average growth potential both during the recovery and for the longer term. The question is what to pay for the stock. There is a dividend. It is paid once a year in June. But it is a profit sharing dividend. Management targets the dividend at 40%-50% of continuing net income. The current yield is 3.5%. The stock fell to $13.98 at the market's March low. It is now back close to the level before the collapse of Lehman Brothers. The high was $45.90 in 2007. The long run average P/E is 20. Based on third quarter results it looks like Philips will be able to earn $1.00 a share or better in 2010. The long term average P/E makes the stock look on the high side at 27. But cost cutting and restructuring have significantly improved Philips' operating leverage. Phillips can earn $2.00 a share in earnings long before the global economy manages a full recovery.
Other measures of value are book value and sales per share. At $27 the stock trades at 110% of book value and 79% of sales. In 2007 at the low, the multiples were 129% of book value and 110% of sales. The current multiples are less than at the 2007 low indicating the stock is not over valued. But it is always a good idea to get the best entry point possible. Before the announcement of third quarter results the stock traded below $25. There is a risk of a broad market correction. If the market comes down Phillips would likely follow. Therefore my advice is to be patient, buy Philips below $25.
Full disclosure: Long PHG