(Editors' Note: This article discusses micro-cap stocks. Please be aware of the risks associated with these stocks.)
Marijuana stocks have been a lot of fun in 2013. We first saw crazy action in February, when the primary marijuana stock Medical Marijuana (OTCPK:MJNA) spiked over 200% in a couple of weeks. While smart traders were able to profit, plenty of money was lost by investors who failed to do proper due diligence, as marijuana stocks slowly declined and lost most of their value in the months following. Now, I fear that investors are about to be burned again as the hype and speculation has resumed, and people are mindlessly buying up marijuana stocks just as before. On Thursday August 29, a new piece of news relating to marijuana legalization was all it took to send marijuana stocks into a frenzy from overeager buyers. Refer to MJNA's intraday chart for that day below: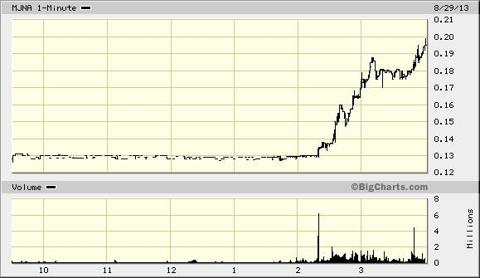 While MJNA is the main marijuana stock with the most volume, other smaller (and also extremely risky) stocks in the marijuana sector all had similar moves. These stocks include Medbox (MDBX.PK), HEMP INC (OTCPK:HEMP), Cannabis Science Inc (OTCPK:CBIS), Growlife Inc (OTCQB:PHOT) and GreenGro Technologies (OTCPK:GRNH).
So what was the catalyst to send these marijuana stocks soaring again? An announcement that the U.S. won't challenge laws in Colorado and Washington that legalize the recreational use of marijuana. Currently Colorado and Washington are the only two states that have legalized marijuana for recreational use (that happened back in November 2012), and polls show that a large percentage of the American public is strongly in favor of marijuana legalization in other states. Marijuana is still illegal under federal law, and while this news is certainly encouraging for the prospects of more states legalizing recreational marijuana use beyond just Colorado and Washington, that still has a way to go.
Now, the fact that marijuana stocks surged on the news that marijuana legalization should be progressing (even if it's as much as 50% in a couple of hours in the case of MJNA) may seem perfectly logical. But the point I want to make is that the most important consideration for whether you invest in a marijuana stock is not the future of marijuana legalization, but rather than fundamentals of the company and its current assets - and the problem with marijuana stocks is that they tend to have horrible fundamentals. Complete legalization of marijuana across the entire US won't help a marijuana stock with no employees, no cash, and no business operations. Just as how in the dot-com boom we saw essentially worthless companies with no revenue soar merely for having a business plan that was internet-based (and of course crash later), I believe the same thing is going on here with marijuana stocks. It is a terrible mistake to buy a random marijuana stock because the marijuana industry could be growing in future, without actually taking a closer look at whether the company you're investing in has any resources whatsoever.
I had previously detailed how Marijuana stocks are extremely dangerous investments, and others have also pointed out the dangers in the sector leader MJNA (I recommend reading through some articles discussing MJNA on Seeking Alpha, especially this detailing how its main "revenue" is basically bogus). FINRA also recently warned investors of marijuana stock scams, citing a typical example of how these marijuana stocks operate to lure in investors:
One company, for example, promoted its move into the medical cannabis space by issuing more than 30 press releases during the first half of 2013. These releases publicized rosy financial prospects and the growth potential of the medical marijuana market. The company was also touted on the Internet through the use of sponsored links, investment profiles and spam email, including one promotional piece claiming the stock "could double its price SOON" and another asserting the stock was "poised to light up the charts!" Yet the company's balance sheet showed only losses, and the company stated elsewhere that it was only beginning to formulate a business plan.
Marijuana stocks today all trade on the OTCBB or Pink Sheets, where manipulation can run rampant and (unlike with the reputable NYSE and NASDAQ exchanges) there are no minimum asset or revenue requirements. Anyone with the right help could set up a shell marijuana stock on the Pink Sheets and start hyping it up to lure in investors and start selling worthless shares, and this is surprisingly still perfectly legal as long as everything is disclaimed. And these stocks do not move like normal companies do, where material business developments and earnings dictate how the stock does - they are merely fueled by manipulation and hype. A YTD chart of MJNA shows clearly how the stock can surge, before dropping back down (the most recent surge on August 29 is seen at the very end):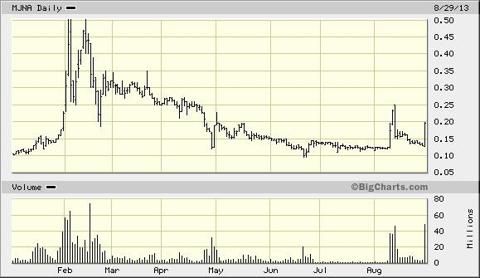 It's easy to see how buying on a spike and holding could get you burned in the past, and I believe this time is no different. Maybe it will take a few days or weeks, but as the bad fundamentals of marijuana stocks remain, they have to come down at some point once the hype dies down. Don't be a sheep: take a few minutes to read the financial statements and do some due diligence of any marijuana stock you invest in. Further legalization of marijuana will not make a marijuana shell stock with no business operations worth anything more.
Disclosure: I have no positions in any stocks mentioned, and no plans to initiate any positions within the next 72 hours. I wrote this article myself, and it expresses my own opinions. I am not receiving compensation for it (other than from Seeking Alpha). I have no business relationship with any company whose stock is mentioned in this article.